#GoingGlobal: CVM welcomes first set of visiting professors from Croatia
Details

Written by Joseph Kenneth M. Labastida

Published: 13 May 2022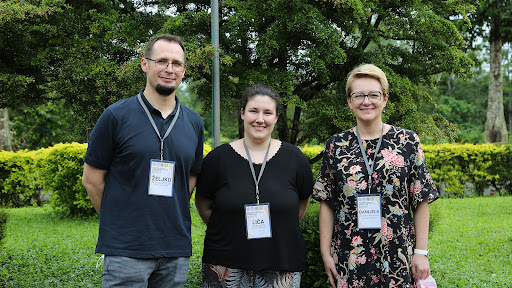 The College of Veterinary Medicine (CVM) welcomed three visiting professors from the University of Zagreb in Croatia last month. This marks the first face-to-face international engagement of the college more than two years after the community quarantine brought by the COVID-19 pandemic.
Croatian professors Dr. Danijeia Horvatek Tomič, Dr. Željko Gottstein and Dr. Liča Lozica were officially welcomed to VSU on April 4, 2022 for a three-day lecture series that was attended by CVM faculty, staff and selected students.
Dr. Danijeia Horvatek Tomič is an Associate Professor and Vice Dean for Quality Control of the Faculty of Veterinary Medicine at the University of Zagreb. She specializes in avian diseases and has published over 90 scientific articles according to Google Scholar.
Meanwhile, Dr. Željko Gottstein is an Associate Professor and the Department Head of Poultry Diseases at the same university. He has authored and co-authored several national and international publications and has been serving as a reviewer for reputable professional journals. He also has an active association with different societies and academies around the world.
Completing the list of CVM visiting professors is Dr. Liča Lozica, an Assistant Professor at the Department of Poultry Diseases at the University of Zagreb whose experiences involve routine diagnostics and field work with pet birds including a strong research background on bacterial poultry diseases.
All three of them are recipients of the Erasmus+ Higher Education Mobility Program that provides faculty learning mobility opportunities to encourage professional growth and boost internationalization initiatives among its partner universities.
Together, the visiting professors covered a total of six topics on their 3-day lecture visit that tackled immunosuppressive viral diseases, respiratory viral diseases, use of autogenous vaccines, poultry food-borne zoonoses, an actual demonstration in avian necropsy, including handling and sampling for laboratory diagnostics.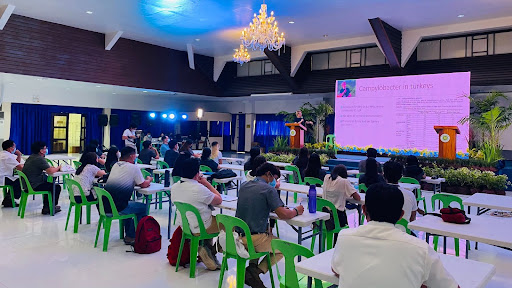 Dr. Danijeia Horvatek Tomič opened the 3-day lecture series with a limited face-to-face audience at the VSU-RDE Hall. This was also broadcasted in Zoom to accommodate a greater number of students from the Doctor of Veterinary Medicine (DVM) program of the university.
Dr. Carl Leonard M. Pradera, CVM faculty member and the local coordinator for the training visit explained some of his major insights after participating in the lectures conducted by the visiting professors.
"The visit of the Croatian Professors allowed us to work with people from different cultures. It gained us new perspectives in our discipline that will surely build rewarding relationships and lasting international cooperation between our two institutions. With their visit, our DVM students were able to experience a different style in education, especially after attending the seminar on avian medicine. I believe our students had so much fun while learning and interacting with foreign professors who are globally-recognized experts in the field," Dr. Pradera revealed.
CVM Dean Dr. Santiago T. Peña, Jr. expressed his thanks to Erasmus+ and the visiting professors from University of Zagreb for choosing VSU as their collaborating university for the exchange program.
"It is an honor to our college and we greatly appreciate this wonderful opportunity of being able to partner with the Faculty of Veterinary Medicine, University of Zagreb in Croatia because of the Erasmus+ program. This collaboration will surely result in unique learning experiences for the continued professional development of our faculty members. We also see this as an opportunity to travel overseas and get immersed with international standards in instruction, research, and extension activities that will become valuable inputs to make our college globally comparable," Dean Peña said.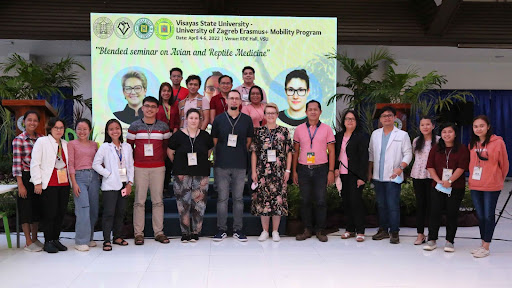 CVM faculty and staff took a pose with the visiting professors in Croatia for the culminating event of the three-day lecture series.
More than 30 participants attended the limited face-to-face lecture that included 15 selected students and the complete teaching force and support staff of CVM. This was complemented by more than a hundred participants who virtually joined the event via Zoom and were mostly composed of students including some alumni and other industry practitioners produced by the college.
Through the same exchange program, four faculty members of CVM also traveled to Croatia for a counterpart visit held at the last week of April 2022. The VSU faculty members who joined this trip include International Affairs Head Dr. Ana Marquiza M. Quilicot, Dr. Lotus M. Balala, Dr. Agnes M. Taveros, and former CVM Dean Dr. Eugene B. Lañada.
Since 2010, VSU is the lone university in the Philippines to be part of the prestigious network of Erasmus+ under the program called Exchange by Promoting Quality Education, Research and Training in South and Southeast Asia (EXPERTS).