VSU Class 2018 Valedictorian: Do what must and come what may
Details

Written by Mark Pineda

Published: 26 June 2018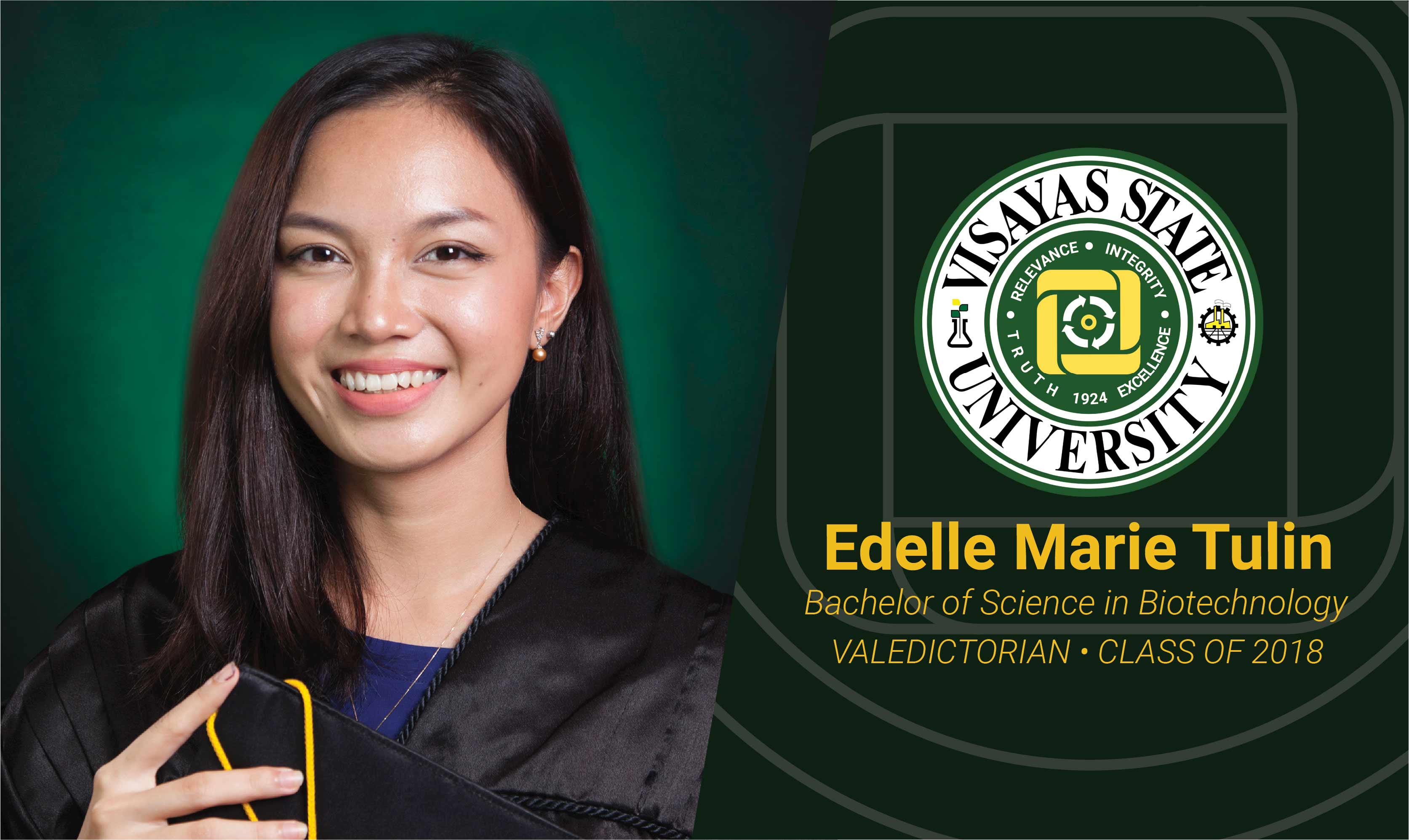 To make it to the list of graduating students is one thing that students work for years. Guaranteed if they buckled down and finished all their requirements on time, much more if they outplayed all their subjects and went the extra mile. Of the 1276 Viscans who graduated this June, Edelle Marie Tulin, this year's class valedictorian, has proven that achieving your dreams is easy for as long as you put everything into it.
Edelle, 21, took up the degree in Bachelor of Science in Biotechnology. She earned a grade point average of 1.207.
Since freshman year, Edelle was aiming to graduate with a Latin honor. "Do what must and come what may," she emphasized.
Edelle believes that doing what has to be done is rightful, but giving her all and knowing that she gave her best was the reason why she earned the top spot, which she describes is more than what she prayed for.
According to Edelle, it was her self-persistence and determination that brought her to where she is right now and the habit of accepting whatever happens because "life gets better" and "it is what it is."
Given her knowledge of her grades, she knew she was on track to graduate with a Latin honor but it was only during her senior year when she learned she had a high chance of becoming the class valedictorian.
"It feels fulfilling and at the same time surreal. I still can't believe this is happening. I feel so honored,"
She credits her success to her parents who have been so supportive of her studies. Although she admitted feeling pressured because of their achievements, her parents have caused her to strive harder. They have made her realize that she always has to work on something to make use of her time.
"I see my parents as my inspiration; I have seen them excel in their respective fields. I know my parents won't be with me all the time so I need to do well."
Aside from the familial support, Edelle owes her success to God who provided her with guidance that she considers as her greatest weapon throughout her life. At times when she finds difficulty in doing something or thinks nothing is going her way, she asks for guidance through prayers, which to her is important as a student.
"Focus and prayer. At the end of the day you break down, but you really need to have a strong faith in God and pray nga makaya ra jud nimo [that you can do it]."
She emphasized that studying can be fun, but having real fun with friends is irreplaceable. Having a group of good friends helped her in overcoming her frustrations. She confessed that as what students would normally do, she occasionally involves herself in spontaneous events with friends. Being involved in such activities added more spice into her life and somehow pushed her through.
But apart from having fun, Edelle recognizes her responsibilities as a student. Despite the need to socialize, she admitted that she had spent more time studying her lessons, but not to the point where she forgets to socialize. It's a matter of knowing when to take a break.
"Go out with friends and do crazy things, but don't forget your responsibilities as a student," she stressed.
Importance of family and home
Growing up in a family that is involved in scientific researches, Edelle admitted being greatly influenced by her parents' work. It was her father, Dr. Edgardo Tulin, VSU President, who inspired her to major in Biotechnology.
Back then, she wanted to take a degree program that was different from that of her siblings. Her father, knowing she would love to take up a degree that was related to science, suggested Biotechnology. She liked the degree program that it has grown inside her.
Edelle's inspiration is her family. She's grateful for having such supportive parents who have provided her with everything, not just financially but emotionally.
"Whenever I have a problem; I count on my parents for they're always there to advise me on what to do. Not just regarding my subjects but also when I have difficulties in learning, they always support me."
It was also because of her family why she chose VSU over other universities. Her parents, both conservative and protective, wanted her to become fully-ready before studying elsewhere. They thought she was too young to go out and that she needed to stay in VSU to prepare herself even more. Agreeing with her parents, Edelle believes she made the right decision.
According to her, VSU has helped her to become "emotionally and mentally ready." Not only VSU has provided her excellent education but also a sense of belongingness. Despite the schooling, she always feels the warmth in VSU that makes it home to her.
"It doesn't feel like I'm studying most of the time because of how homey it feels. I see nature everywhere,"
Edelle recently applied for medical school. She plans on studying medicine for it is where she thinks her degree in Biotechnology is more applicable. She marched during the 65th VSU Commencement Exercises last 18th of June, along with 19 Magna Cum Laude and 114 Cum Laude, and 2 with honors constituting the Class of 2018.