#GoingGlobal: VSU welcomes first exchange professor after 2 years
Details

Written by Christine Joy L. Guston

Published: 03 May 2022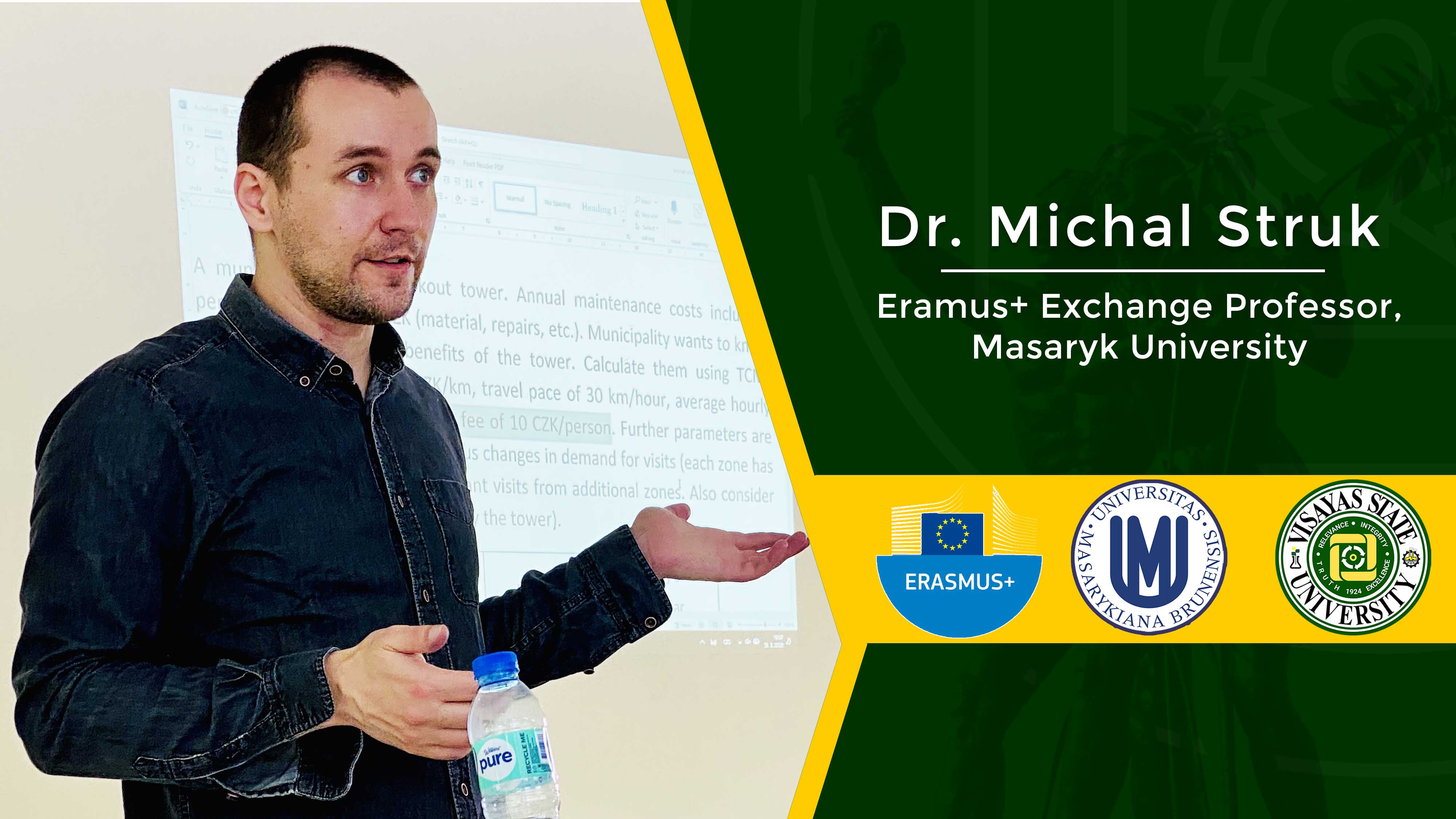 As the university continues to intensify its efforts towards internationalization, Dr. Michal Struk becomes the first foreign professor to be allowed entry to VSU after 2 long years of community quarantine.
Under the Erasmus+ International Credit Mobility (ICM) program, Dr. Struk arrived in the Philippines on March 26, 2022 for a weeklong series of lectures that included limited face-to-face sessions with selected faculty, research staff and graduating students including a webinar that also accommodated a greater number of participants, especially undergraduate students who are still under the flexible learning setup.
The young professor from Masaryk University located in Brno, Czech Republic specializes in the field of public economics and was assigned to the VSU College of Management and Economics (CME).
According to him, he chose VSU as his host institution because of the university's unique location in the Southeast Asian region, and that some of the courses offered in CME matched his expertise.
After a year of planning and constant exchange of communication with CME Dean Dr. Neil Moises V. Seriño, Dr. Struk's mobility program was approved, which allowed him to travel and hold physical lecture classes at VSU within five days.
Dr. Struk's face-to-face lectures tackled three topics including general aspects of public administration, basics of financial methods, and project evaluation and cost-benefit analysis.
Following the protocols set by the university, each of these lectures were attended by a maximum of 20 participants that were mostly composed of graduating students in the Bachelor of Science in Economics (BS Econ) program.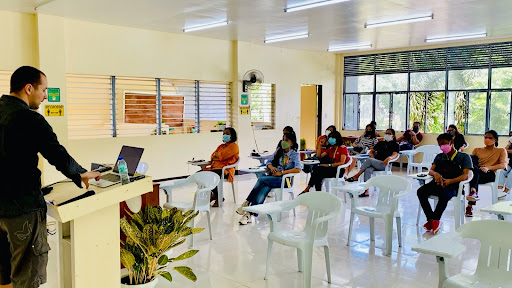 Graduating students Ms. Neca Jane Malacora and Mr. Rodney Lloyd Bayron were very delighted to be back at VSU with a bonus that their first face-to-face classes were administered by a foreign professor.
Ms. Malacora considered this as an opportune learning experience that allowed her to review previous subjects that were taught online.
"Cost-benefit analysis was already taught to us by our local professors here but because this was delivered online, I still had so many questions about this method. With Dr. Struk simplifying this concept to us, I was able to fully grasp the concept this time," Ms. Malacora shared.
For Mr. Bayron, he found Dr. Struk's discussions as practical and applicable in real-life situations.
"Attending Dr. Struk's lectures opened my mind and made me realize to think and decide critically in any situation that requires quick decision-making skills. I believe that acquiring this special skill is very crucial for any student pursuing economics as a field of study," Mr. Bayron explained.
Dr. Struk's stay in VSU was capped by a public webinar on circular economy and waste management held on April 1, 2022 wherein the European professor discussed how this concept can be applied here in VSU considering the rich natural resources of the university and the presence of a dynamic academic community thriving inside the campus.
Circular economy is a systems solution framework that tackles global challenges like climate change, biodiversity loss, waste, and pollution. It is more about how one effectively manages resources, how products are made and used, and what is done with left-over materials afterwards.
CME Dean Seriño revealed that this topic is very important to the university as this is one of the core projects that will soon be implemented for the futures thinking initiatives of VSU.
"It is good to learn something new from foreign experts in the field because they always provide a different lens of seeing things rather than what we have been accustomed to seeing and evaluating," Dr. Seriño expressed.
Aside from the delivery of lectures and webinar, Dr. Struk is also open to doing future research collaborations with CME.
"I am willing to do it. Now that I met a guy [Dean Serino] who is doing research-oriented circular economy here in the Philippines, which includes waste utilization, and this happens to be my specialization, so we can work on it together. He can do it more from the technical perspective, and I can try to approach it more from the social-economical perspective in which we can make people become more interested about how important this concept is," Dr. Struk expounded.
Overall, Dr. Struk was grateful to VSU for its hospitality during his stay. With his short stint in the university, he recommends that other European professors consider holding their international mobility program here.
More foreign exchange professors are slated to arrive in VSU in the second quarter of the year with professors in veterinary medicine from Croatia arriving in April 2022.