Viscans reap research awards in iSTEAM Congress 2019
Details

Written by Lynette Cimafranca

Published: 08 August 2019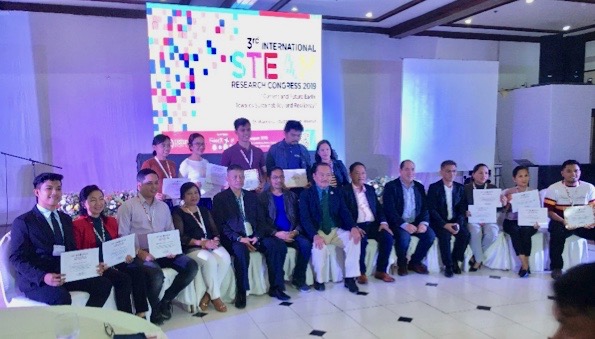 Faculty and student researchers of Visayas State University bagged majority of the awards in the 3rd International Science, Technology, Engineering, Agri-fisheries and Mathematics (iSTEAM) Congress at Sabin Resort Hotel, Ormoc City on August 6-7, 2019.
The Department of Food Science and Technology (DFST) and the National Coconut Research Center (NCRC) of VSU successfully brought home the Best Paper, Best Poster, and the Overall Best Paper awards.
Dr. Ivy C. Emnace, DFST head, was recognized as the Best Presenter for her study entitled "Extraction of Exopolysaccharide from Lactobacillus rhamnosus NBRC 3425'.
Meanwhile, outputs of Engr. Julious B. Cerna, Inish Chris P. Mesias, and Jovannemar P. Anire entitled "Entrainment Ratio Modelling of Ejector for Vacuum Frying System Using Numerical Approach", "Microbial Quality Assessment of Street-vended Grilled Chicken Intestines and Pork Barbeque in Leyte, Philippines" and "In-Vitro Multiple-Short Induction in Crown Shoot Tips of Queen Pineapple", respectively, received the Best Poster award in their respective strands.
The Best Paper award was conferred to Jessa Marie N. Anaña, Dr. Lynette C. Cimafranca, Engr. Julious B. Cerna, and Dr. Jocelyn G. Daclag for their study entitled "Process Optimization of Intermittently-dried Marinated Galunggong (Decapterus macarellus Bleeker)".
The Overall Best Paper award was presented to the study entitled "Development of Frozen Meat Loaf with Jackfruit Rags Through Response Surface Methodology" by Jennilou G. Cortes and Dr. Lorina A. Galvez. The winner was awarded a certificate and a cash prize.
Eastern Visayas State University (EVSU) organized and hosted iSTEAM 2019, with support from the Philippine Association for the Advancement of Science and Technology (PhilAAST).
With the theme "Current and Future Earth: Towards Sustainability and Resiliency", the congress aimed to gather researchers, scientists, and students from different universities and colleges in the country and abroad, to provide an avenue for sharing research outputs, innovations and best practices, as well as forging future collaborations among professionals of the same fields.