Viscans bag best paper awards in Visayas-wide animal science scientific forum
Details

Written by Isabelle Amora

Published: 17 September 2019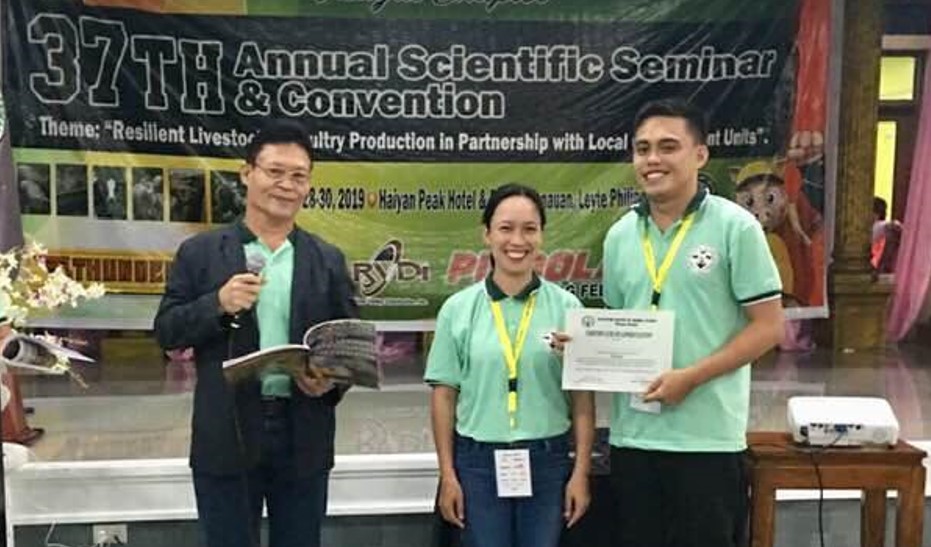 VSU faculty Carl Leonard Pradera and fresh graduate Ely Louraine Albesa bagged the Best Paper award in Animal Health category during the Philippine Society of Animal Science – Visayas Chapter (PSAS-VC) 37th Annual Scientific Seminar and Convention held at the Haiyan Peak Hotel and Resort, Tanauan, Leyte on August 29-30.
Their paper entitled "Prevalence and Antimicrobial Resistance Profile of Enterococcus fecalis from Flies in Backyard Pig Farms of Baybay City, Leyte" bested two (2) other entries from the whole Visayas.
Dr. Pradera is an instructor at the College of Veterinary Medicine, while Albesa is a VSU Class of 2019 graduate.
Another CVM faculty, Dr. Melvin Bagot, and newly licensed veterinarian Dr. Kimberly Louise Gementiza's paper on "Prevalence and Associated Risk Factors of Strongyloides papillosus Infection in Cattle in Baybay City, Leyte" also made it as a finalist in the same category.
PSAS is a professional non-profit organization established in 1963 and composed of veterinarians, animal scientists, researchers, academe, livestock and poultry production industry representatives, government personnel, and other professionals who are making contributions in the fields of veterinary medicine, animal science, and related disciplines.
The organization aims to further the development of the animal industry by integrating the various professions engaged in livestock, poultry, domestic and wild animal research, instruction, extension, production, processing, economics, and marketing including their support services.
Also, the society aims to enhance its members' professional development and increase stakeholders' awareness through the dissemination of high-impact knowledge and facilitating effective technology-transfer that will promote animal food security and safety.
The three-day forum was anchored on the theme, "Resilient Livestock and Poultry Production in Partnership with Local Government Units."