VSU registers 75% for first-time takers in the September 2019 Forester Licensure Exam
Details

Written by Jeanie Deluza

Published: 09 September 2019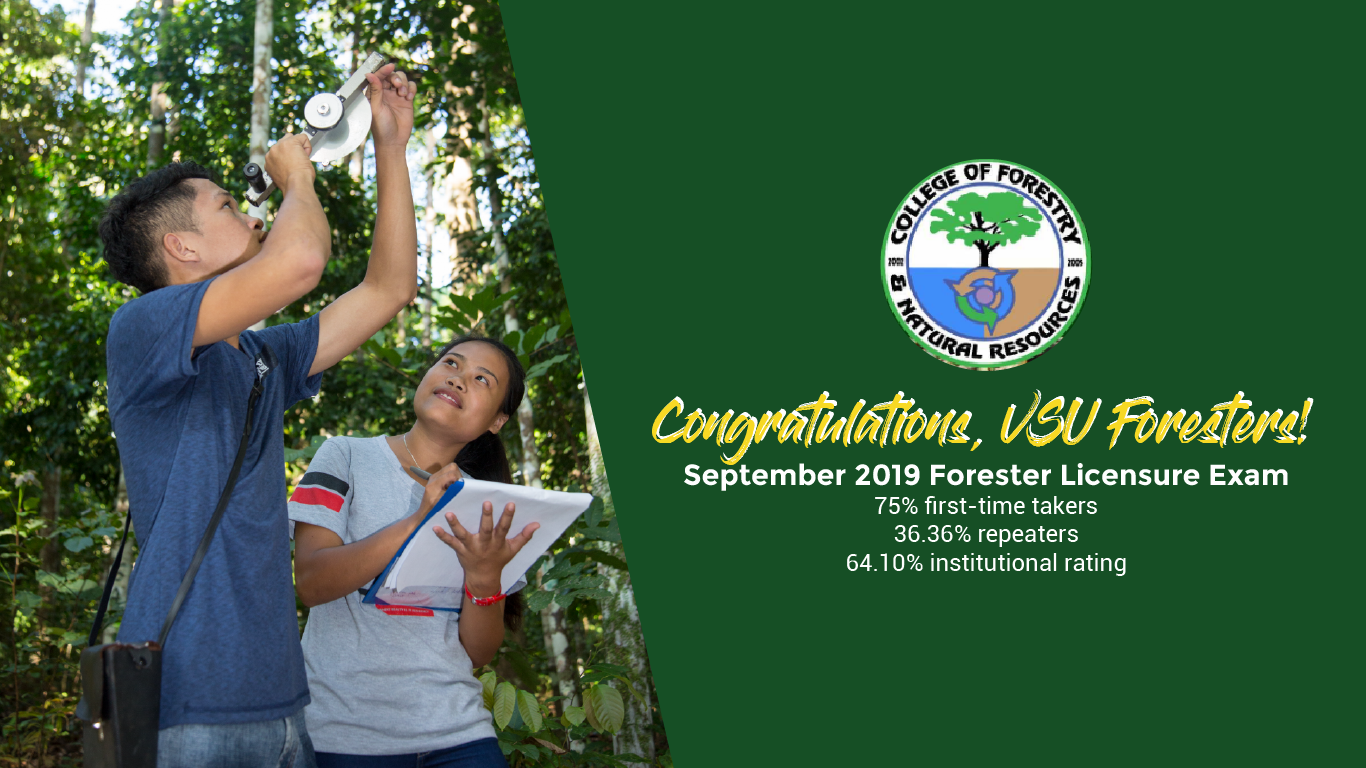 Visayas State University registered an institutional passing of 75% for first-time takers and 36.36% for repeaters with an overall rating of 64.10% in the September 2019 Forester Licensure Examination.
The results were released by the Professional Regulation Commission (PRC) on September 9, Monday. Out of 1,934 takers, 1,082 passed the licensure exam with a national passing average of 55.95%.
This year, Forester Mary Beatrice S. Evaristo topped with an average of 92.20%. She graduated from the University of the Philippines Los Baños which is also shortlisted as the top-performing school.
Here is the full list of Viscans who passed in the September 2019 Forester Licensure Examination:
ACERO, CATHY RIPALDA
ANANIA, MARY JOY DELA VEGA
AQUINO, LESTER WALES
AQUINO, MARYJOY OJA
ARTAJO, JOHN JOCHIEL MAHILUM
BALUNDO, GLAIZA ESQUERRA
BATICAN, RHEA MAE INATO
BUSTAMANTE, CLARENCE KLIEN MASING
DUALLO, ANTONIO, CELCO
EMPAS, BERT DELA CRUZ
ESQUIERDO, GILLIAN ABUDA
FABURADA, JENNY RICA CAYANGHO
FELISILDA, MARIMAR ALINGIG
GARCIANO, MELANIE MELGAZO
GULA, JONEL GILOS
LLANO, RIVAH SHANE PONDARA
LOPERES, CHARLIE JR ANDOY
LUMAGBAS, JOSAM CABASE
MADRONA, MARY ERICA ANDAYA
OMERO, KAHLAEL REPETILLO
SOTTO, CHENEE CAPAROS
TANGOG, KELVIN DEMIAO
TOUZO, CHARLAINE ANNE CANTERO
VILLASOTES, HARAMAE ANN DOGONG
YGAÑA, WILLIAM JR. CASTAñARES
Congratulations, new VSU foresters!