VSU awards 96 employees for milestone years in civil service
Details

Written by Jeanie Rose Deluza

Published: 30 September 2019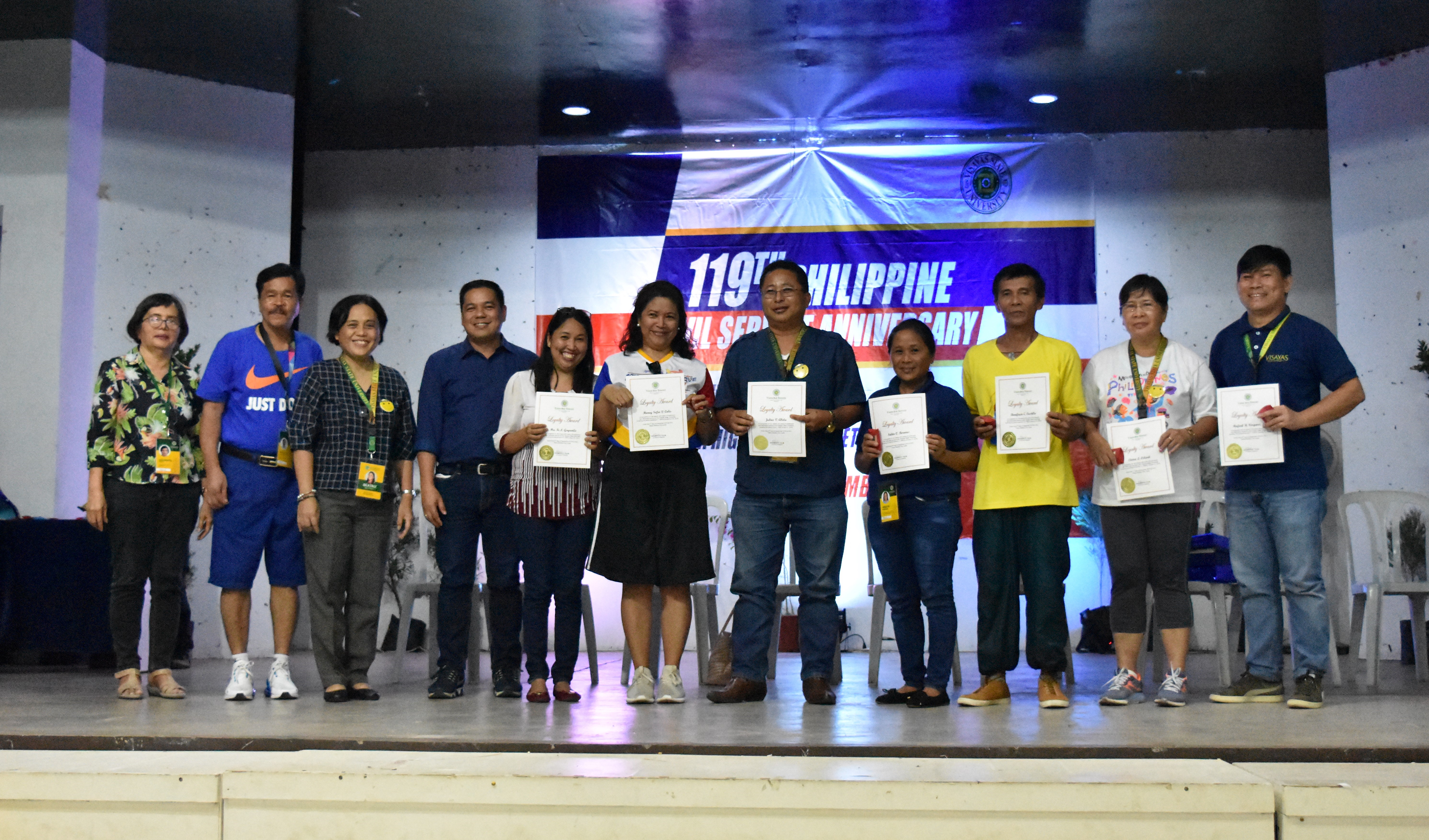 As part of the celebration of the 119th anniversary of the Philippine Civil Service, Visayas State University recognized about a hundred loyal and honest employees on September 27, 2019, at the VSU Convention Center.
These employees were given the Loyalty Award for their continuous and dedicated service to VSU. The award came with a certificate and cash:
10 years in service
Alcober, Ed Allan L.

Avila, Doryn Jan L.

Caintic, Lenita L.

Desades, Christy M.

Espinosa, Eliza D.

Lina, Suzette B.

Piamonte, Robelyn T.

Pogosa, Jimmy O.

Serino, Moises Neil V.

Siarez Mildred M.

Sugano, Shalom Grace C.
15 years in service
Abamo, Lorna B.

Aureo, Maricel V.

Banayag, Alberto N.

Bande, Marlito Jose M.

Bername, Mildred A.

Bolatete, Dioscoro Jr. M.

Caintic, Henry S.

Castanas, Carmelino C.

Dohiling, Raquel H.

Florentino, Nicolasa N.

Gucela, Arnel P.

Matiom, Felipe M.

Modina, Henry P.

Oquias, Bonifacio B. Jr.

Orendain, Edwin V.

Polinar, Anatolio N.

Sacedon, Marlon F.

Tabrosa, Lucilyn L.

Tumulak, Geronimo T.

Valida, Alberto F.
20 years in service
Abela, Julius B.

Balala, Lotis M.

Bastasa, Arturo S.

Bornias, Nelita C.

Castillo, Bonifacio E.

Colis, Honey Sofia V.

Cuadra, Lijueraj J.

Gayanilo, Ma. Fe L.

Gravador, Merle N.

Lao, Marvin M.

Morales, Romulo E.

Oclarit, Elvira L.

Ocoy, Edwin T.

Sales, Jude Nonie A.

Sapan, Mary Jean M.

Vergara, Rafael B. Jr.
25 years in service
Abamo, Antonio P.

Belonias, Beatriz S.

Buzon, Maria Belen J.

Edullantes, Melodina P.

Monteroso, Elena I.

Nunez, Lilian B.

Reyes, Ma. Fedelina B.

Zafico, Josephine O.
30 years in service
Balbarino, Yolanda U.

Baldos, Jesus Freddy M.

Braga, Rommel D.

Bustillo, Noel C.

Castanas, Benjamin V.

Gumba, Bertulfo M.

Pagente, Ma. Delia A.

Pernito, Anelito C.

Posas, Henry P.

Soriano, Wenifredo T.

Tabada, Maria Aurora Teresita W.

Tabada, Winston M.

Valenzona, Mario Lilio P.

Villagonzalo, Sean O.
35 years in service
Abogadie, Enrique B.

Diano, Ederlina S.

Diaz, Fe Remedios L.

Elorcha, Alex O.

Espinosa, Antonio C.

Llano, Filadelfo S.

Loreto, Manolo B. Jr.

Mangaoang, Eduardo O.

Noriel, Edieser A.

Pancito, Myrna S.

Patindol, Remberto A.

Solis, Remenita J.

Tan, Daniel Leslie S.

Tan, Julie D.
40 years in service
Abanera, Felix C.

Alkuino, Pedro O.

Capuno, Jose V.

Castanas, Levi G.

Godoy, Federico Jr. P.

Guinipaan, Arlyn A.

Igot, Leopoldo P.

Igot, Tirso P.

Managbanag, Lourdes C.

Manatad, Teresita G.

Quinanola, Teresita L.

Teodosio, Socorro B.

Velarde, Rosa Ophelia D.
On the same day, Michael V. Managbanag, Rosendo L. Pedregosa, and Alfredo D. Florendo Jr. were recognized for their exemplary display of honesty for returning lost and found items.
The Office of the Director for Administration and Human Resource Development (ODAHRD) spearheaded the awarding ceremonies.
Congratulations, VSU Employees!