VSU ready for 2nd stage ISO external audit - TÜV Rheinland
Details

Written by Derek Alviola

Published: 22 November 2019
"This is the shortest audit list I have written for a state university. This is a well-deserved stage 1 audit findings."
This is what Jogina Mendiola of TÜV Rheinland said, as they close a successful first stage assessment for Visayas State University's ISO 9001:2015 certification, held at the Quality Assurance Center (QAC) on November 22, Friday.
ISO 9001:2015 specifies the requirements for a Quality Management System in organizations of any size, including state universities.
For many months now, VSU administrators, faculty, staff and students have been very busy to ensure that the university's procedures and processes comply with the standards set by ISO.
In a document obtained from TÜV Rheinland auditors, it reads that VSU is fully ready for Stage 2 audit which is set on January 27-29, 2020. The auditors presented only four findings, leading Ms. Mendiola to note that it was the shortest for first-stage audits she has done.
The schedule of stage 2 audit was set less than two months after the first stage audit to keep the work momentum of VSU faculty, staff, and students, following a recommendation from VSU President Edgardo E. Tulin.
In his concluding speech, the VSU Chief Steward expressed his delight for yet another successful accreditation held for VSU.
"I challenge further the VSU community to address the minor issues found by the external auditors. I am very much hopeful that we will be able to surpass it because of the very impressive results we got for the stage 1 audit," Dr. Tulin said.
Meanwhile, VSU Quality Assurance Center Director Milagros C. Bales, who was leading all the preparations for the ISO certification could not contain her emotions and delight for the outcome of the first audit.
"I am very much overwhelmed for all that we collectively accomplished. Imagine, our days have become nights. We spent so many weekends and overtimes here in the office with the help and active cooperation of everyone," Dr. Bales quipped.
The QAC Director also expressed her thanks to the dedicated men and women of her office for the untiring work they rendered to prepare all the voluminous documents needed for ISO certification.
"I would like to thank most specially my QAC team namely my assistant director Mr. Medardo C. Magdadaro, our lead internal auditor Ms. Elvira E. Ongy, documents records controller Pame Oraño, customer feedback officer Ms. Jemaica Mueda and our support staff Raul Valenzona and Christopher Orate, who have been with me through overnights and weekends just to comply with the needed documentation for this event."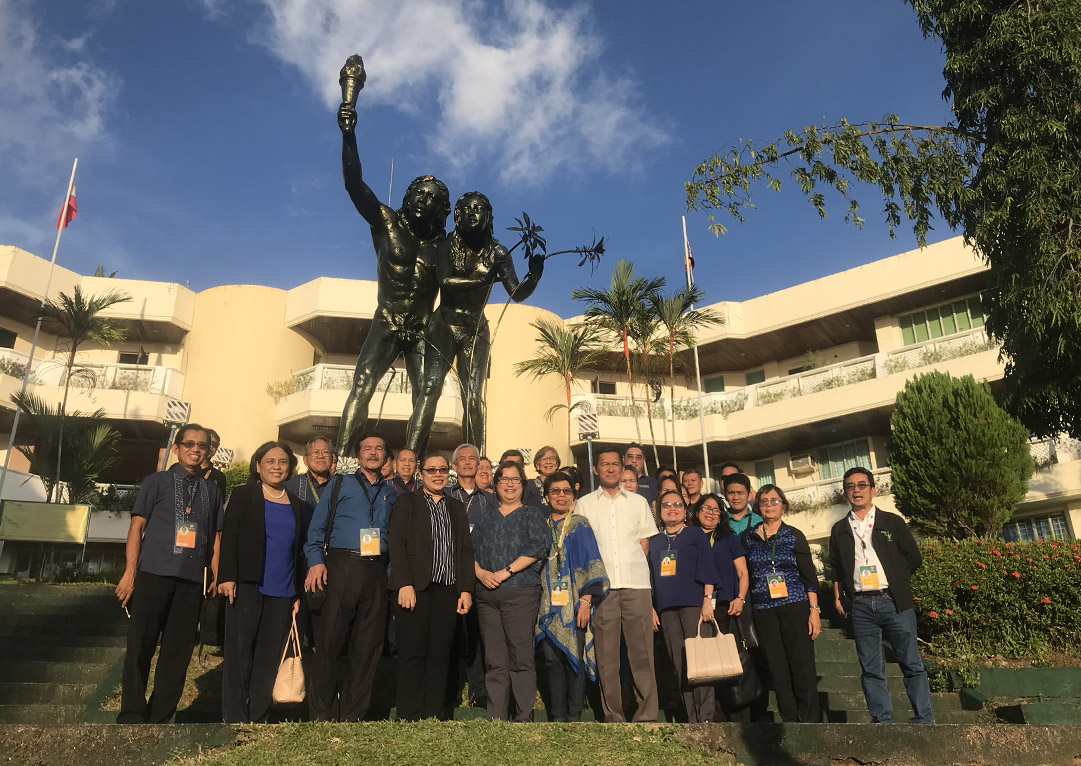 Government offices, including state universities, have long been enjoined to have their organizations certified with ISO 9001, as instructed by former president Gloria Macapagal-Arroyo in Executive Order N. 605, s. 2007.
TÜV Rheinland has been chosen by VSU as the auditing firm for VSU's ISO certification because of its uncompromising reputation in quality management assessment.
This organization is, in fact, a global leader in independent inspection services, founded 145 years ago. TÜV Rheinland maintains a worldwide presence of more than 20,000 people with an annual turnover of nearly EUR 2 billion. They inspect technical equipment, products, and services, oversees projects, and help shape processes and information security for a lot of reputable companies here and abroad.
For the VSU stage 1 audit, lead auditor Jogina Mendiola was accompanied by Madilyn Plaza, who stringently and scrupulously reviewed the documents submitted by VSU to TÜV Rheinland.