Baybay City's 2011 Most Outstanding Farmer is a VSU alumnus
Details

Written by MMCano

Published: 13 January 2012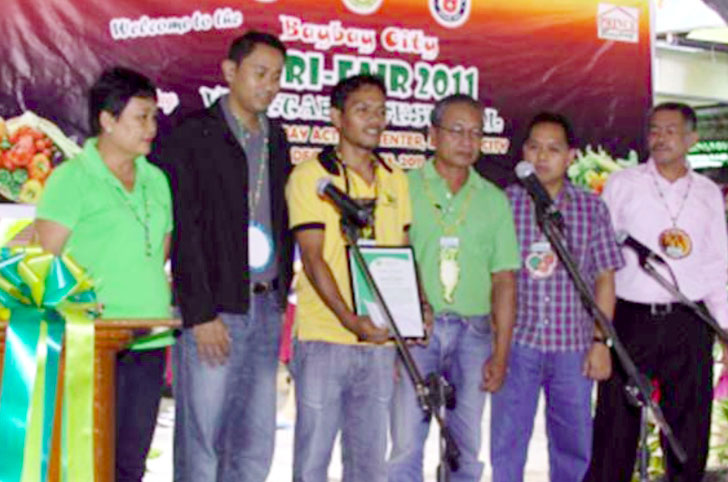 Mr. Loreto P. Godoy, a 1999 BS in Agriculture major in Agronomy graduate of the then ViSCA, now VSU, and a resident of Barangay Can-ipa, Baybay City, Leyte, was awarded the 2011 Most Outstanding Farmer of Baybay City. The award was given during the Opening Program of the Baybay City Agri-Fair on December 16, 2011 held at the Activity Center of Prince-Baybay. As winner, he received a cash prize of P10,000 and a certificate of recognition.
In his acceptance message, Mr. Godoy revealed that probably, he is the only farmer who was accorded the Most Outstanding Farmer Award without a land of his own.
He said that while he was still studying at ViSCA then, he had been assisting his father in tilling the land they lease. After earning his baccalaureate degree, he applied what he learned from his course to improve their farm production.
Mr. Godoy added that before he became a full-time farmer, he worked with several private companies as a sales agent. Despite having a regular job, his salary is not enough to meet the needs of his family, thus he could not help but borrow money from other people. But now that he is a full-time farmer, he is now the one lending money to the needy.
"While I was still working as sales agent, the salary that I received was P16,000 per month. But when I decided to be a full-time farmer, I experienced earning at least P20,000 per week," Godoy revealed.
On the other hand, Atty. Florante Cayunda Jr., Leyte Provincial Board Member, said that it is very important to conduct activities for the farmers, just like the agri-fair, since this is one way of acknowledging their contribution to the local economy. "They also had a venue for displaying, not just their farm products, but their talents as well. We also get the chance to hear inspiring stories from the farmers which could inspire other farmers," Hon. Cayunda said.
In his closing remarks, Prof. Alan B. Loreto, Officer-in-Charge of VSU, encouraged not only the farmers but also the agricultural technicians to visit VSU and learn new technologies that could help them cope with the changing times.