Partner-agencies allot P92-million for Ormoc-Kananga Range Project
Details

Written by Maria Anabelle D. Gerona/DDC

Published: 13 January 2012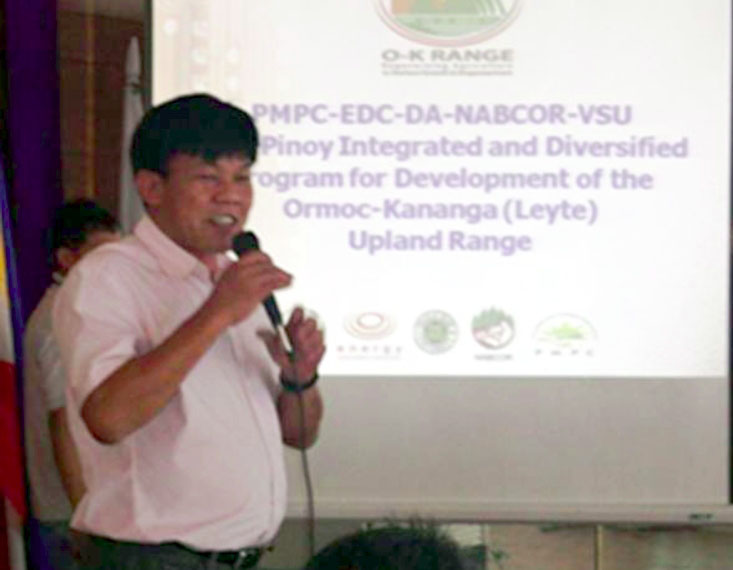 After the signing of the Memorandum of Agreement on the "Integrated and Diversified Program for the Development of the Ormoc-Kananga (OK) Upland Range" between the Visayas State University, the Energy Development Corporation-Leyte Geothermal Production Fields (EDC-LGPF), Partners Multi-Purpose Cooperative (PMPC), National Agribusiness Corporation (NABCOR), and the Department of Agriculture (DA) on December 12, 2011 at the Patio Victoria, San Jose, Tacloban City, the implementation of the Phase 1 of the project valued at 92 million pesos is now in full-throttle for the next five years.
The project aims to develop some 20,000 hectares of upland farm surrounding the world's largest geothermal facility in Ormoc City and Kananga, Leyte.
The undertaking is VSU's biggest public-private partnership project in the past six years. Hence, Dr. Bacusmo vowed that the whole University will be behind the project and will seriously provide technical assistance to achieve a better quality of life among farmers.
DA Secretary Proceso Alcala, who led the MOA signing, said that the assistance will be a complete package to ensure that poverty will be addressed in the Ormoc-Kananga Range.
The MOA signing culminates project development activities started in June 2011 at the request of DA-RFU 8 Regional Director Antonio Gerundio and coordinated by Mr. Leo Abejuela, DA-RFU 8 Adviser for Upland Ecosystems Roadmap Development, and Dr. Antonio Acedo Jr., Head of VSU's Department of Horticulture.
Dubbed as the "O-K Range Project", the initiative has five interlinked programs which will be mostly spearheaded by VSU researchers. These programs and the leaders are: 1) Commercial Horticulture Development Through Improved Production and Postharvest Management (Dr. Antonio Acedo, Jr.); 2) Integrated Livestock Production for Specialized Meat Products (Dr. Lolito Bestil); 3) Market Development and Managing Supply Chains of High Value Crops and Livestock (Dr. Antonio Abamo); 4) Environmental Monitoring and Enhancement (Dr. Justino Quimio); and 5) Technical Manpower Development to Sustain Agricultural Development in the Ormoc-Kananga Range (Engr. Emiliano Argoncillo [EDC-LGPF]).
The assistance is expected to benefit 5,600 farmers who are members of 23 farmer-associations in the Ormoc and Kananga areas under the PMPC umbrella. The project will cover the villages of Rizal, Hiluctogan, Montebello, Aguiting, Lim-ao, San Ignacio, and Tongonan in Kananga; Milagro, Buena Vista, Cabaon-an, Danao, Gaas, Liberty, Tongonan, Mahayahay, and Dolores in Ormoc City.
The integrated program is managed by a Program Management Committee composed of the heads of the five collaborating agencies and a Technical Advisory Committee composed of the program leaders and representatives from EDC, DA-RFU 8 and NABCOR. Several VSU experts from various units will provide technical backstopping.