Information Office staff in Bora global media convention
Details

Written by Media Team 1

Published: 03 January 2012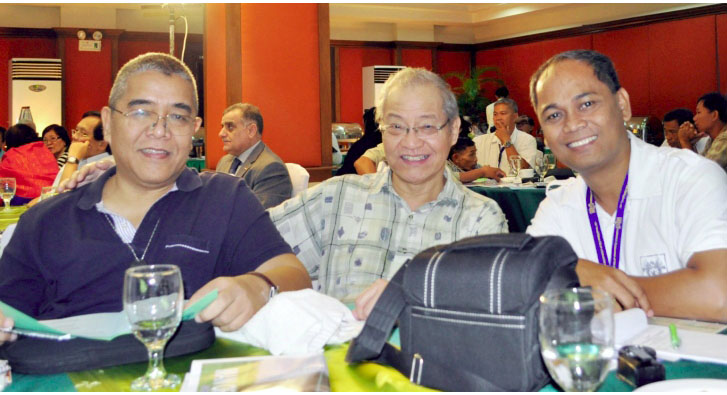 Mr. Jesus Freddy M. Baldos, Administrative Officer V of VSU's Information Office, participated on December 8-10, 2011 in the first ever Global Media Island Convention in the country at the idyllic Boracay Island, the Tourism Island Paradise in the Pacific.
The Global Media Island Convention is the umbrella title of the two complimentary media events—the 16th National Press Congress and the first ever Global Media Forum under the joint auspices of the Publishers Association of the Philippines, Inc. (PAPI) and the Boracay Global Press Corps (BGPC).
Held at the Boracay Regency Resort and Convention Center in Boracay Island, Malay, Aklan, the said convergence gathered some 150 local and foreign journalists, academicians, and other media communicators and tackled policies on how to prop up media.
According to Mr. Louie T. Arriola, publisher of the Asean BizTimes and BGPC vice president as convention chairman, "the shaping of media development assistance policies has become critical to help expand the discussion on how investors and media executives can reexamine their goals and their tools, and take the lead in making financial viability compatible with quality journalism."
The occasion was graced by Senator Edgardo J. Angara, chairman of the Senate Committee on Education, Arts and Culture; Mr. Rey M. Langit, chairman of the Kapisanan ng mga Brodkaster ng Pilipinas-National Capital Region and BGPC chairman; and His Excellency Dato Seri Dr. Ibrahim Saad, Malaysian Ambassador to the Philippines.
Focusing on the theme "The Changing Face of the Asian Media," the 3-day convention tackled topics such as: The Digital Media: Its Future Direction and Landscape by Mr. Angelino Timoteo de Rivera, president of the Collaborative ICT Services Division of the Information Capital Technology Ventures, Inc.; Drawing the Line on Profit, Public Interest and Ethics by Ms. Belinda Olivares-Cunanan, a veteran journalist and newspaper columnist; Humanitarian Reporting and Protection of Journalists by Dr. Rene V. Guioguio, Political and Communication Adviser of the International Committee of Red Cross and mass communication professor of UP Diliman; Innovative Paradigms in New Media Operations by Mr. Chito Sta. Romana, former Bureau Chief of the American Broadcasting Company (ABC) News in Beijing, China;
Social Networking as a New Media Dimension by Mr. Ethan Sun, Deputy Chief, Political Section of the Embassy of the People's Republic of China; Media Content as a Critical Factor in Sustainable Revenue Generation by Amb. Rigoberto D. Tiglao, a columnist of the Philippine Daily Inquirer; and Strategies to Encourage the Youth to Engage in Media by Prof. Gary Olivar, columnist of the Manila Standard and former Deputy Spokesperson of the Arroyo Administration.