1st Dog Show in Baybay City amazes dog lovers
Details

Written by MMCano

Published: 03 January 2012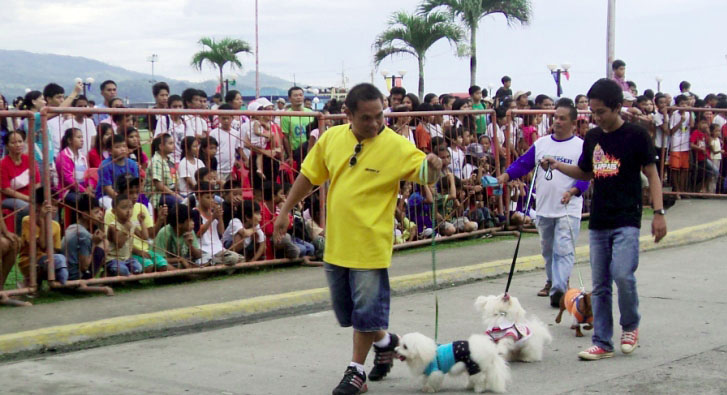 The Liga ng mga Barangay of Baybay City and the City of Baybay, thru the City Rabies Control Committee (CRCC), conducted the 1st City of Baybay Dog Show 2011. This was held at the Veterans' Plaza of Baybay City on December 9, 2011 and was attended by hundreds of dog lovers.
In her opening remarks, Hon. Margarita C. Cari, President of the Liga ng mga Barangay in Baybay City, thanked the dog owners for joining the activity and all the people who helped her put up the show. "My special thanks to Marissa Cano, Mitzi Ocaňada, the Veterinarians of the Visayas State University (VSU), the City Administrator's Office, the CRCC members, the Baybay City Police Station, Traffic Management Office, General Services Office, City Health Office, the Baybay Pet Lovers Clinic and the students of VSU."
Hon. Cari also thanked the Provincial Government of Leyte thru Governor Carlos Jericho Petilla, the Office of the 5th Congressional District thru Congressman Jose Carlos L. Cari and the Local Government Unit of Baybay City thru Mayor Carmen L. Cari for their financial support.
In her message, City Mayor Cari said that, "If not for this Dog Show, we won't be able to see the different breeds of dogs that we have here in the City of Baybay and the nearby towns, and for this I would like to congratulate the sponsors of this activity, the Liga ng mga Barangay and the City Rabies Control Committee."
She also said that this was the first Dog Show in Baybay City but this won't be the last. Thus, she enjoined the dog owners to prepare their dogs for next year. "We will surely have more of this," the City Mayor added.
Dr. Lotis Balala of the College of Veterinary Medicine (CVM) of VSU, on the other hand, revealed that 79 dogs were registered during the said dog show, which was facilitated by the Show Master, Mr. Rey C. Perez, a 2nd year DVM student of VSU.
The technical judges during the said activity were Dr. Ronald B. Torregoza and Dr. Froiland E. Sanchez from the CVM of VSU, while the celebrity judge was Judge Maria Cleofe V. Militante, the Presiding Judge of the Municipal Trial Court in Cities (MTCC) in Baybay City.
Different winners in the puppy and adult categories were proclaimed.
The City of Baybay Dog Show 2011 was assisted by the CWTS Team Fortitude and the Gamma Kappa Phi of VSU and the Baybay Pet Lovers' Clinic.