VSU president bares results of scientific exchange meet in Germany
Details

Written by JFMBaldos

Published: 03 January 2012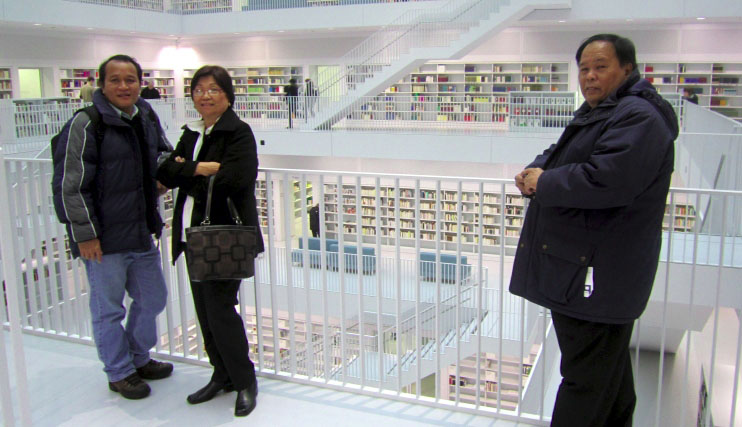 After the 15-day stint at the University of Hohenheim (UH) in Germany for a scientific exchange meeting with some key officials of UH's Center for Agriculture in the Tropics and Subtropics, Dr. Jose L. Bacusmo, VSU President, revealed what transpired during the meeting.
Dr. Bacusmo said that the UH-VSU partnership needs to be revitalized by recruiting faculty members from VSU to study at UH, pursuing new joint R&D projects, and by organizing joint activities such as the summer course on tropical ecology. There is also the need to start identifying new coordinator from VSU side in preparation of the eventual retirement of the present coordinator.
Possible joint projects identified are in the areas of: a) abaca production, b) climate change adaptation, and c) organic hog production.
Dr. Bacusmo also presented a paper entitled "VSU: In Pursuit for Academic Innovation and Excellence in Science and Technology" on November 28, 2011 during the Colloquium of the Institute of Soil Science and Land Evaluation.
With him was Dr. Paciencia P. Milan, University Professor and Coordinator of VSU and the University of Hohenheim Cooperation, who also acceded to the invitation of Dr. Barbara Ramsperger, Executive Manager of UH's Center for Agriculture in the Tropics and Subtropics in Germany, for a scientific exchange meetings with the researchers of UH from November 22-December 8, 2011.
Both of them met with Prof. Dr. Hans-Peter Liebig, UH Rector, during the first day of the visit.
Dr. Milan, on the other hand, presented a paper on "Forest Biodiversity Conservation through Rainforestation" during the Colloquium of the Institute of Plant Production and Agroecology in the Tropics and Sub-Tropics and in the International Workshop in Tropical Ecology on December 6, 2011.
Aside from exchanging of ideas and discussing issues related to research undertakings among the researchers/scientists of the two universities, other activities conducted during their visit included: guided tour through the garden and arboretum, introduction to special research projects, visit to the UH Library, business lunch and project discussion, visit to Mercedes Benz Museum, and meeting with other Filipinos who are working and studying at UH.