HU-VSU cements MOA on academic and educational exchange
Details

Written by JFMBaldos

Published: 03 January 2012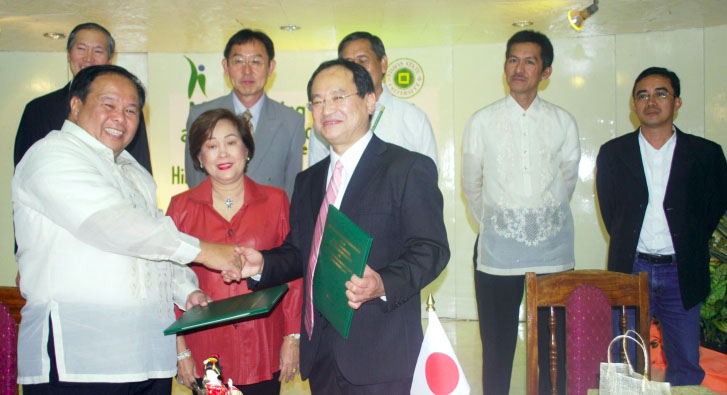 The Graduate School of Biosphere Science of the Hiroshima University (HU) in Higashi-Hiroshima, Japan and the College of Agriculture of the Visayas State University (VSU) in Baybay City, Leyte, Philippines strengthened their partnership with the signing of the Memorandum of Agreement (MOA) on Academic and Educational Exchange between the two universities on December 9, 2011 at the Training Hall of PhilRootcrops.
The MOA was signed by HU's dean of the Graduate School of Biosphere Science, Dr. Muneharu Esaka, and VSU President, Dr. Jose L. Bacusmo. The Agreement aims to establish an academic and educational exchange that would promote mutual understanding between the two universities through educational and academic collaboration and exchange, and ultimately contribute to the advancement and progress of learning.
The Agreement shall remain enforce within a period of five years without prejudice of being renewed for another term.
With the MOA signing, both institutions shall engage in the promotion of joint research; exchange of faculty members; exchange of undergraduate and graduate students; and exchange of research outcomes, academic publications, and other academic information.
In the Student Exchange Program, only two students shall be allowed to stay at the host university within a period of one year for each academic year. The students will not be subject to examination, admission, and tuition fees at the host university; shall be given authorization and appropriate documents by the host university to apply for visas for the length of time equivalent to the exchange term in the country where the host university is located; and may enroll in all courses offered by each university, except in specific courses determined by the host university.
At Hiroshima University, undergraduate exchange students shall be accepted with the status of Special Auditing Students and the graduate students as Special Auditing Students or Special Research Students. At VSU, exchange students shall be accepted with a status as Visiting International Students.
Both institutions agreed to transfer credits earned by exchange students at the host university subject to the regulations and procedures of the respective institutions.
Other guests from HU included Dr. Teruo Maeda, Vice Dean for International Affairs; Ms. Hisae Murakami, Senior Administrative Assistant; and Dr. Lawrence M. Liao, member of the Graduate School of Biosphere Science.
The group was warmly welcomed by VSU President Bacusmo, together with Dr. Oscar B. Posas, VP for Academic Affairs; Dr. Edgardo E. Tulin, VP for Planning and Resource Generation; Dr. Victor B. Asio, Dean of the College of Agriculture; and other VSU officials.
Honorable Carmen L. Cari, Mayor of the City of Baybay and member of the VSU Board of Regents, also welcomed the guests.