VSU staff attends training on human rights defenders
Details

Written by MMCano

Published: 07 December 2011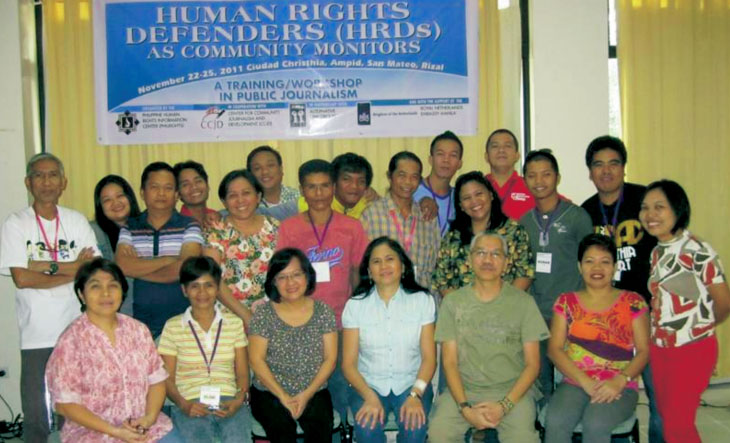 The Visayas State University, being the representative for Eastern Visayas in the Council of Leaders of the Alyansa Tigil Mina (ATM), was invited to send a representative to the training on "Human Rights Defenders' (HRDs) as Community Monitors and Documenters: A Training-Workshop in Public Journalism." The training was held at Ciudad Christhia Resort, Barangay Ampid, San Mateo, Rizal on November 22-25, 2011.
Ms. Marissa M. Cano of the Information Office was chosen to attend the training because of her journalism background and her extensive involvement in environmental advocacies. It is expected that Ms. Cano will be able to echo her training to communities that request for VSU's assistance in dealing with the issue on mining.
The training aimed to develop a core of HRDs who will actively be involved and lead in the monitoring and documentation of human rights violations in their respective communities. Thus, the 14 HRD participants, coming from the different parts of the country, make up the core of HRDs. They are expected to submit documented cases and incident reports, with photos, of human rights violations to the Philippine Human Rights Information Center (PhilRights). It is also expected that through them, monitoring and documentation of human rights violations within their area of responsibility will be institutionalized.
During the 4-day training-workshop, the participants gained a deeper understanding, not only on the civil and political rights of the Filipinos, but most especially on the economic, social and cultural rights, which most of the time is taken for granted due to the unavailability of parameters and indicators. Among the topics discussed were Public Journalism; the Art of Interviewing; Process Documentation, Listening and Observing; Photo Journalism and "Your Best Defense: Laws, Safety and Security of Media."
The participants joined the November 23, 2011 March Rally from the Far Eastern University to Mendiola in celebration of the International Year to End Impunity and to commemorate the 2nd Anniversary of the Ampatuan Massacre. The said activity served as the training ground for the participants to gather data and write straight news. In addition, a mock check point and ambush were also conducted by the facilitators to give the participants an idea of what to do in case they happen to be in such a situation.
The training-workshop was organized by PhilRights, in cooperation with the Center for Community Journalism and Development, in partnership with the Alternative Law Groups and with support from the Kingdom of the Netherlands, Royal Netherlands Embassy, Manila.