VSU conducts 5th RDE management forum and dialogue
Details

Written by JFMBaldos

Published: 30 August 2013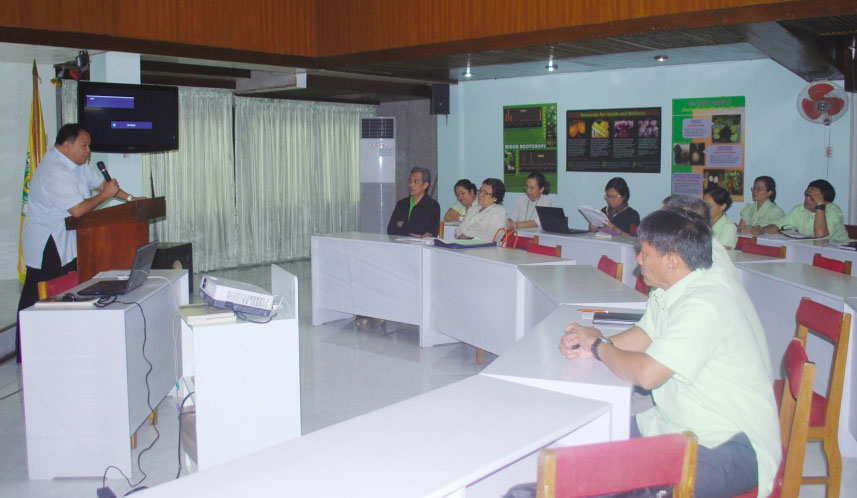 The Visayas State University, through the Office of the Vice President for Research and Extension (OVPRE), conducted the 5th VSU RDE Management Forum and Tripartite Budget Dialogue on January 17-18, 2013 at the PhilRootcrops Training Hall. The activity was participated in by some research coordinators and in-charge of RDE budget monitoring and evaluation from the different colleges and research centers of VSU System.
During the opening program, VSU President Jose L. Bacusmo, expressed hope for each college to come up with a research agenda that would encourage every faculty to get involved in research. Dr. Bacusmo also invited the participants to listen and gain insights from the different presentations and come up with research outputs that could be used for the accreditation of various programs of the University.
The VSU President, moreover, emphasized that the different colleges should come up with an RDE agenda within a period of 1-2 months. He even mentioned that to have a research focus, every college must look into itself as viewed from the outside. Dr. Bacusmo said that each faculty should identify a focus or discipline that would be beneficial to their students as advisees. He encouraged them to begin with a small project with lesser budget before coming up with bigger project with external funding. Nevertheless, he reminded the participants to always be ready for AACCUP accreditation in their respective departments and colleges.
The first day of the forum was devoted to presentation of reports by the center directors/college deans using the OVPRE format for powerpoint presentation. The second day was scheduled for budget consultation by batch based on the grouping such as colleges, research centers, and OVPRE support offices.
The forum provided a venue for presentation of their 2012 RDE accomplishments as well as the 2013 budget, plans and targets for research development and extension.