VSU top brass in AACCUP nat'l confab
Details

Written by JFMBaldos

Published: 30 August 2013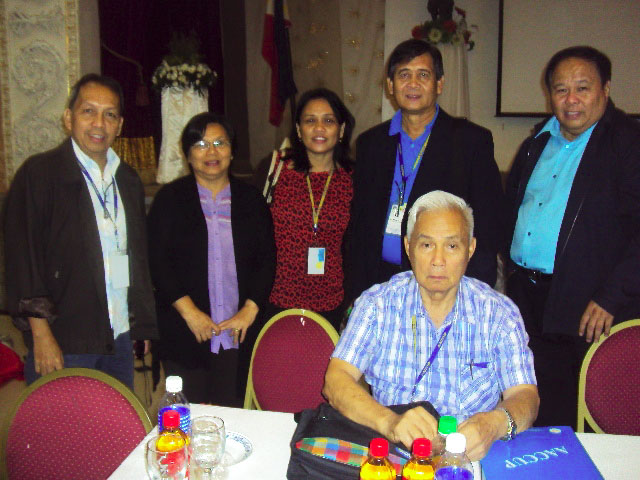 Five officials of the Visayas State University led by the president, Dr. Jose L. Bacusmo, attended the 26th AACCUP Annual National Conference that was held on January 29 – 31, 2013 at the Punta Villa Resort Hotel in Arevalo, Iloilo City. The other key officials included: Dr. Oscar B. Posas, VP for Instruction; Dr. Lualhati M. Noriel, head of the University Accreditation Center; Engr. Manolo B. Loreto, Jr., Dean of Students; and Dr. Beatriz S. Belonias, Dean of the Graduate School.
The conference was guided by its theme "Realigning Accreditation of SUCs to CHED Typology-and-Outcomes-Based Quality Assurance (TOBQA)." It aimed to enable the participants—composed of presidents, vice presidents, deans, directors, chairs/heads of internal accreditation bodies, accreditors and senior faculty from the different state universities and colleges throughout the country—to have fully appreciated the TOBQA framework; gained a working knowledge of the definitions, standards accreditation instruments, procedures and benefits of TOBQA; known the mechanics of applying for TOBQA; and elected the members of the AACCUP Board of Trustees (2013-2015).
The occasion was graced by Hon. Ruperto S. Sangalang, newly appointed Commissioner of the Commission on Higher Education (CHED) who once served as president of the Cavite State University and erstwhile president of the Accrediting Agency of Chartered Colleges and Universities in the Philippines (AACCUP), Inc. Commissioner Sangalang shared his experiences as AACCUP President as well as his views about the current and future direction of accreditation.
Likewise, the conference was spiced up with the presence of Mr. Vicheanon Khiu, Deputy Secretary General of the Accreditation Committee of Cambodia and Board Member of the Asia-Pacific Quality Network (APQN), who also gave a message to the participants.
Several topics were discussed supplemented with workshops in the different plenary sessions which included: quality assurance in the asia-pacific region, implementing the CHED TOBQA project: preparing the accreditation instruments, and the CHED-PASUC partnership: a progressive development in quality assurance.
As reported in the AACCUP Newsletter, TOBQA has been conceived as a paradigm shift in higher education as provided for in CMO #46 – "Policy Standard to Enhance Quality Assurance in Philippine Higher Education Through a Typology and Outcomes-Based Quality Assurance" that applies to both private and state-funded higher education institutions in the country which shall be fully implemented in 2014.
The three-day convergence of SUCs' executives was concluded with a closing message from its guest of honor and speaker, Dr. Angel A. Alcala, NNQAA President, who delved into "Quality Assurance Among SUCs in the Next Five Years."