What's in store for VSU's 97th birthday?
Details

Written by Aura Shaznay P. Tumulak

Published: 08 April 2021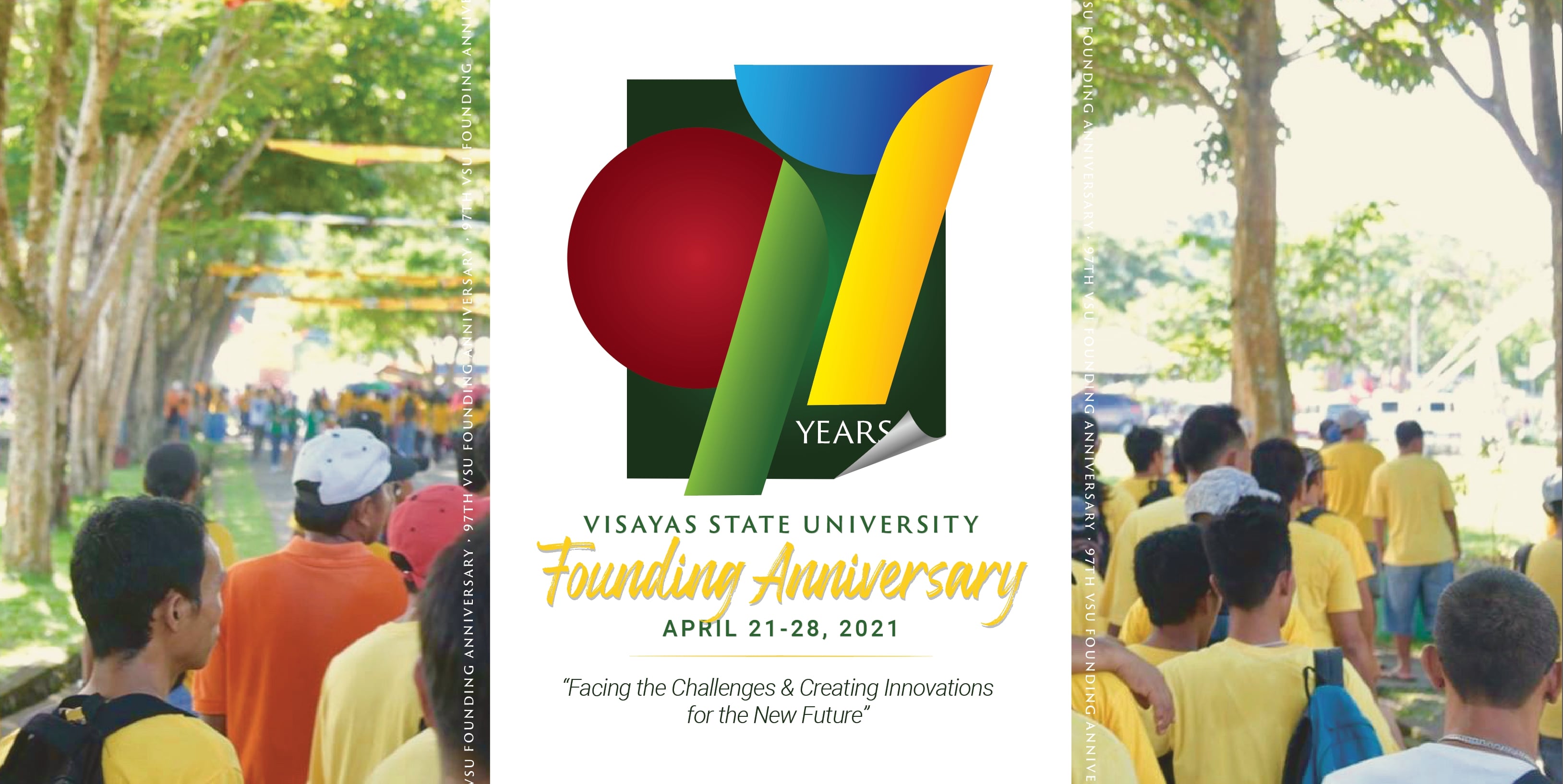 Since last year, we missed the usual festive vibe—the people, the sounds, the sights—our VSU Founding Anniversary is known for. But for this year, let's see if we can make it more fun as we bring everyone together for #VSUAnniv, from wherever you are.
Viscans, we present to you the 97th Founding Anniversary of the Visayas State University!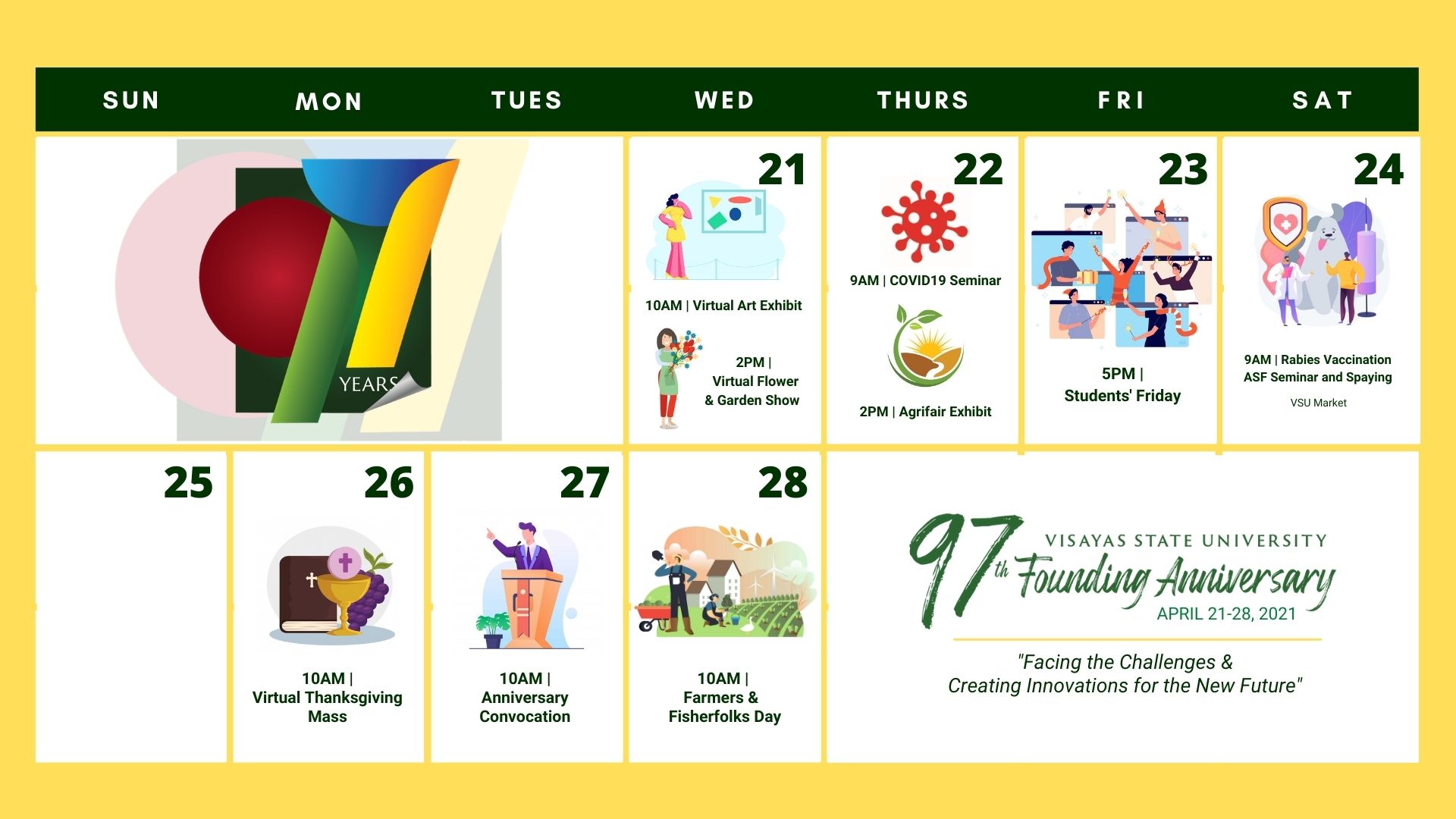 It will be a weeklong celebration from April 21-28. We will bring everything to you online, all the activities you've missed back here whenever it's VSU's birthday.
Our anniversary theme this year is "Facing the Challenges and Creating Innovations for the New Future". Now that we are in the "new normal", we're looking ahead to prepare for a 'New Future' filled with hope and determination to reset, rebound, and recover from this global pandemic.
As COVID-19 continues to affect our lives, VSU commits to be relevant especially in these trying times by being the harbinger of hope and aspirations, not just for our immediate community but also for our many stakeholders here and abroad.
What we will be doing for this anniversary is austere but equally meaningful.
In fact, we have lined up a mix of activities that will surely remind you of home while also tapping the power of technology, so that we can continue our core mandate of educating and informing with a dose of entertainment.
In the morning of Wednesday, April 21, we will open the weeklong celebration with a Virtual Art Exhibit, brought to you by our Alumni and Community Affairs Office (ACRO). On that same day, we will launch the Virtual Flower and Garden Show, where we will feature premium ornamental plant collections available in the region and even sell them live! Our VSU Department of Horticulture (DoH) is behind this exciting program.
On Thursday, April 22, we will hold a public webinar related to mental health in the time of a pandemic, hosted by the University Services for Health, Emergency, and Rescue (USHER). Later that day, we will open our Virtual Agri-Fair Exhibit to feature local agricultural products from our partner government agencies and LGUs.
We will devote April 23 for the annual Students' Night but with a twist!
This year, the Office of the Vice President for Student Affairs and Services (OVPSAS) and the University Supreme Student Council Federation (USSCF) have joined forces to bring to you a Student Benefit Variety Show called #TabangViscan. This program will bring together interested alumni and stakeholders for an opportunity to help selected needy students across all campuses of the VSU system. On top of that, it will also showcase some talent presentations from our students and a chance to win many cash prizes. Don't miss it!
April 24, Saturday, will be for our Virtual Fun Run and the announcement of winners for the Biggest Loser VSU Edition, brought to you by the Institute of Human Kinetics (IHK). This contest will hopefully encourage our faculty and staff to live better and healthier lifestyles. On the same day, the College of Veterinary Medicine (CVM) will hold a free virtual community forum on African Swine Flu (ASF) including free rabies vaccination, spaying, and neutering applicable only for VSU Main Campus fur owners.
On April 26, Monday, VSU will celebrate with a thanksgiving mass at the Multimedia Development Center (MMDC) building in the morning, which will be followed by a pre-employment and career guidance seminar led by the Office of the Dean of Students (ODS).
In time for VSU's birthday, April 27, there will be an Anniversary Convocation to include President Edgardo E. Tulin's State of the University Address and keynote speeches from CHED Chairperson Dr. J. Prospero E. De Vera III, Senator Pilar Juliana 'Pia' Cayetano, and DBM Secretary Wendel E. Avisado.
A tradition in anniversary convocations, we will also honor some outstanding employees and partners in this big event. On Tuesday evening, we will be hosting a Virtual Singing Competition open to all VSU constituents to spice up the anniversary. Watch out for details on how to join!
And to conclude this year's anniversary celebration, we will hold the Farmer and Fisherfolk's Day (FFD), spearheaded by our teams at the Office of the Vice President for Research, Extension, and Innovation (OVPREI).
Philippine Agriculture Secretary William D. Dar and DA-RFO 8 Director Angel C. Enriquez will serve as guests of honors to inspire farmer groups who will be watching the event in select remote locations of Eastern Visayas.
Watch out for the anniversary webpage, where you will see the full calendar of events, photos, videos, details, and other interesting features. To be published very, very soon!
We hope to have a productive and meaningful anniversary celebration with all of you. We hope you are as excited as we are!