Christmas is in the air at VSU
Details

Written by JFMBaldos

Published: 30 August 2013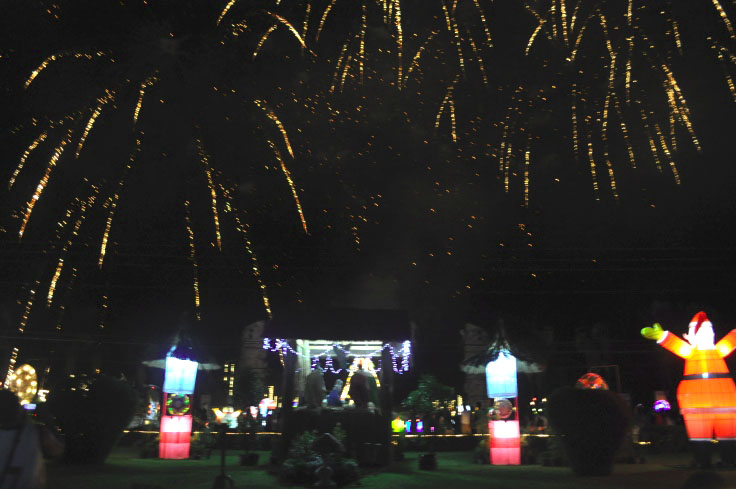 Once again, the spirit of Christmas is felt by everyone at VSU as the University held its annual lighting ceremony of the Christmas tree and Holy Nativity statuette at the main entrance of the campus. The VSU constituents and other spectators from the neighboring barangays and even from the downtown areas of this city gathered and witnessed the spectacular event that was held on December 3, 2012. The ceremonial lighting at VSU is now in its fourth year since the incumbency of its president, Dr. Jose L. Bacusmo.
Dr. Bacusmo was overwhelmed with the positive response from the VSU employees and students as well as from its stakeholders as they are looking forward for such a grand opening of Christmas at VSU. He emphasized in his message that everyday all through the years must be "Christmas" in our hearts as the Lord Jesus Christ is within us. He also thanked the people behind the installations of the Christmas lights and the Christmas symbols which everyone can see in almost all the corners of the University.
The ceremony was enlivened with the singing of some Christmas songs by the VSU Choral Ensemble—the "Joy to the World" and the "Da Best ang Pasko ng Pilipino". Miss Kirby Asunto, together with Mr. Jonathan Badon, did a heartwarming renditions of "Oh Holy Night", "Kumukutikutitap", and "I See the Light" with Mr. Bethel John Sinon which spiced up the celebration. Big lanterns for competition were also hanged at the main entrance of the University which added attraction to the spectators.
The ceremony wound up with the spectacular fireworks display which everyone enjoyed and the souvenir pictorials with friends and families with the Christmas symbols as their background to their hearts' desire.