VSU signs MOU with Mirriam College to integrate local knowledge in education
Details

Written by JFMBaldos

Published: 30 August 2013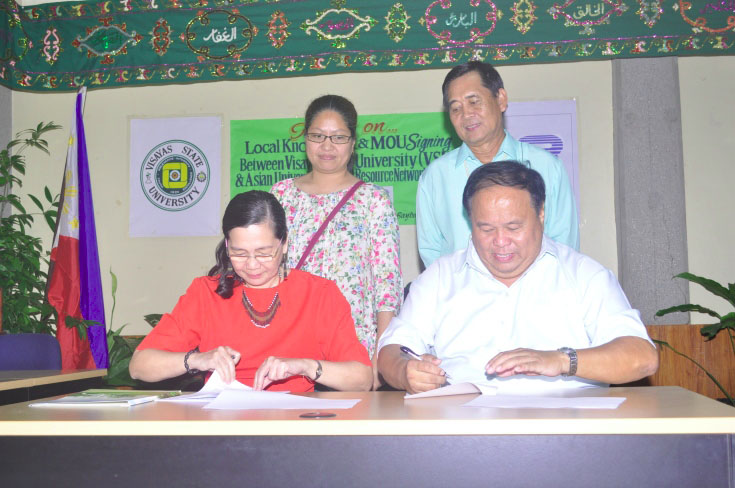 The Visayas State University (VSU) in Baybay City through its president, Dr. Jose L. Bacusmo, and the Mirriam College in Quezon City through its president, Dr. Rosario O. Lapus, have signed and entered into a Memorandum of Understanding (MOU) to pursue efforts in integrating local knowledge in education, specifically in the curriculum and research. The MOU was signed on November 20, 2012 right after the forum on local knowledge that was held at the Training Hall of VSU's Institute for Strategic Research and Development Studies.
Both parties affirmed their commitments, obligations, and responsibilities including their extent participation to realizing the potential benefits of contributing and enhancing the work on local knowledge via a bilateral and/or multilateral cooperation arrangement under the Asian University Digital Resource Network (AUDRN) which will develop and further enhance collaboration for mutual benefit of the parties, undertaking activities towards the achievement of its goals and objectives on the basis of trust and mutual respect.
AUDRN, a project of Miriam College funded under the Local Knowledge Initiative program of the United Board for Christian Higher Education since 2009, is a network of academic professionals in the Philippines and other Asian countries and serves as a collaborative hub to promote the (re)discovery and use of local knowledge, specifically disappearing cultural indigenous assets, and expand digital literacy as the primary mode of sharing.
According to Dr. Maria Lourdes Quisumbing-Baybay, AUDRN Director, VSU is the 13th institution but the first state university in the country to partner with the Network.
The MOU stipulated that VSU, as partner-institution, shall provide contextual enhancement, appreciation and support to local knowledge bearers; involve its faculty members in AUDRN activities; integrate local knowledge in learning plans for use in the classroom; utilize local knowledge in research in terms of content and framework; engage stakeholder participation in AUDRN projects and events; provide institutional support for the active engagement and participation of its faculty in AUDRN projects and events as counterpart; and spearhead the promotion of the network among colleges and universities in the province of Leyte.
AUDRN, on the other hand, shall organize and conduct training workshops, fora, symposia and conferences on local knowledge and educational technologies; grant free access to academic papers, researches, instructional materials, and other teaching resources to partner schools; provide and grant opportunities for access to research funds of partner-institutions; render technical assistance in project development and management, and technical support in IT-related concerns of partner schools; undertake faculty development programs through faculty exchange and other academic collaborative endeavors within the provincial, regional, national levels as well as with other partner educational institutions in Asia; and involve student participation through workshops, exchanges, exposures, and events among partner-schools and network activities.
The MOU was signed in the presence of Dr. Oscar B. Posas, VSU's VP for Instruction; Dr. Baybay, AUDRN Director; and Dr. Sheila L. Dingcong, AUDRN Associate on Local Knowledge Project.