ESSU hosts 24th Regional RDE Symposium at VSU; its prexy attributes success with ViCARP
Details

Written by JFMBaldos

Published: 30 August 2013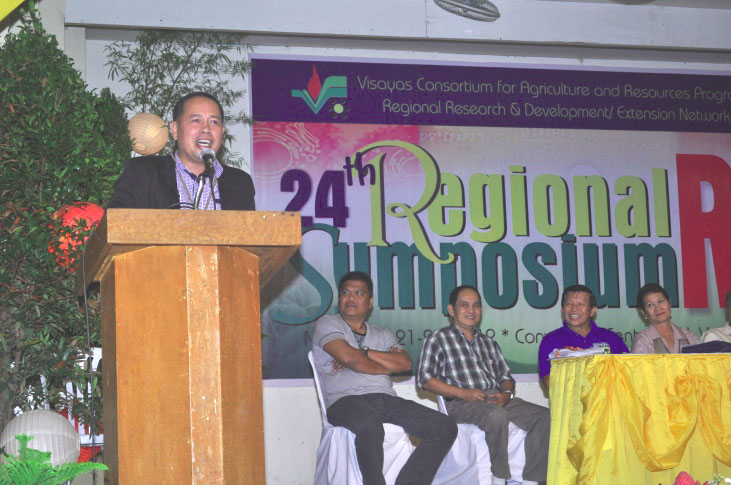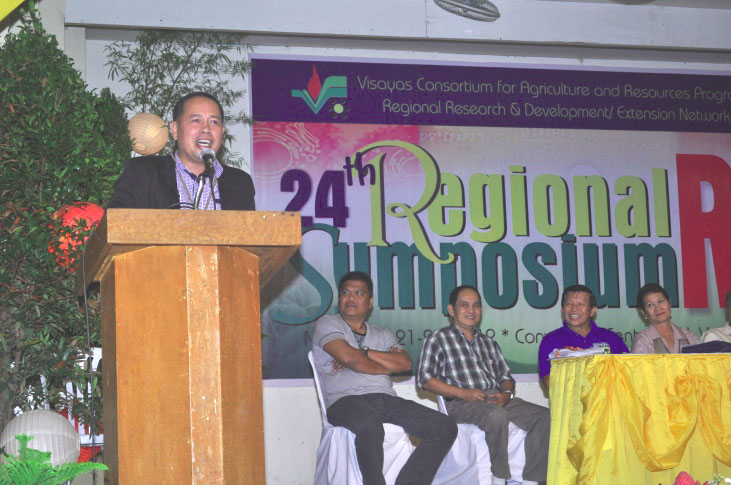 Dr. Edmundo A. Campoto, president of the Eastern Samar State University (ESSU) in Borongan Eastern Samar and the host institution of the 24th Regional RDE Symposium at VSU, in his message, acknowledged that his being chosen as the president of ESSU was attributed to a great extent with ViCARP. "One major criterion in the selection of a university president is that he/she must have a very good track record in research," Dr. Campoto stressed. "I am deeply indebted to ViCARP for providing a venue for researchers like me to present our scientific activities to show what we are doing in our respective offices or agencies," the new ESSU president added.
Dr. Campoto vividly and honestly said that he has so much to give in return to ViCARP and RRDEN. "I am a self-confessed alumnus of ViCARP and RRDEN having been an active participant who was able to present several papers and posters in the past. One of my greatest accomplishments now is when I am sworn into office as the new president of ESSU just merely less than three months ago. The joint ViCARP-RRDEN 24th Regional RDE Symposium was held on November 21-23, 2012 at the VSU Convention Center. The scientific gathering was hosted by ESSU and the provincial government of Eastern Samar.
The ESSU President shared how he was motivated to join in research and development symposium such as this. "I was always watching in awe to the presenters and I said to myself that one day I will present my paper in the R&D symposium because that was the only way to prosper in the academic echelon of the university," Dr. Campoto mused.
He also thanked ViCARP and VSU for being a big brother to ESSU which is now a developing university. "As a matter of fact, ESSU is the only university in Region 8 to be among with VSU researchers to qualify in the search for the best paper in this regional scientific gathering. It is because of the competence and quality of the research introduced by our researchers in the university. And for these, we owe a lot to VSU, ViCARP and RRDEN," Dr. Campoto proudly said.
Dr. Campoto also pointed out that the provincial government unit of Eastern Samar is very proud hosting this 24th RDE Symposium at VSU. "Governor Conrado B. Nicart, Jr., Governor of Eastern Samar, is very much elated with this scientific gathering of intellectuals and the elites in the field of research in the region. He is as happy as I am to host this year's RDE symposium," he said.
On the other hand, Atty. Bonifacio G. Uy, NEDA-8 Regional Director, whose message was read by Ms. Maria Victoria C. Cuayzon, Knowledge Management Division Chief of NEDA-8, congratulated ViCARP-RRDEN for orchestrating the 24th RDE Symposium. He said that research development and extension (RDE), taken as a whole, is a crucial element in the whole gamut of development process. Atty. Uy revealed that NEDA has been collaborating with ViCARP-RRDEN and other research consortia to put together a sensible research agenda for Region 8.
"It's good that existing research consortia, along with state universities and colleges (SUCs), have grown more conscientious of their connections to the Regional Development Plan (RDP)," Atty. Uy said. He revealed that, "At the national level, we are aspiring for poverty reduction and inclusive growth. Here in Eastern Visayas, we also envision reduced poverty among our people. Our target is to cut by half the number of poor people from 41% to 21.6% by 2016 consistent with the Medium-term Development Goal target." He reiterated that to do this, "We have to jumpstart the industries along agribusiness, tourism, and information and communications technology. It is in these three sectors where we have comparative advantage and great potentials. If we are able to develop these three lead sectors, we could generate more jobs and accelerate our economic goal. Thus, as a region, we dream of becoming leaders in agribusiness, and information and communications technology, and a haven of tourism."
The NEDA-8 Director added that roadmaps have been deliberately and carefully prepared to bring closer to these dreams. He also challenged the researchers to work harder, to learn more, to research and make use of research findings to come up with wiser policies and more meaningful programs, projects and activities, development interventions that will help more people to become more productive and free from poverty.
Likewise, Dr. Jose L. Bacusmo, VSU President, encouraged the participants to put a premium on what will transpire during the symposium and pay attention to the presentations. "It's not a sin to enjoy the campus at the same time, but spend the whole duration of your stay here by learning and at the same time enjoying," Dr. Bacusmo stressed.