SCUAA Meet reels off despite heavy rains; VSU athletes bag 12 gold, 30 silver and 22 bronze medals
Details

Written by JFMBaldos

Published: 30 August 2013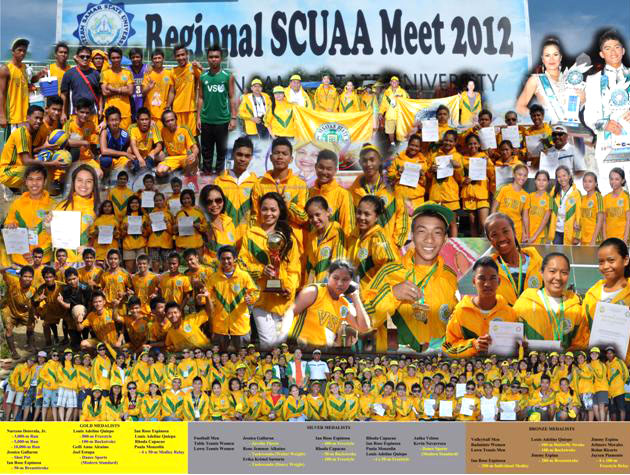 The State Colleges and Universities Athletic Association (SCUAA) Meet 2012 continued despite heavy rains during the parade and opening program at the Athletic Oval Grounds of Eastern Samar State University (ESSU) in Borongan City, Eastern Samar.
Hinged on the theme "Raising the Bar of Excellence in Sports", the 28th Regional SCUAA Meet was graced by Congressman Juan Edgardo M. Angara, chairman of the House Committee on Higher and Technical Education, who served as the guest speaker during the opening program on October 20, 2012.
Cong. Angara exemplified the value of sportsmanship among the athletes and officials. He also relayed his experiences as an athlete during his high school and college days. He commended everyone for braving the heavy rains and strong wind while he was delivering his message.
Due to south monsoon, sporadic rain showers were experienced by the athletes and officials as the games were on progress. The indoor games did not stop even with the tropical storm "Ofel" signal No. 2 that had stricken the city. The athletic oval turned into a muddy field ready for rice planting as the athletes in the soccer football, softball women and baseball tried to outdo each other in their respective events to prove who among them is the best team.
The VSU Delegation headed by its president, Dr. Jose L. Bacusmo, with the sports director, Assoc. Prof. Vicente B. Antipaso, took 12 gold medals, 30 silver medals, and 22 bronze medals in this year's sports joust.
The gold medalists were: Narceso Deterala, Jr. (Track Events) – 3,000-m Run, 5,000-m Run, and 10,000-m Run; Louis Adeline Quiepo (Swimming) – 800-m Freestyle and 100-m Backstroke; Ian Rose Espinosa (Swimming) 50-m Breaststroke; Jessica Gallaron (Field Event) – Shot Put; and Gelli Anne Alcuino and Joel Estupa (Dance Sports – Modern Standard).
The silver medalists were: (Soccer Men) John Anthony Israel, Ramil Ortega, Patrick Nayon, Von Cristian Sebidos, Darwin Lozada, Clint Joel Baltonado, Richie Cuizon, Erwin Lechadores, Joveth Cocamas, Michael Fernandez, Alemier Merced, Kris Benzon Notarte, Ramoncito Ragas, and Keith Tumabiene with Mr. Adrian Alumbro as coach; (Table Tennis Women) Unica Babes Maiz, Mary Lilibeth Peligrino, Janice Lazarte, and Jill Sello Billy with Ms. Christy Desades as coach; (Lawn Tennis Women) Diezanne Jireh Antipaso, Ruth Abegail Cordero, Julie Bien Dagcutan, and Leo Claire Posas with Mr. Vincent Nel Antipaso as coach; Jessica Gallaron (Field Event) – Javelin Throw; Rene Jemmar Alkuino (Taekwondo-Welter Weight); Erika Kristel Sartorio (Taekwondo – Heavy Weight); Ian Rose Espinosa (Swimming) – 400-m Freestyle; Rhoda Capacao (Swimming) 50-m Backstroke and 100-m Freestyle; Rhoda Capacao, Ian Rose Espinosa, Paula Monzolin and Louis Adeline Quiepo (Swimming) – 4 x 50-m Freestyle Relay; and Anika Velos and Kevin Navarroza (Dance Sports – Modern Standard).
The bronze medalists were: (Volleyball Men) Erwin Estallo, Melvin Flores, Jose Rey Gloria, Neil Leyson, Elton John Meridor, Gerald Palo, Jeandro Lemuel Petilos, Jayson Rabe, Randy Rabe, and Hector Bisnar with Mr. Federico Godoy Jr. and Mr. Genesis Basas as coach and assistant coach, respectively; (Badminton Women) Christian Mae Fernandez, Jane Marly Gorre, Flordeliza Romo, and Wencee Tinapan; (Lawn Tennis Men) Nollan Centino, Lorrence Abuyog, Jams Ian Nuñez, and Louie Gyril Nuñez; Ian Rose Espinosa (Swimming) – 200-m Individual Medley; Louis Adeline Quiepo (Swimming) – 100-m Butterfly Stroke and 100-m Backstroke; Jimmy Espina (Swimming) 200-m Breaststroke; and Jimmy Espina, Jefmore Morales, Rolan Ricarte and Jayson Piamonte (Swimming) – 4 x 100-m Freestyle Relay.
Other coaches and assistant coaches of the winning teams were: Asst. Prof. Aleli A. Villocino (Swimming), Assoc. Prof. V. B. Antipaso and Mr. Raymond Igcasama (Athletics); Mr. Antonio Abay-abay (Taekwondo); Mr. Jovel M. Aberilla and Ms. Junelle Ugay (Dance Sports); and Mr. Lomel Q. Abarquez and Mr. Edilberto Artiga (Badminton).
One of the added attractions in the 6-day sports competition was the Search for Mr. and Miss SCUAA 2012. Miss VSU's Mae Ruselle U. Juanillo was proclaimed Miss SCUAA 2012 2nd Runner Up. Asst. Prof. Jude Noni Sales served as her coach.
The Regional SCUAA Games 2012 was formally closed in the afternoon of October 26, as scheduled. The SCUAA banner was turned over to the Leyte Normal University (LNU), the host institution of the SCUAA Games 2013.