Around 2,000 students and their families receive relief assistance after TS Agaton
Details

Written by Ulderico B. Alviola

Published: 26 April 2022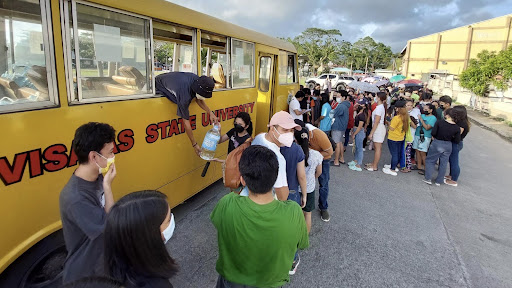 VSU students residing in Poblacion, Baybay City gathered at the Veteran's Plaza to claim their food packs and basic water supply from the VSU relief operations team.
Help came to Viscans affected by Tropical Storm (TS) Agaton. slothoki88
Thanks to the generous donations of the different state universities from Eastern Visayas, private organizations, the ever active alumni of the university including faculty and staff of VSU who extended their help to reach out to 2,361 students and their respective families. situs slot gacor mudah menang
The recipients of the relief operations are VSU students from Baybay City and the neighboring town of Abuyog–the two areas that recorded multiple landslides killing a total of 175 individuals with 110 still missing. top provider situs slot terbaik
Relief operations of VSU immediately began when students were trapped inside the campus because of massive rains that lasted for four straight days.
The whole campus was flooded with muddy water that even penetrated many dormitories and faculty housing units including academic buildings of the university. link situs slot gacor
Following the recommendations of the VSU President, the VSU Crisis Management Committee was activated to monitor on-the-ground situations and to devise evacuation plans including a relief operation system that will assist stranded students living inside dormitories and surrounding boarding houses.
Community people living in shorelines and critical waterways were evacuated to the pre-identified academic buildings including dormitory residents who are located near mountain slopes and hillsides. situs slot gacor terpercaya
The VSU administration utilized its own crisis funds to shoulder the initial relief goods that were distributed to more than 150 stranded students who were not able to go home.
Private donations that include cash and in-kind assistance started to trickle in when reports of massive flooding in Baybay City made national headlines. Some faculty members served cooked meals for stranded students who were trapped in their dormitories and boarding houses. situs slot gacor paling baru
Surrounding state universities in the region immediately responded to provide help to VSU because of a region-wide donation drive initiated by the Office of Commissioner Aldrin A. Darilag of the Commission on Higher Education (CHED).
Southern Leyte State University (SLSU) was the first institution to come to VSU to bring in food packs, towels, clothes, hygiene kits and bottled water. Their team included Dr. Prose Ivy G, Yepes, SLSU President and an alumna of VSU, including other key officials of their university.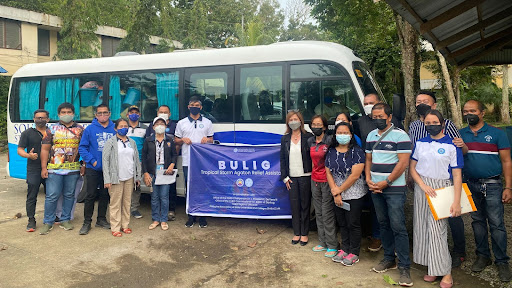 Officials and volunteers of SLSU took a photo op at the VSU Guesthouse upon their arrival to VSU to donate in-kind donations for affected students.
Other state universities in Region 8 followed in the next few days carrying with them cash and in-kind donations sourced from their respective donation drives done in their localities. situs slot gacor mudah menang
The biggest financial donation from a state university came from Palompon Institute of Technology (PIT) amounting to almost Php 86,000.00 cash.
Meanwhile, the Eastern Visayas Chapter of the Philippine Association of State Colleges and Universities (PASUC-8) is now in the process of donating Php 100,000.00 cash to VSU as assistance to the university for its current relief drive to help affected students and other community people.
As of April 26, total cash donations received by the university has reached more than Php 240,000.00 and are currently being used to purchase essential items that will help students and community people living in evacuation centers.
A portion of this money was also used to provide cash relief to students who lost their homes and some of their family members because of the multiple landslides that happened in both Baybay City and Abuyog, Leyte.
Please see below for the list of cash and in-kind donations that were coursed through VSU for distribution to affected students and other community people.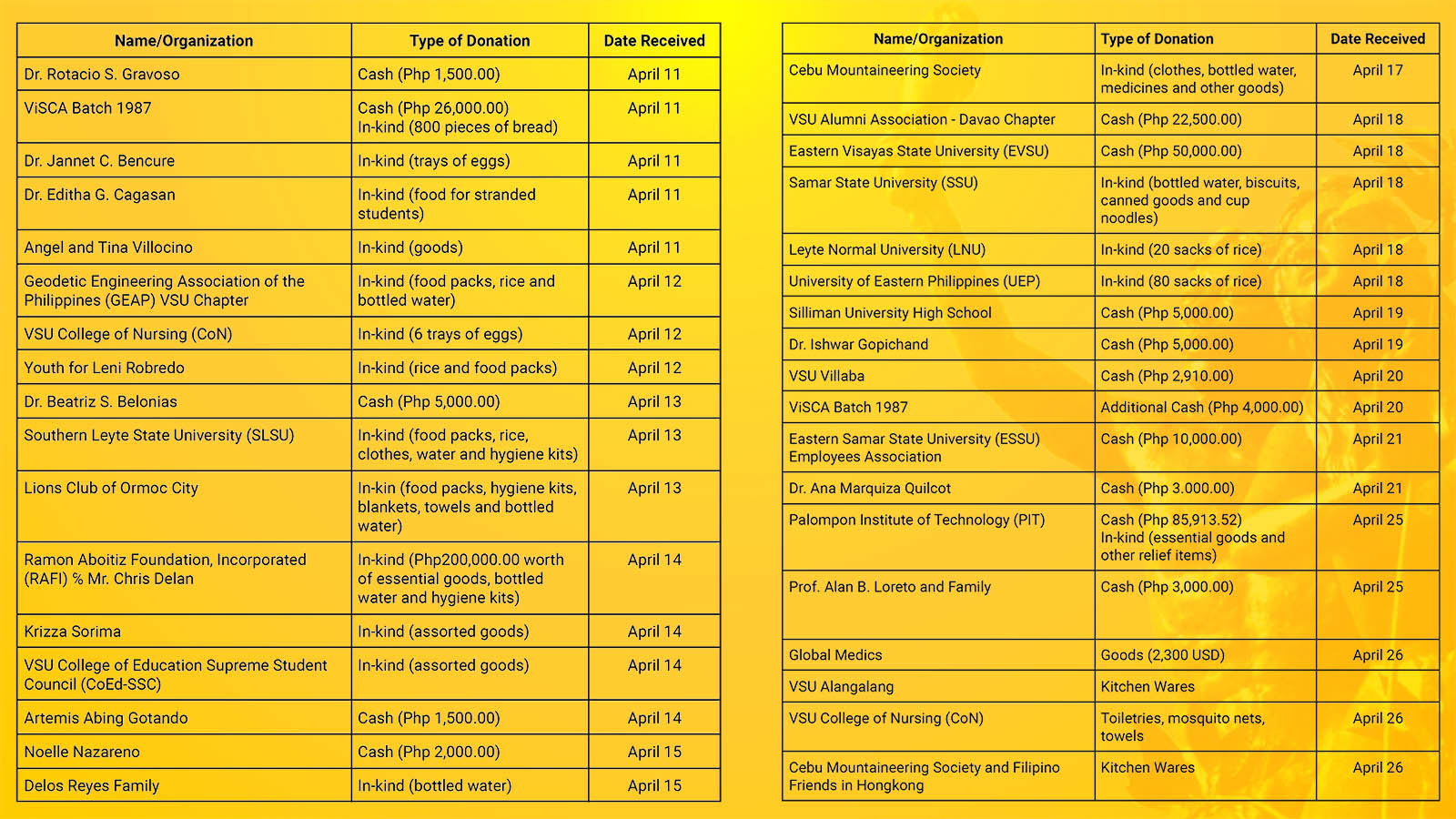 *This list will be updated regularly by the donations that are received by he university.
Donations are still accepted and are being coordinated by the Office of the Vice President for Student Affairs and Services (OVPSAS). You can email them at This email address is being protected from spambots. You need JavaScript enabled to view it. or you may reach them via mobile +639173040879.
VSU President Edgardo E. Tulin expressed his deep appreciation to all donors of the VSU relief drive. He sees this as a testament of friendship and volunteerism that thrives in the VSU community and our surrounding institutions and partner agencies.
VSU relief operations will now prioritize people living in evacuation centers in the communities hit by multiple landslides in its next round of activities.