VSU Admin Council moves resumption of classes to January 9
Details

Written by Ulderico B. Alviola

Published: 02 January 2023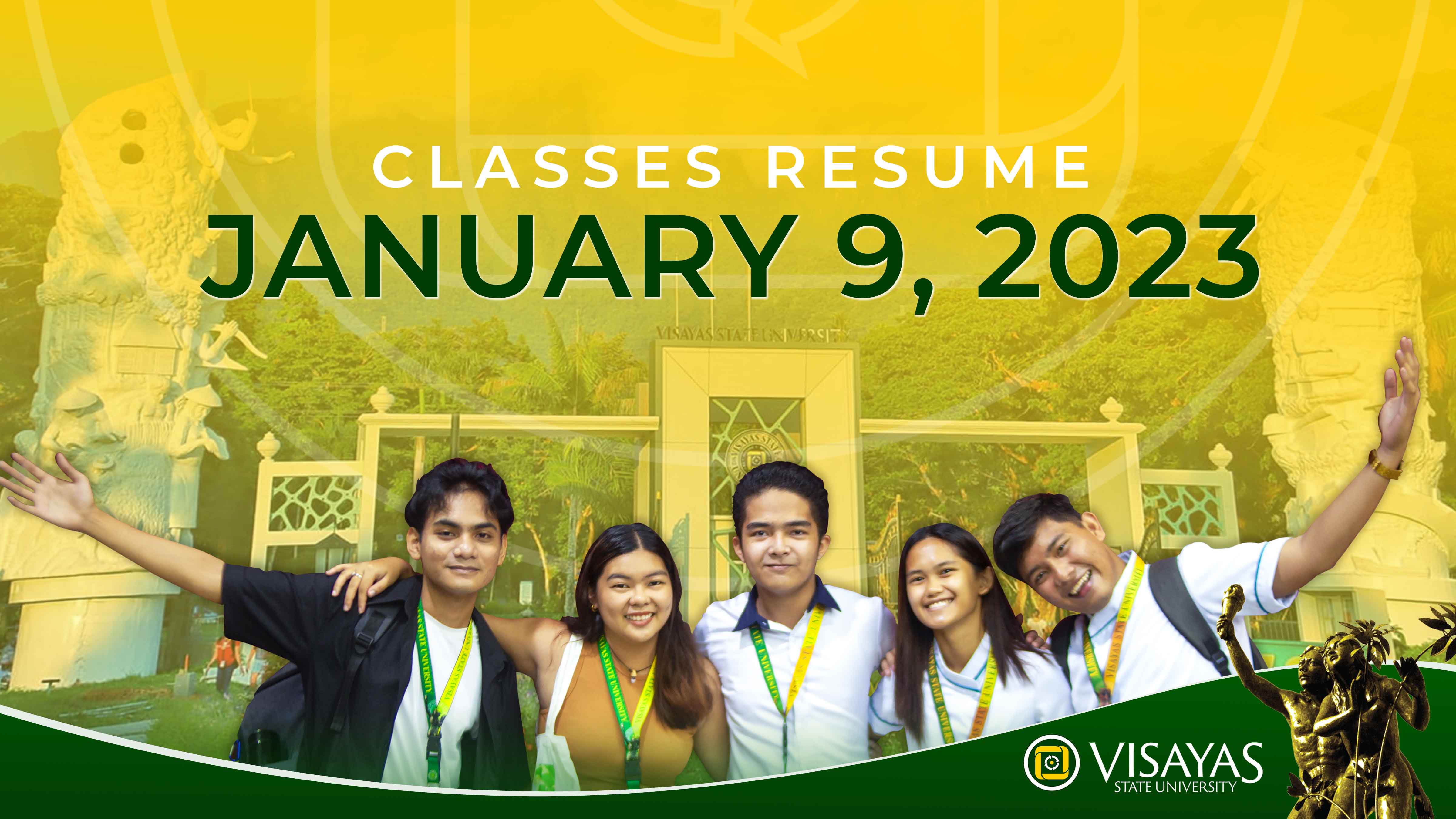 The members of the University Administrative Council (UADCO) voted today, January 2, 2023, to move the resumption of classes from January 4 to January 9 next week.
This announcement covers all campuses of the VSU system from its flagship campus in Baybay City to the four component campuses in Alangalang, Isabel, Tolosa and Villaba.
The movement of classes gives way for students coming from other island provinces to return safely to the university considering that frequent gale warnings have been recorded during the past weeks that canceled inter-island trips from Bohol, Cebu, Negros and other parts of the Visayas region.
A vast number of VSU students are coming from neighboring provinces including some faculty members and staff who are currently spending the holidays in their respective hometowns.
Meanwhile, faculty members who are currently on teachers' leave are required to report on January 9 while only those faculty members and staff who filed vacation leave will be required to report tomorrow, January 3.
With these changes, there will also be movements in the final examination schedule for the First Semester of this school year to complete the required number of class contact hours.
Dr. Beatriz S. Belonias, the Vice President for Academic Affairs, also announced that the adjustment in the academic calendar will also result in the movement of the final examination schedule for non-graduating students from January 19 to January 25 to January 26 to February 1. This is to recover the 5 class days that have been lost due to the adjustments in the academic calendar.
VSU President Edgardo E. Tulin hopes that the decision of the UADCO will also allow Viscans to spend more time with their family members as an extended treat for them during the holiday season.
"The weather has been erratic the past days and since last week, rain has been persistent in our area making it really very difficult for our students to return to the university. Most universities outside have their class resumption happening next week so I think it's best that we also do the same. Hopefully, our students will use this as an opportunity to spend quality time with their families because the past Christmas season has been rough for us because of the pandemic and the challenges brought by Super Typhoon Odette [Rai]," President said in a phone interview.
According to PAGASA, the trough of a Low Pressure Area (LPA) located outside the Philippine Area of Responsibility (PAR) will bring in moderate to heavy rains over Caraga region, Southern Leyte and Leyte while light to moderate with at times heavy rains will be experienced over the rest of Eastern Visayas, Northern Mindanao, and the Davao region.
Under these conditions, flooding and rain-induced landslides are likely, especially in areas that are highly or very highly susceptible to these hazards as identified in hazard maps and in areas with significant antecedent rainfall.
An official memorandum will be circulated by the VSU administration tomorrow regarding this announcement.