President's Notes: Rest in power, our RDE leader and VSU's living legend
Details

Written by Edgardo E. Tulin

Published: 31 December 2022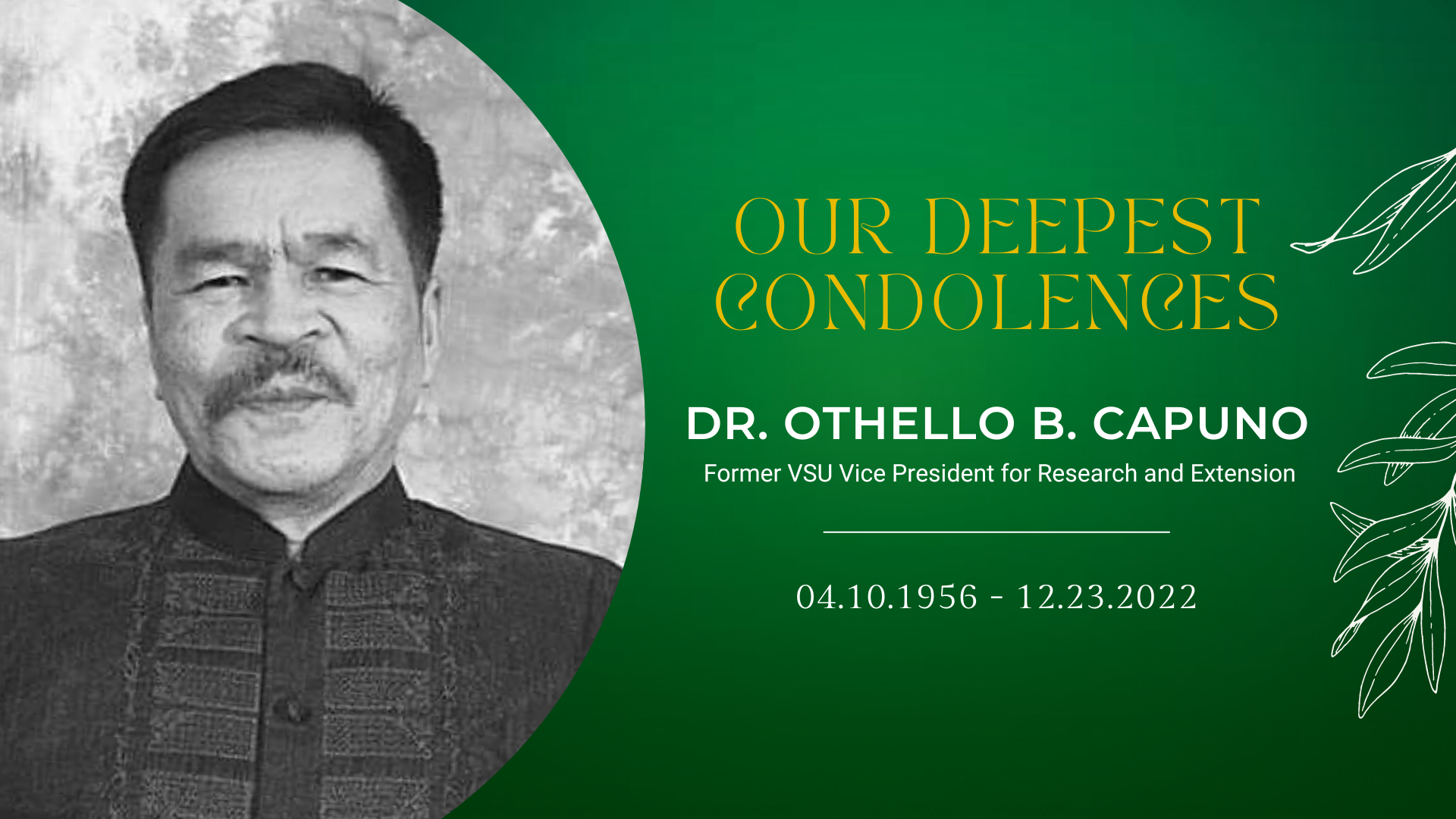 First allow me to express my heartfelt condolences to the bereaved family of the late Dr. Othello B. Capuno—a man who dedicated his life to public service here in our university who served as the longest Vice President for Research, Extension and Innovation that spanned for 12 years serving in two administrations.
Dr. Capuno is more than a colleague to me. He's my fraternity brother and a great friend who supported me in many ways so that I can effectively fulfill my mandate as the chief steward of the Visayas State University.
I'm forever grateful to him because of the many achievements that we accomplished in research and development. Out of his dedication and hardwork, together we've raised the flag of VSU in the national research arena. To say that Dr. Capuno is a competitive person is an understatement. Whether this is in sports or in our engagements in research and development and extension (RDE), he will always find ways to carry the banner of our university with pride and dignity.
Dr. Capuno is a certified #ProudViscan who, in his own ways, represented the best of what a VSU graduate should be—outstanding, hardworking, dedicated, competitive but more importantly, very compassionate and effective RDE leader who inspired creativity and unity among our employees in our collective pursuit for research and extension excellence that made as one of the best universities here in the country today.
Among the most notable achievements of Dr. Capuno is leading the Visayas Consortium for Agriculture, Aquatic and Resources Program (ViCARP) in winning the Pagasa Award of the Civil Service Commission (CSC) for being the driving force in the delivery of research and development services, technology transfer, and agricultural training to farmers in the Eastern Visayas region.
ViCARP is a regional conglomeration of all research-oriented agencies in Region 8 that leads in cascading RDE outputs to the grassroots and thereby helping farmers to innovate and improve their agricultural productivity that greatly contribute to countryside development.
No less than the President of the Republic of the Philippines, the Honorable Rodrigo Roa Duterte in 2017 conferred the CSC Pagasa Award to Dr. Capuno together with his core staff at ViCARP.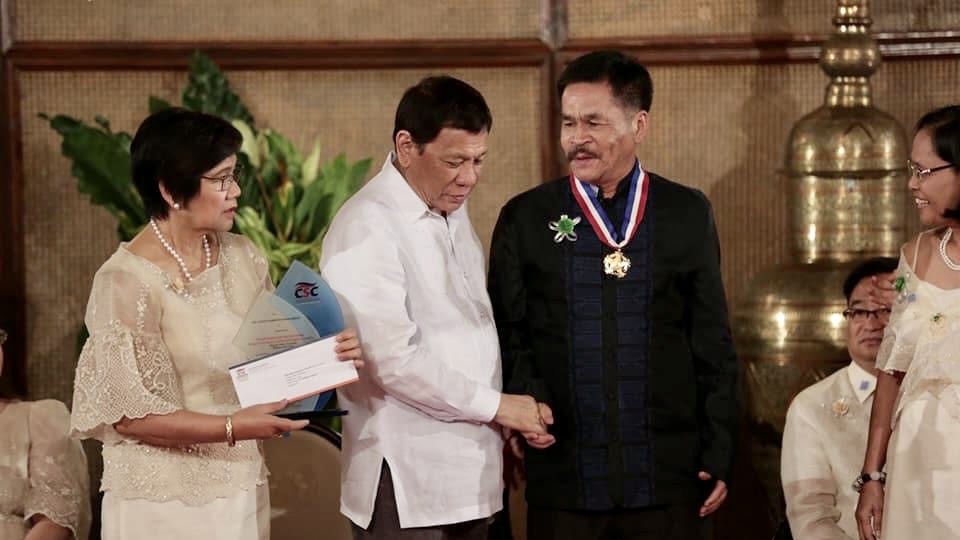 Aside from this, our former Vice President for Research, Extension and Innovation was also a recipient of the prestigious Pantas Award as Outstanding Research Administrator in 2015 given by the Philippine Council for Agriculture, Aquatic and Natural Resources Research and Development (PCAARRD), which is one of the three sectoral planning councils of the Department of Science and Technology (DOST).
Dr. Capuno's legacy includes the consistent frontrunner status of ViCARP in the UGNAY Award as the best managed research consortia in the Philippines and for also facilitating in the victory of the university as the country's Most Outstanding Research Institution for two years in 2013 and 2019.
But aside from excelling in research administration, Dr. Capuno is also a sports enthusiast who played very well in basketball making him VSU's one and only living legend.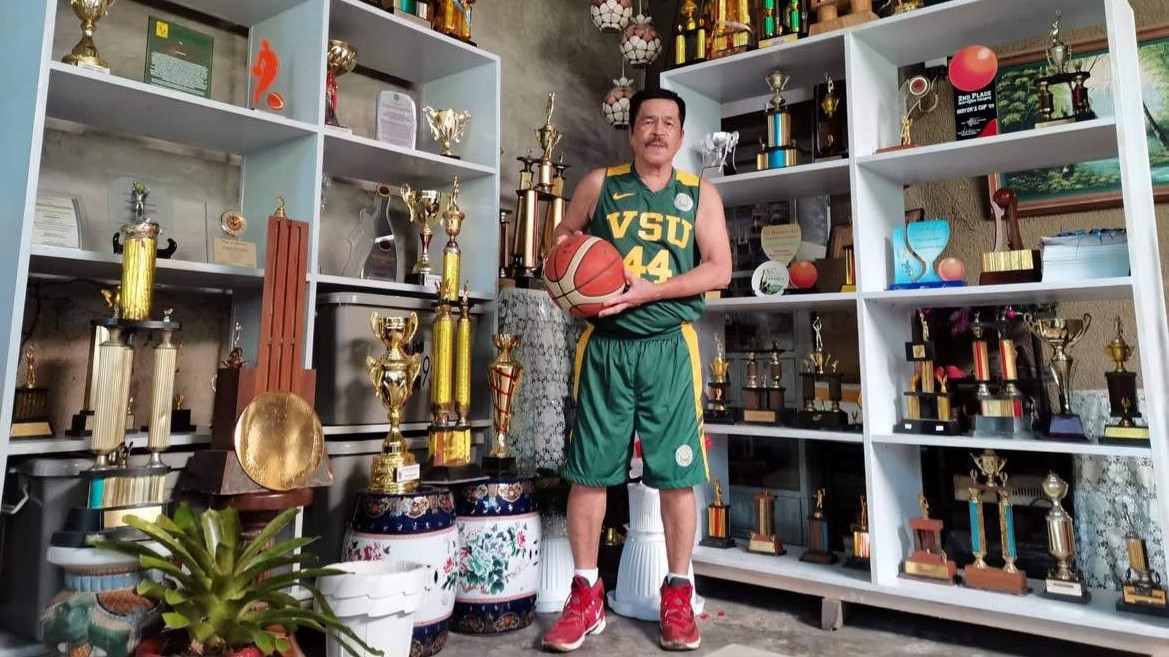 In fact, his basketball prowess has been something that made him very popular in the Filipino community in the United States back when he was still completing his doctoral degree in plant breeding and cytogenetics at the Iowa State University.
While he was teaching at the VSU Department of Plant Breeding, Dr. Capuno also juggles to serve as the main coach of the VSU Men's Varsity Basketball Team that led them to many regional championships in the State Universities and Colleges Athletic Association (SCUAA) games including local basketball tournaments here in Eastern Visayas.
He trained many Viscans into becoming better basketball players and for many years, he even used his personal money to sponsor local basketball tournaments to keep students, faculty and staff engaged in this particular sport.
But among Dr. Capuno's finest sports protege is Philippine basketball superstar and PBA's 2002 best player of the conference Rey Evangelista who used to be a volleyball player in the VSU varsity team but was convinced by Dr. Capuno to shift to basketball.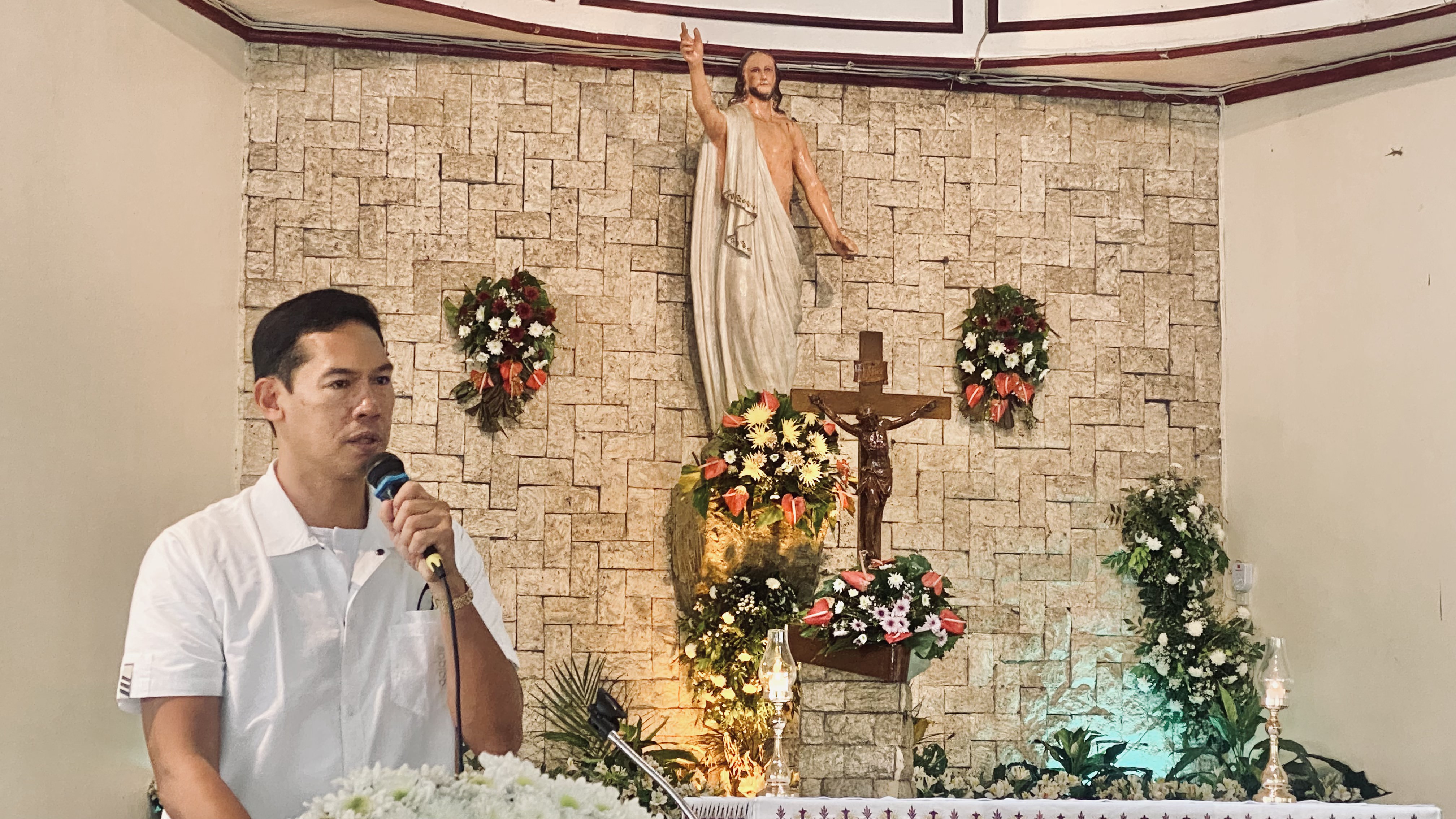 Rey then pursued professional basketball that provided pride and honor not just for Viscans but also for all of us Leyteños, to which Dr. Capuno became so proud that he did not only mentor successful researchers in his 40 years of professional career but also helped nurture a national basketball superstar.
Even in his busy schedule as VSU Vice President and a sports enthusiast, Dr. Capuno is undoubtedly a family guy who puts the needs of his family on top of his priorities.
After office hours, many of his colleagues in the office will surely remember him going ahead of everyone else to pick up his dearly beloved wife, Ruffa. Both of them are gifted two intelligent and very responsible daughters, namely Charmagne Faith and Christelle Venus.
Dr. Capuno's better half Ruffa recently retired as Associate Professor of the VSU Department of Economics. Charmagne is currently finishing her master's degree in Industrial Engineering at the University of the Philippines Diliman (UPD) while Chrsitelle Venus is a newly licensed physician who was also recently hired at VSU as one of the Medical Officers of the university.
All of them were the ones who took great care of Dr. Capuno while he battled cancer for almost two years.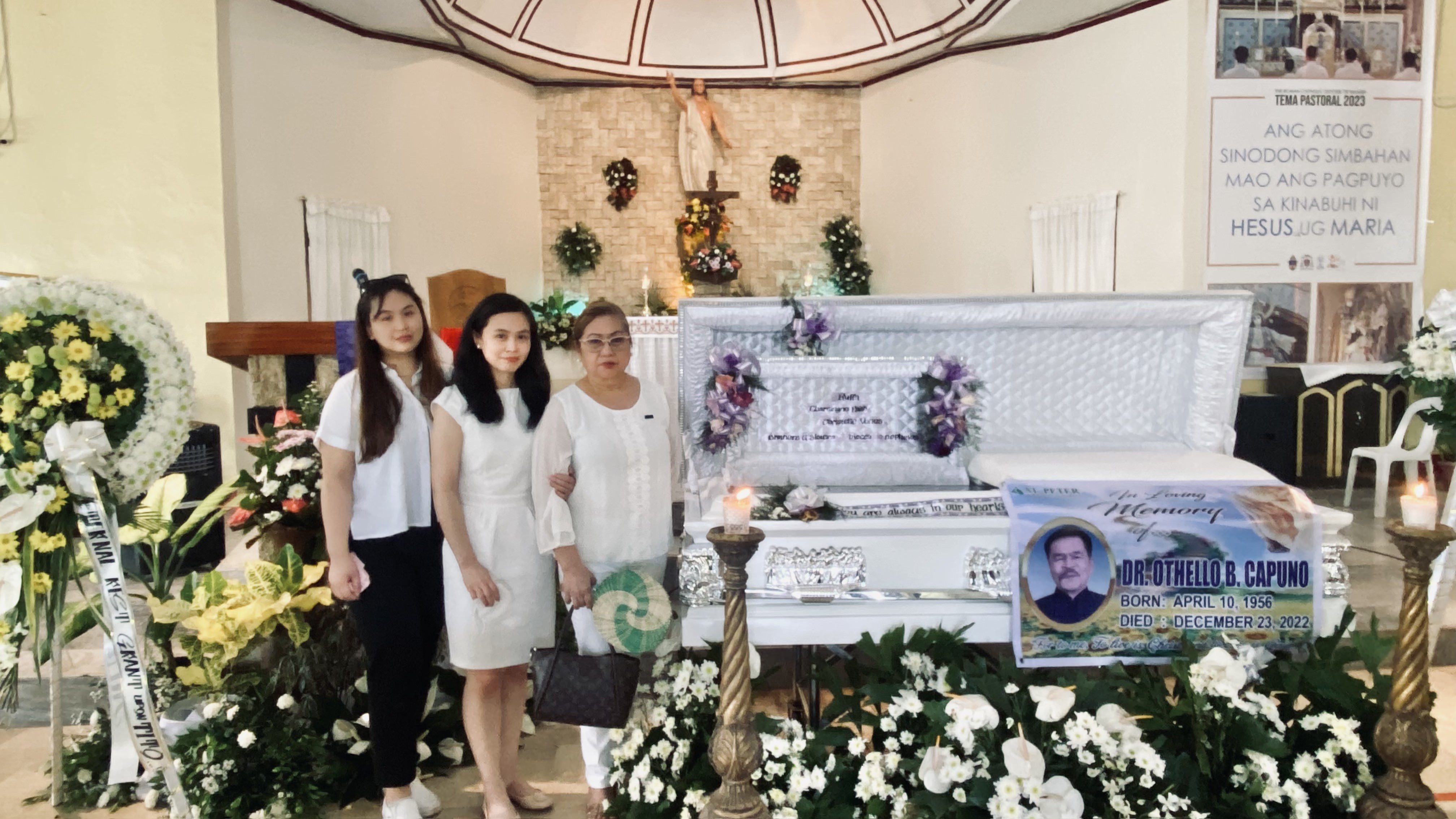 The VSU community will surely miss him because he has this unique way of cheering everyone even in the most challenging and stressful situations. I'm also sure that in many ways, Dr. Capuno has touched the lives of many of our employees because of his kindness and sincerity in taking care of the needs of others. We will continuously honor the colorful life and amazing journey of Brod. Othe in making VSU as one of the best universities in the country today.
On behalf of the Tulin family and from my fellow Viscans all over the world, thank you for your service Dr. Capuno and may you enjoy the loving arms of our Almighty Father and provide us with guidance in pushing VSU to greater heights.
Rest in power my dear brother!