VSU dev't project with Australian agency steps up to meet market demands
Details

Written by Jack Olaer and Ulderico B. Alviola

Published: 06 February 2023
With the rising concern on food safety and the evolving market demand, Visayas State University continues to strengthen its commitment to building a sustainable community and environment through a five-year project funded by the Australian Center for International Agricultural Research (ACIAR), which is the stepped for Good Agricultural Practices (GAP) shortened as "ACIAR-GAP".
Starting last 2019, the project is formally titled "Developing Vegetable Value Chains to Meet Evolving Market Expectations in the Philippines."
This project serves as an integration of ACIAR's previous projects in VSU, namely Protective Cropping, which began in 2009, and Integrated Crop Management, which ran from 2014 to 2018.
The current project aims to specifically address growing concerns regarding pesticide residue above maximum residue levels (MRLs) frequently found in vegetables, unsafe farming practices that put farm workers at risk of pesticide poisoning, and significant problems related to biological food safety.
Though the Philippine government has tried to address these issues by promoting organic farming among farmers, these initiatives both have economic and environmental constraints, and to make it worse, there is no market advantage for organic producers. Hence this calls for a better solution which the ACIAR-GAP would like to address.
In addition to organic farming, the GAP technique is also promoted by the Philippine government through the Bureau of Plant Industry (BPI), which is under the Department of Agriculture (DA) that gives certification to the farmers. However, this strategy is less well-recognized than organic farming. Consequently, there were no GAPs accredited in the region before the ACIAR-GAP initiative of VSU.
Aside from VSU, the Agricultural Training Institute (ATI) Region 8, East West Seeds Company Inc., and Landcare Foundation of the Philippines are the project's main local partners here in the Philippines.
Moreover, the training component of ACIAR-GAP created a ladderized method as part of its enhancement efforts so that farmers would find it simpler to retain the teachings compared to the current BPI module.
Its main activity is to capacitate and teach farmers about a series of GAP protocols–making them GAP certified. As a result, farmers are linked to institutional markets, specifically for the smallholder vegetable growers, to have an advantage in the larger economy.
The GAP program also aims to address concerns that are prevalent among our farmers, such as the incorrect use and disposal of chemical fertilizer and pesticides that poses threat to people and the environment.
More about the GAP Program
In place of Dr. Zenaida Gonzaga, who has served as the project's initial project leader since 2019, Mr. Dhenber C. Lusanta, OIC Director of Eco-Farm and Resource Management Institute (EcoFARMI), is assigned as the new project leader of ACIAR-GAP.
GAP focuses on four areas: (1) produce high-quality vegetables; (2) produce safe food; (3) use and store chemicals properly for safe environments; and (4) ensure the safety and welfare of farmers.
The ACIAR-GAP project includes four distinct components that cover production, food safety, socio-economics, and training.
The Department of Horticulture, which oversees the production component, carries out more complex research trials in the VSU experimental area that focuses on crop production in general. Additionally, the production team is also involved in the operation and maintenance of the main demonstration farms located inside the university.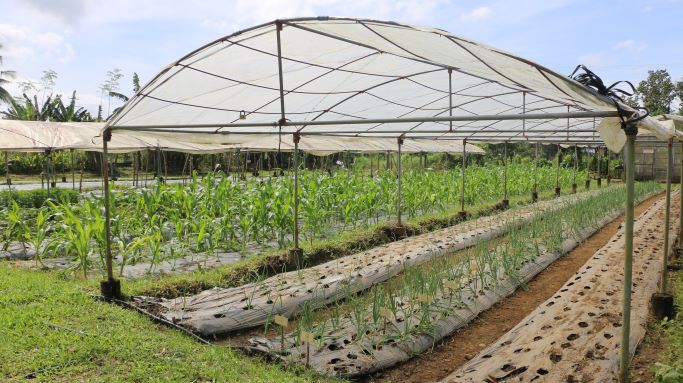 The first ACIAR-GAP demonstration site is located near the Department of Horticulture with a total farm area of 3.350 m2.
The aforementioned component assists and monitors farmers with issues regarding crop production. Additionally, trained farmers are brought to these demonstration sites to give them an idea of what a certified farm looks like.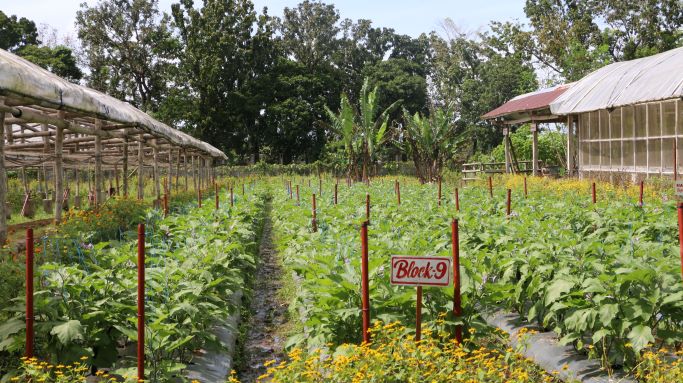 ACIAR-GAP project's second demonstration site that is also located inside the VSU Main Campus in Baybay City, Leyte.
As part of GAP standards, each farm must secure a designated storage facility for all agrochemicals and segregate the various types of pesticides such as insecticides, fungicides, herbicides, and more.
Each should have the following rooms with specific functions: tools and equipment room, fertilizer and chemical storage room, production, and post-harvest materials room, hand-washing area, farmer's quarter, sorting, packing, and drying area, and separate bins for non-hazardous and hazardous trash.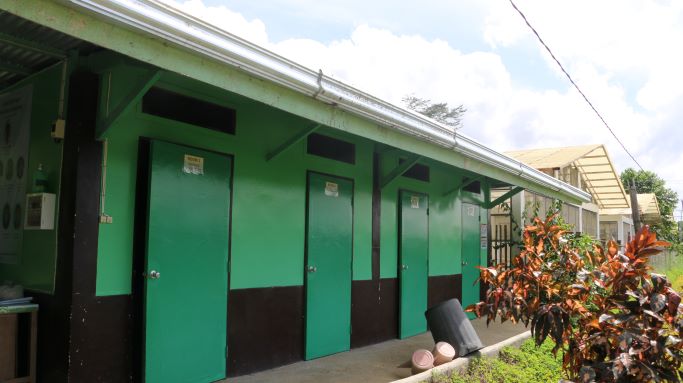 The Philippine Root Crop Research and Training Center (PhilRootcrops) leads the food safety component, which conducts testing for microbial contamination in irrigation water, soil manures, crop protection agents, and harvested crops. These key personnel from this component will conduct pesticide residue checks on farms regularly.
The socio-economic component connects and promotes farmers' access to markets. Its principal goal is to locate and connect farms to other institutional markets such as malls which will hopefully expand opportunities for the cooperating farmers. The project particularly chose institutional markets because they have a competitive advantage over local markets in terms of pricing, volatility, and stability. This specific component is supervised by the VSU Socio-Economics group. In this regard, farmers are being trained and equipped, particularly in terms of overall productivity.
Meanwhile, the ATI-8 and two research assistants lead the training component. As previously stated, ATI was able to establish a laddered approach to educate farmers in which they go through four stages of training that include lessons with up to 20 modules.
According to Mr. Lusanta, the laddered approach is easier for farmers to remember than the traditional tedious whole week and a whole day of training.
"Lectures are done in the morning and then demonstrated in the afternoon. This is easier for farmers to learn and adopt because we also designed [the training modules] to be less technical," he explained.
GAP Certified Farms in Baybay and Ormoc
From having only two agritourism farms and one demo farm being GAP-certified, the project was already successful in producing 11 GAP-certified farmers in the region from the cities of Baybay and Ormoc and in the town of Mahaplag.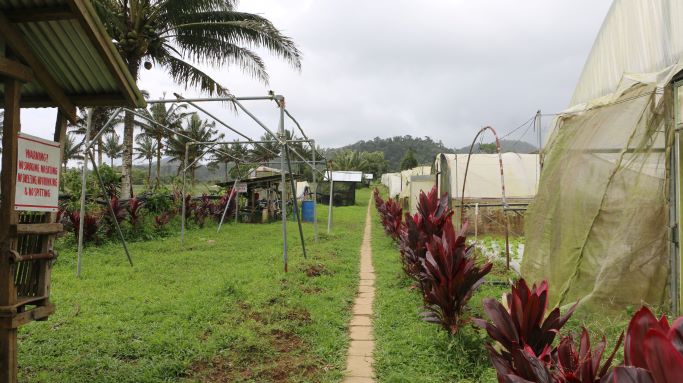 Farm of the Cabintan Livelihood Community Association (CALCOA) located in Brgy. Cabintan, Ormoc City has a total farm area of 2 hectares that integrates 16 GAP tunnels with 4 laborers.
Mr. Rodel Morales is the current farm manager of the CALCOA farm, who also serves as a research assistant under the ACIAR-GAP project.
In an interview, he emphasized his observation before and after they applied the GAP training.
"Before it was very traditional and you can use any type of pesticide but now we are taught to use a pesticide that is qualified for a specific crop. Before, we didn't wear any slippers or protective masks. Now, we are required to wear personal protective equipment. Another thing that I noticed before, is that farmers tend to mix substances anywhere but now, some areas or facilities are built for these specific operations," Mr. Morales said.
Mr. Morales admits that he was initially hesitant considering the number of requirements, but he soon recognized that it was only a matter of routine and practice.
About crop yield, for him, he cannot tell if there is a significant difference as of this time.
"It's still not that conclusive. But as of now, the edge of this program goes back to the farmer's and consumers' safety," he added.
However, he also emphasized the lack of government support for this program, which affects the marketability of GAP-certified products, as well as education and public awareness about the program.
But, be that as it may, Mr. Morales would highly recommend GAP for the welfare of both farmers and consumers.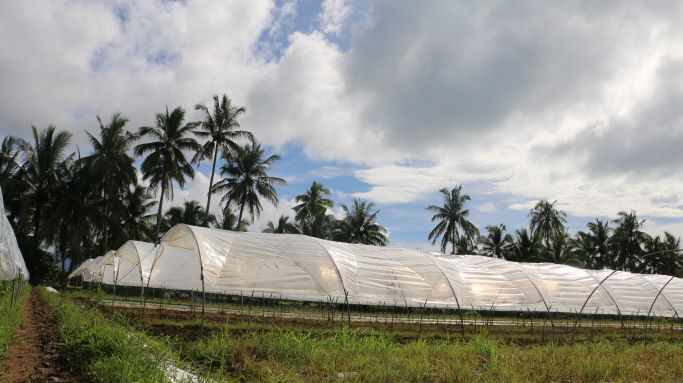 Basti's Farm located in Brgy. Kilim, Baybay City has a total land area of 0.75 hectares.
Mr. Albert A. Rosillo is the owner of the farm who founded it in 2010 and received his GAP certification just last year. He uses his farmland for both personal and commercial purposes.
He also shared some of his knowledge and experience with the GAP program, saying that his farm greatly improved since his participation in the project.
"As a typical farmer, I only prioritized output and yield. But thanks to GAP, we are now considering protocols that can ensure the safety of farmers, consumers, and the environment," he said.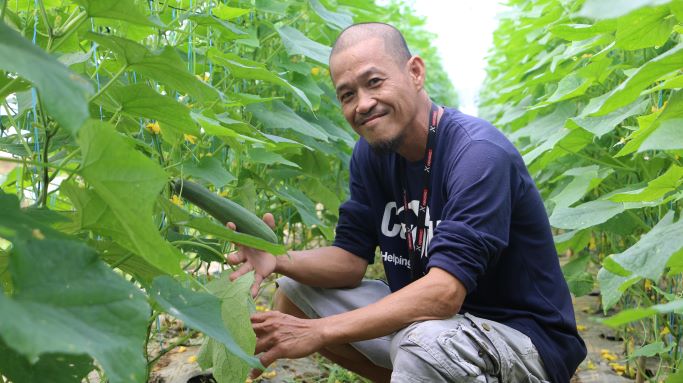 When asked about the revenue, Mr. Rosillo revealed that while it has increased, there are still variables that pose challenges in his adoption of GAP practices, such as the weather. But since protective cropping was also introduced in the project, it greatly helped him mitigate the negative impacts of changing weather conditions.
With the ongoing improvement of the farm, Mr. Rosillo expressed his sentiments about the importance of public awareness about the GAP project.
"It's more important that the consuming public should be educated about how GAP certification is important in ensuring the safety of the food they eat every day. Their knowledge about this will be vital for people to patronize produce that comes from GAP-certified farms, which will eventually help us get better income in the future," he said.
Project Recognitions and Future Plans
This GAP project received numerous awards such as being hailed as first place in the "Ongoing Development Project Category" during the Level II cluster review presentation of VSU research and development projects held on October 24, 2022.
It was also chosen as the Best RDE Poster during the 34th Joint Visayas Consortium for Agriculture, Aquatic and Natural Resources Program (ViCARP) and Regional Research Development and Extension (RRDEN) Symposium held from November 17 to 18, 2022.
ACIAR's top management gave the project positive feedback, according to Mr. Lusanta which will hopefully result in additional future funding for the said project.
"ACIAR is planning to extend, scale out, and expand the project next year, but there are still additional meetings for that," he continued.
Additionally, they want the GAP approach to be more widely adopted, not just in the region but also in other places in the country. This expansion plan also includes public education targeting greater awareness about the benefits of GAP certification so that market demand will improve for the cooperating farmers who will soon be involved in this project.