President's Notes: Special Advisory for the 99th VSU Anniversary Week
Details

Written by VSU President Edgardo E. Tulin

Published: 23 April 2023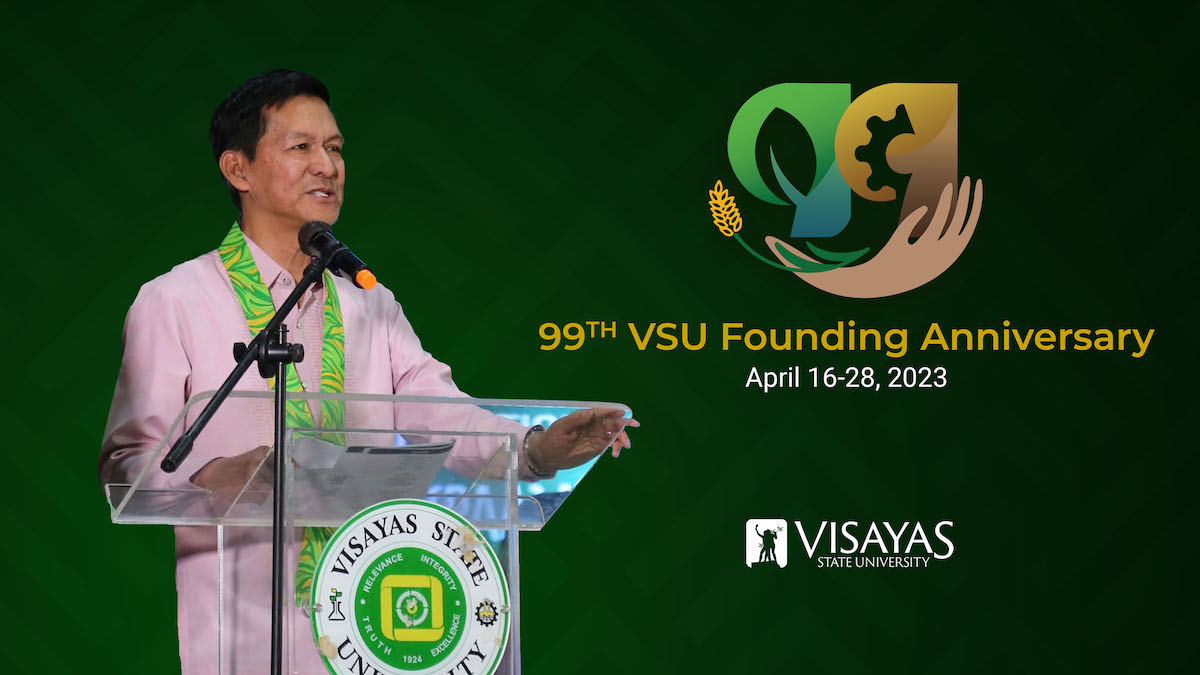 Good evening #ProudViscans!
As we are about to celebrate the main events for our 99th Founding Anniversary next week, I'm announcing that the university administration shall implement the following:
Academic departments within the VSU Main Campus shall refrain from giving examinations from Tuesday until Friday (April 25-28), including elective courses.
Faculty shall likewise refrain from setting deadlines for class requirements from Tuesday until Friday (April 25-28). This applies to all courses and degree programs (graduate and undergraduate) in the VSU Main Campus, except for graduating students who are conducting their thesis and dissertation work.
We will suspend classes on April 27 and 28 (Thursday and Friday) for the conduct of the 99th VSU Anniversary Convocation and the Farmers' and Fisherfolk's Day (FFD), which are the two main highlights of the weeklong celebration.
The last day of the Midterm Week will be on April 24 (Monday), since classes were suspended last April 21 for the celebration of the Eid al-Fitr 2023 of our Muslim brothers and sisters.
Please take note that we are implementing these so that our students can actively participate in the many activities that we have lined up for #VSUAnniv.
Our students are always at the very core of our anniversary celebration every year. In fact, many of the nightly events that will happen next week are mostly student-led and will require the participation of not only our student leaders but also everyone especially since we expect all to take part in the logistical works and other important preparations like booth design and construction.
An official memorandum will be released by the Office of the Vice President for Academic Affairs (OVPAA) on this matter.
For our dear faculty members, I hope that you will follow this special academic policy as the extracurricular involvement of our students is also an equally important part of their holistic growth while they are completing their studies at our university. Most of the activities that we are doing next week will surely hone the leadership capabilities of our students as we are again doing an in-person celebration that we missed doing for three years because of the COVID-19 pandemic.
OVPAA along with the Office of the Vice President for Student Affairs and Services (OVPSAS) and the University Supreme Student Council (USSC) in our flagship campus in Baybay City should monitor the compliance of everyone on this matter.
Lastly, as we expect the influx of people from different places to visit VSU, our security forces and our University Services for Health, Emergency, and Rescue (USHER) are currently on high alert to ensure the safety and security of everyone. We are also closely coordinating with the local government of Baybay City to reinforce our security personnel for the coming days.
With this, I'm hoping for a meaningful celebration for all #ProudViscans on VSU's 99th Birthday. As we will soon be embarking on our Grand Centennial Celebration next year, may this year bring us lessons and opportunities to make #VSU100 a relevant and fruitful occasion that we will all remember.
Allow me now to say thank you to the amazing men and women of VSU who are currently working hard to ensure that our celebration this year will become a resounding success.
To our students, alumni, and visitors, please enjoy this important occasion, and may it also bring valuable learning opportunities for everyone who wishes to see the many accomplishments of our university for the past 99 years.
God bless at Mabuhay po tayong lahat!