VSU secures bronze award from Philippine's intellectual property agency
Details

Written by Marianne C. Bayron

Published: 18 April 2023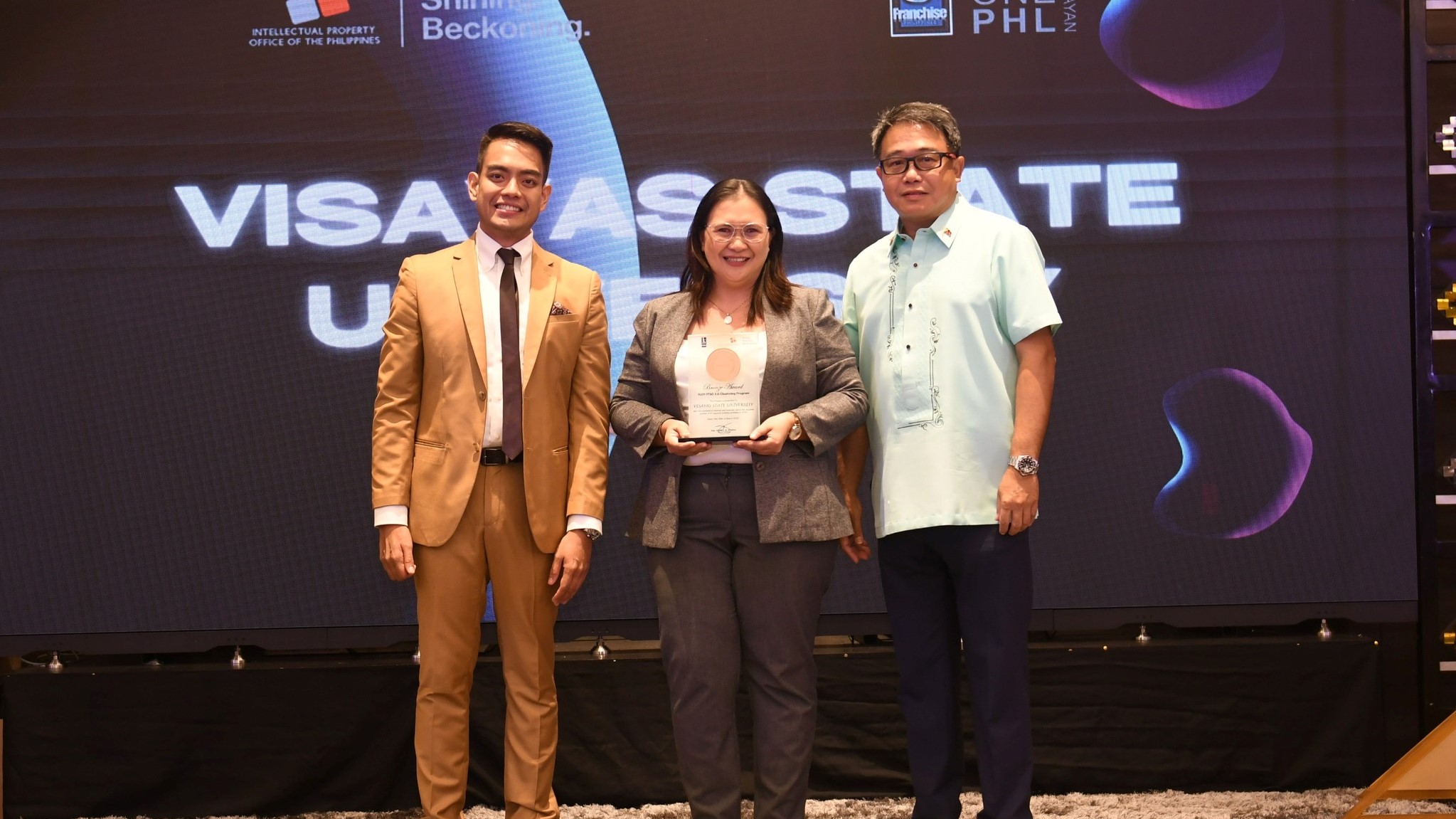 The Intellectual Property of the Philippines (IPOPHL) awarded Visayas State University (VSU) as one of the 11 recipients of the Bronze Cluster Award during the Innovation and Technology Support Office (ITSO) Presidents' Summit for the previous year.
This award is given to academic and research institution members of ITSO when they can meet the Intellectual Property (IP) capacity-building requirements for one calendar year.
VSU, alongside 10 other ITSO partners around the country was able to pass the first cluster competency by obtaining the minimum of 12 IP awareness, 2 patent search training, and 1 patent drafting course conducted.
There are 4 Clustering Competencies set by ITSO to its members, namely Bronze, Silver, Gold, and Platinum.
VSU was able to achieve the Bronze Award as it was able to comply with the IP outputs and activities to be accorded that came with this recognition.
Ms. Maria Louella Tambis represented VSU-ITSO and received the plaque of recognition on March 28, 2023, held at Sequoia Hotel in Manila.
ITSO is a project launched by IPOPHL to strengthen access to patent information for use in research, education, idea generation, and general business development among universities and research and development institutions (RDIs) in the Philippines.
In the country, 77 ITSO members are working on research and innovation management. The Presidents' Summit is an annual event to gather ITSO members and discuss matters on their implemented IP initiatives.
Aside from the 11 academic and research institutions that obtained the Bronze Award, there were 7 universities accorded the Silver Award, 8 institutions awarded with Gold Award, and a total of 17 higher education institutions (HEIs) that bagged the Platinum Award, the highest distinction given by IPOPHL.
In Eastern Visayas, three state universities were given the Platinum Cluster, the Southern Leyte State University (SLSU), Eastern Visayas State University (EVSU), and Samar State University (SSU). This prestigious award is granted to ITSO members that can file at least 7 invention patents and have successfully commercialized one of their IPs in the year 2022.
To see the list of ITSO awardees, click here.
This year's summit is themed, "ITSO: Hub and Generator of Future-Ready Innovations."
VSU still has a long way to go to get the Platinum Award, but it is attainable with continuous efforts in research and innovation to address the pressing need of the community, especially in knowledge and technology transfer.
VSU President Edgardo E. Tulin congratulated VSU Intellectual Property Unit for this recognition and encouraged them to aim for the highest award in the coming years.
"I'm very delighted to know that we're now a bronze awardee of IPOPHL. I hope that with this recognition comes the aspiration for our scientists and researchers here at our university to pursue the highest award for this calendar year. I know that this is very possible for us to achieve considering the pool of manpower that we have in VSU," Dr. Tulin said.