#VSUANNIV | Mister and Miss VSU 2023 : Meet your candidates
Details

Written by AMARANTH

Published: 17 April 2023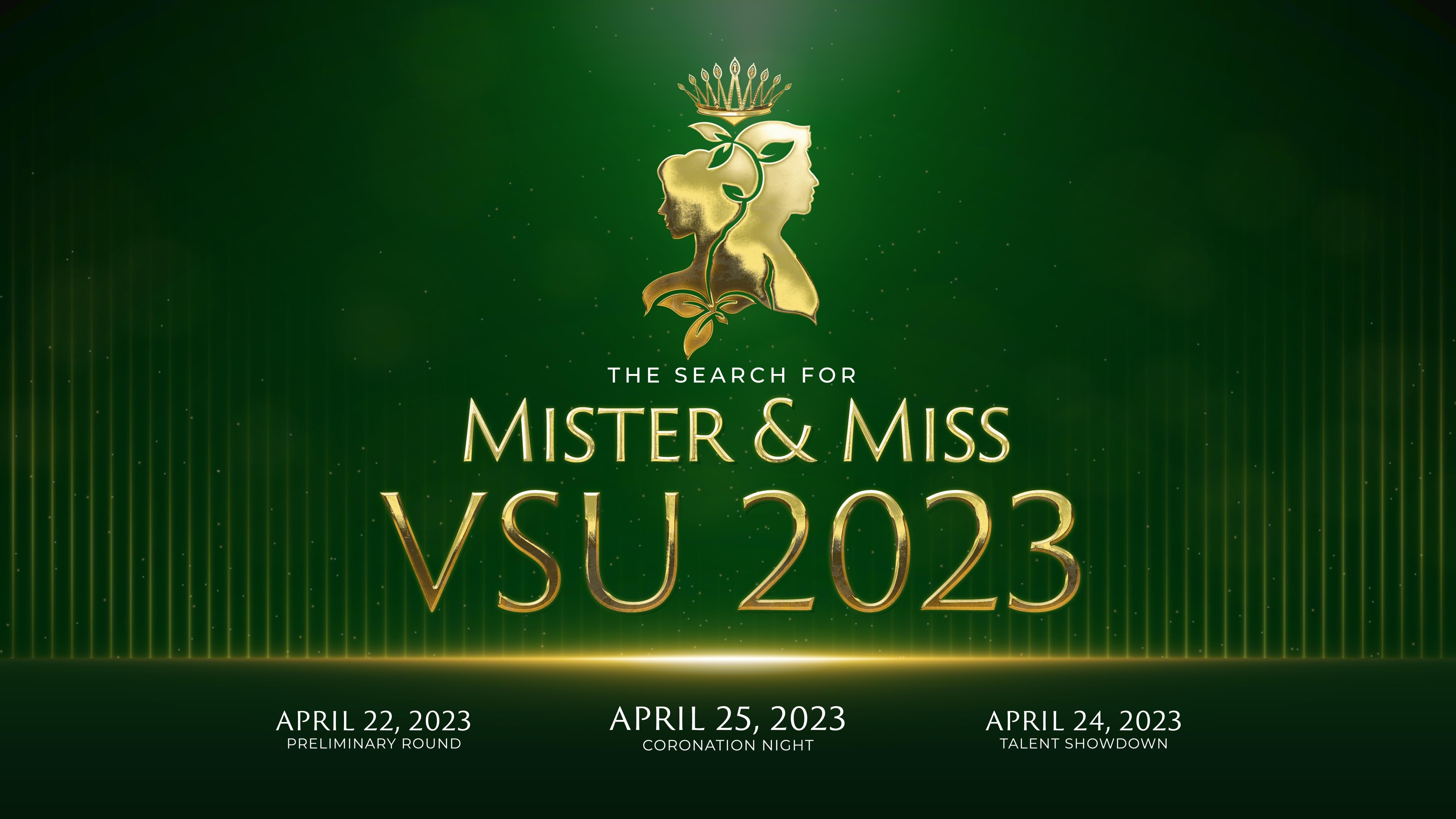 The in-person festivities of the #VSUAnniv are back. After being stalled for more than three years owing to the pandemic, the largest and grandest founding anniversary celebration of the Visayas State University is now set to be physically experienced on campus.
One of the highlights of the 99th-year commemoration is the highly-anticipated return of the Mister and Miss VSU pageant. This year's search brings us eight dashing pairs across the VSU system: four from the satellite campuses of Alangalang, Isabel, Tolosa, and Villaba; and four from the unified colleges of the flagship campus in Baybay City.
Viscans, brace for a sneak peek of what's to come as we officially introduce the contenders for this year's Search for Mister and Miss VSU 2023.

Meet The Candidates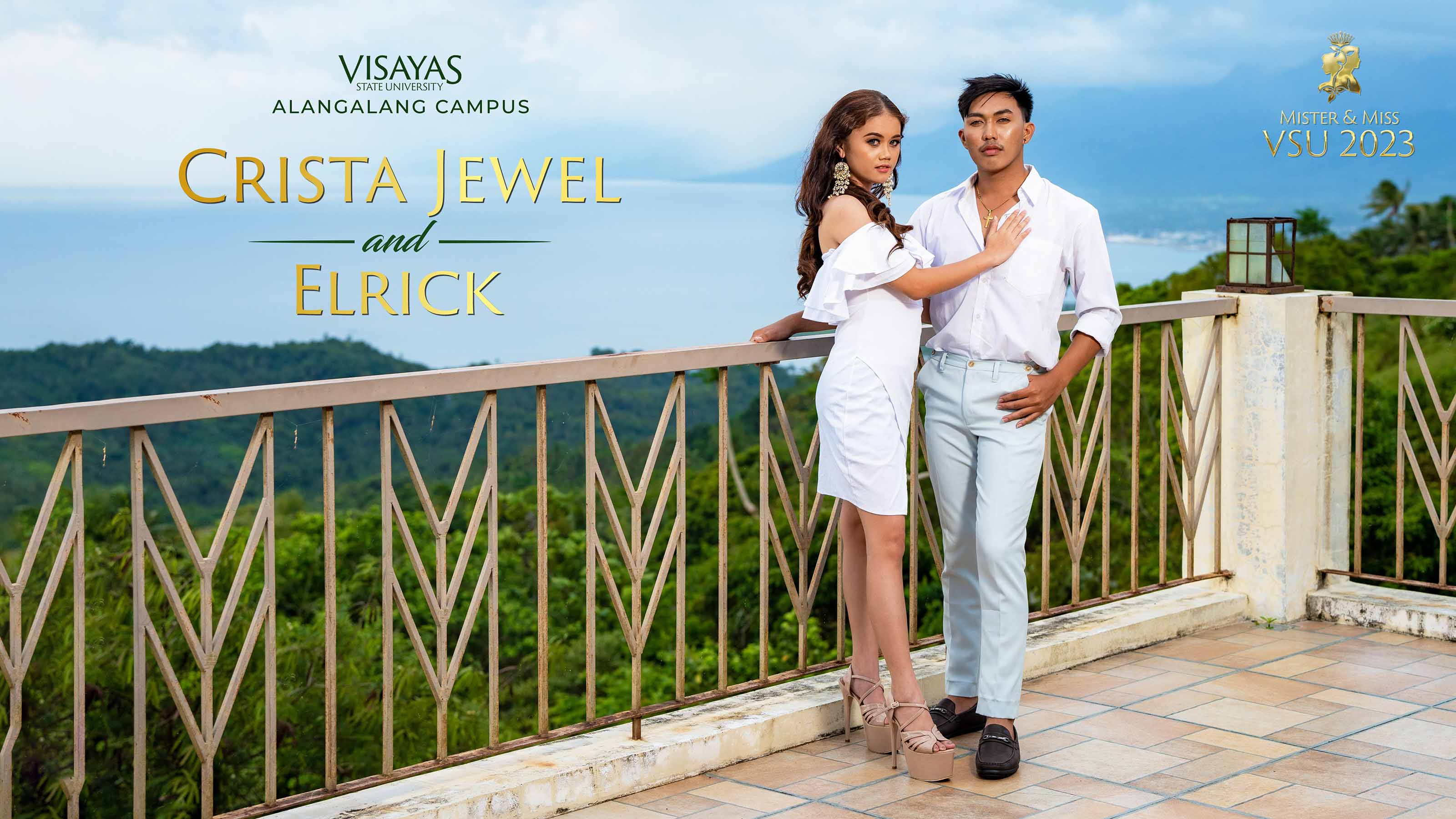 CRISTA JEWEL QUIAMBAO
This 19-year-old BEEd freshman from Alangalang, Leyte, is no stranger to the world of pageantry. With experience under her belt when she won Miss Alang-Alang 2022, she surely will be a head turner in the competition. She has talents for music and dancing and has also developed a liking for sports such as volleyball and badminton. She loves watching movies, with Disney's "Moana" being her favorite. She believes that it is only when we start to believe in ourselves that we get to become successful. Moreover, she considers her grandparents as her hero for molding her to become the person she is today. She joined Miss VSU as a way to inspire others and empower the youth to believe in themselves.
ELRICK OBADO
Elrick is a 21-year-old Environmental Science student from San Miguel, Leyte, towering at 5'8 feet and has a talent for singing. He enjoys reading books, with the Percy Jackson series being his favorite. He also enjoys watching TV shows and movies like Disney's Encanto. His preferred way of self-care involves socializing and communicating with others aside from doing daily exercises. Elrick firmly believes that success in life is achieved by learning from mistakes and failures. He regards his mother as his hero for raising him well and accepting him for who he is. Elrick joined Mr. VSU to boost his confidence, serve as a role model to the youth, and display his talents and wit to a larger audience.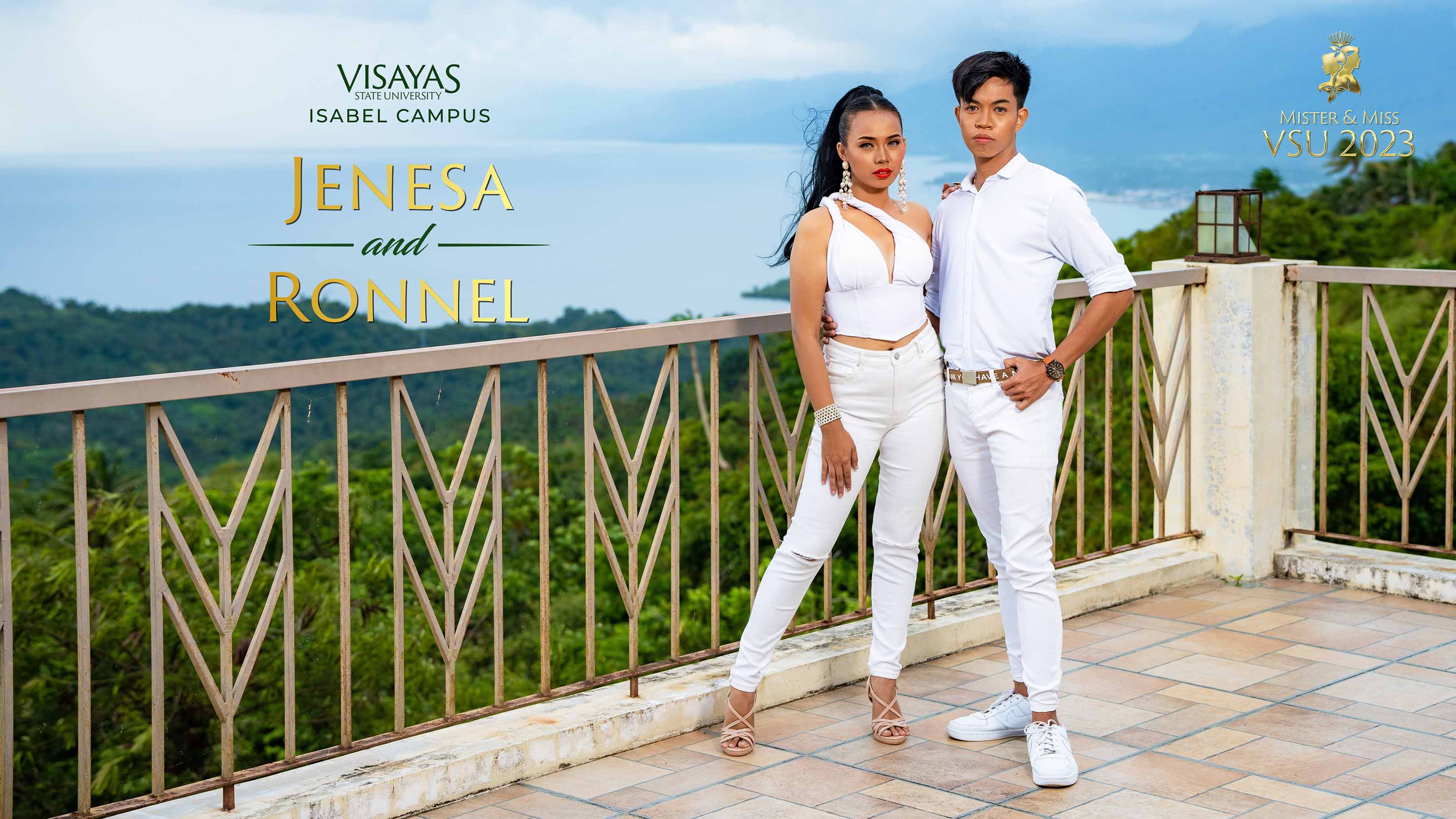 JENESA SILVANO
Hailing from Isabel, Leyte, this 21-year-old junior BPEd student is an avid K-drama fan with "Miracle in Cell No.7" being her favorite film. She finds joy in playing softball and takes pride in her flexibility. Her sister holds a special place in her heart, and having a deep, meaningful conversation with her is a memory she will never forget. She thinks that faith and self-reliance are key to achieving success, and she believes that comparing oneself to others is not helpful. This mindset is a reflection of her personality, as she sees herself as her hero for overcoming all of life's challenges. Although she did not initially choose to participate in Miss VSU, she embraced the opportunity when those around her encouraged her to do so.
RONNEL SUMALINOG
Ronnel, a 21-year-old student pursuing a BPEd degree in Isabel, Leyte, has a natural talent for dancing and possesses a logical personality. He enjoys spending time with his friends and cherishes the memories they create together. His favorite song is "With a Smile" by Eraserheads, and he often reads the "Harry Potter" book series. Ronnel believes that it is essential not to allow our emotions to hinder our success. Meanwhile, he regards his mother as his hero for instilling valuable life skills in him, such as overcoming obstacles. Although this is his first time joining a pageant, he took on the challenge to improve his self-confidence and experience new things.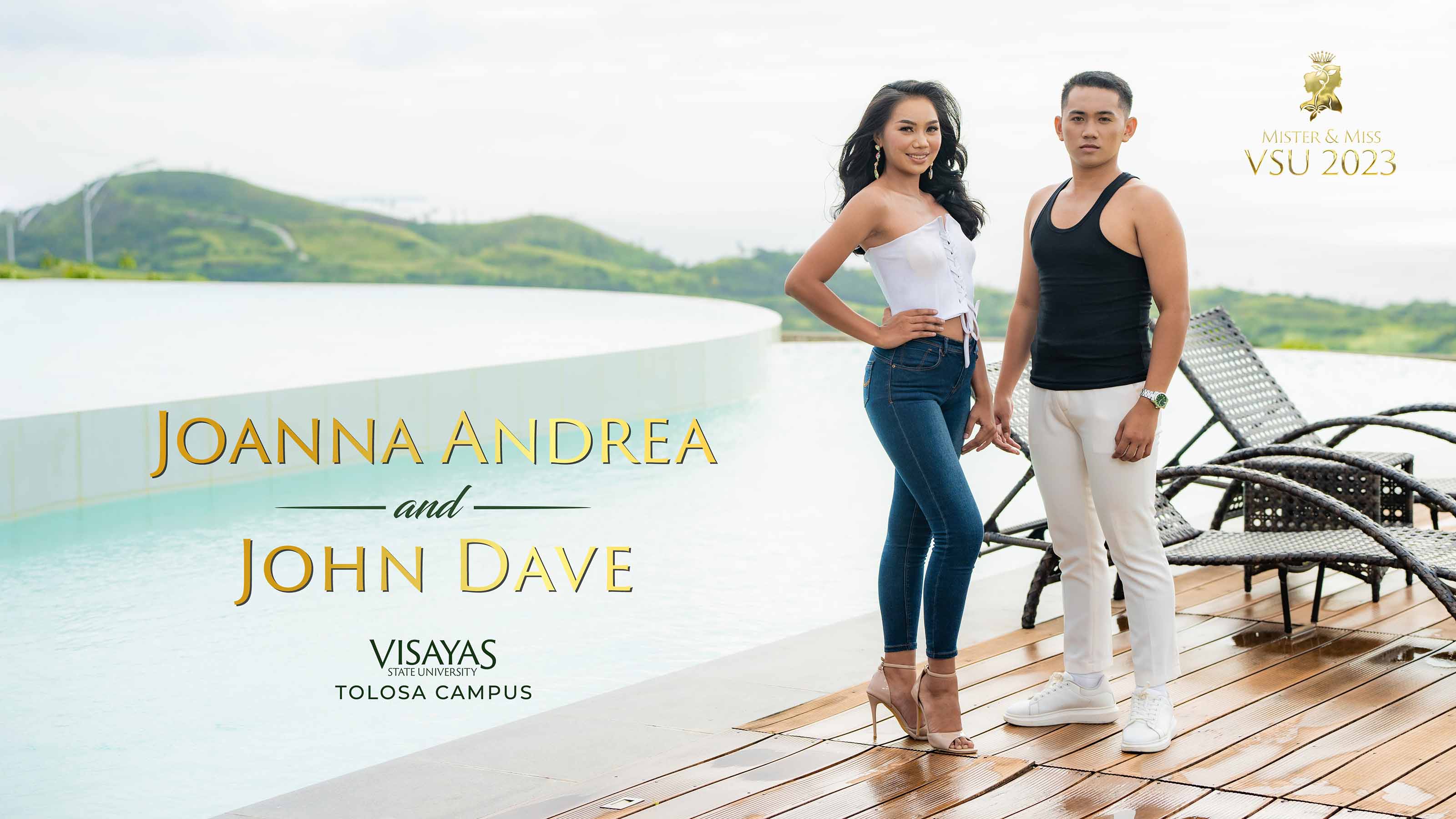 JOANNA ANDREA ADVINCULA
A woman who embodies independence with a strong sense of self and a fierce determination to succeed, this is how Joanna, a 22-year-old BEEd student from Tolosa, Leyte, described herself. She takes great pleasure in reading and singing. She has always worked hard to achieve her goals, making her parents proud. BTS is her favorite music group, and Disney's "Frozen" is her favorite film. She sees herself as a role model for staying resilient through life's challenges. Furthermore, she believes that getting a full 7 hours of sleep and maintaining good hygiene are the best ways to care for oneself. She seeks to serve her purpose as a person as she sets out to compete in the Mr. and Miss VSU pageant.
JOHN DAVE CABIDOG
John Dave, or "Dave" as his friends call him, is a 19-year-old sophomore from Dagami, Leyte, and is currently taking up a Bachelor of Science in Criminology at VSU Tolosa. Dave has a strong interest in forensic photography and possesses abilities in both drawing and dancing. He firmly believes that a determined and willing heart can overcome any obstacle. His mother is his biggest source of inspiration, as she embodies all the desirable traits of a woman. Being an aspiring police officer, Dave ensures that he takes care of his physical health by waking up early every day to perform his workout routine. He has set his sights on winning this year's crown and aims to represent Visayas State University as a globally competitive and innovative institution.
XIN MELODY JORGE
This 20-year-old gal is currently a sophomore in the BSEd- English program from Villaba, Leyte. Dancing is one of her hobbies, and she enjoys spending her time being productive by reading and writing. She considers her life experiences as her greatest achievement and believes that trying new things is a way to learn. Seafood is her preferred type of food, and she is particularly interested in literature, with "A Generous Nature" by Marcy Houle being her favorite book. She regards her mother as her hero because she raised children who were not her own. Her participation in Miss VSU is a means for her to promote her advocacies and empower others.
JOMIEL LEBOLORA
Jomiel, or "Mel" is a 21-year-old junior BSED-Mathematics major from Villaba, Leyte. Mel has a strong interest in music and dancing and particularly enjoys playing the guitar. The song "Every Woman in the World" by Air Supply is his favorite, and his go-to dish is pinakbet. He believes that success in life requires a combination of patience and determination. Mel regards his mother as his hero for giving him life and shaping him into the person he is today. Mel's greatest accomplishment is representing VSU-Villaba in the Mr. and Miss VSU pageant, and he hopes to inspire others to pursue their dreams through this platform.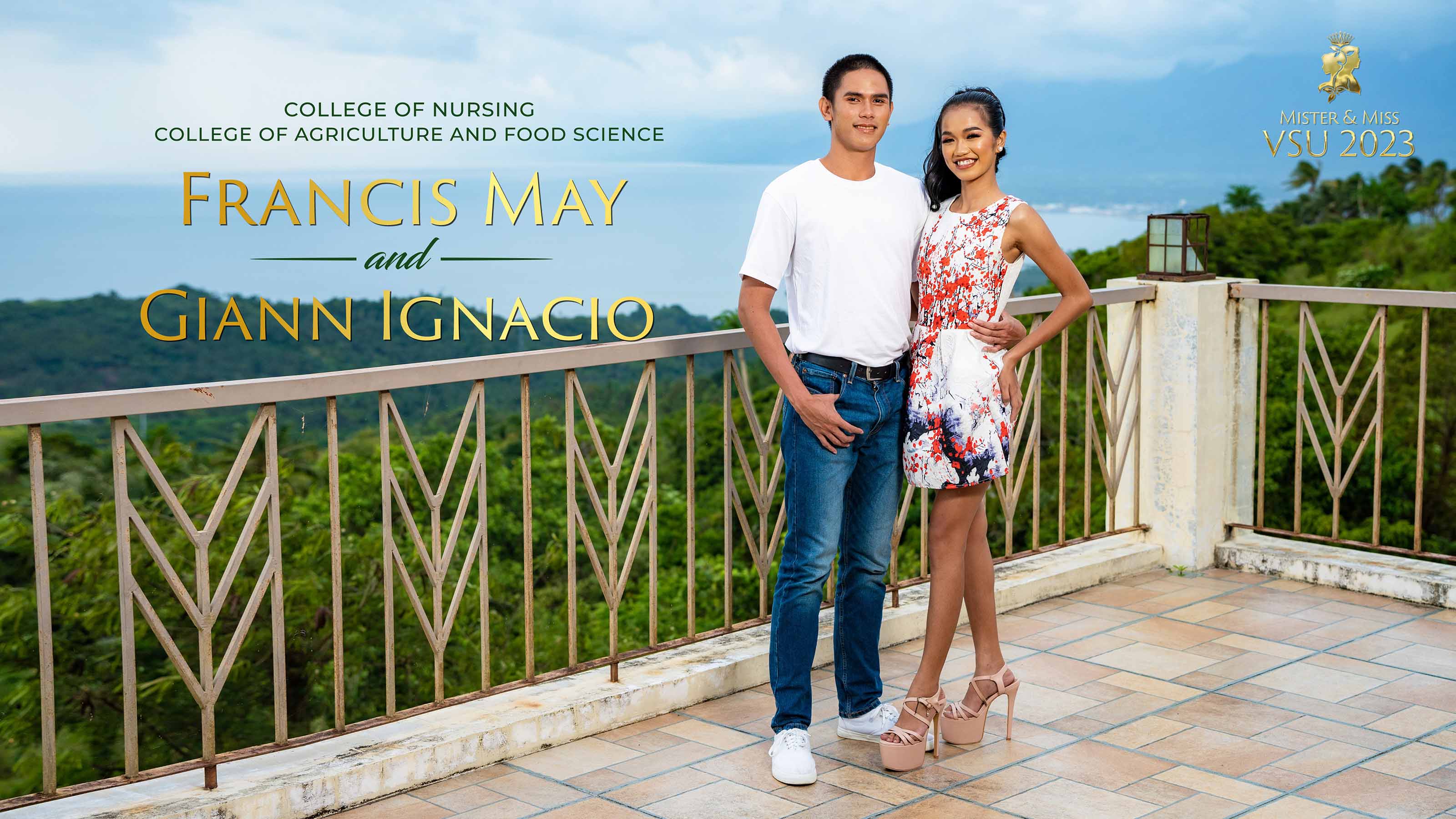 FRANCIS MAY CORAZA
Francis May, or "Francis" is a 20-year-old Development Communication student who hails from Cebu. She enjoys writing poems and short stories in her productive times and is also an avid reader of the classic novel Pride and Prejudice by Jane Austen, her favorite book. Her positive outlook in life allowed her to develop self-confidence and a great sense of leadership. Her motto, "Before conquering others, conquer yourself first," perfectly reflects this kind of mentality. Francis has great admiration for her grandparents, who have always believed in her ability to survive and thrive independently. She joined Miss VSU to inspire other people to embrace their flaws and imperfections, for these are the things that make a person unique.
GIANN IGNACIO MASENDO
Giann, a freshman at the College of Nursing from Baybay City Leyte, is a 19-year-old lad who has openly expressed his love for sports. He enjoys playing basketball and the piano in his free time, and his favorite movie is the boxing-themed classic "Rocky." Giann is an avid reader of history books and has a strong preference for delectable vegetable dishes. He believes that one should never let failures impede their path to glory and that success requires faith, determination, and hard work. Giann looks up to his parents as heroes for nurturing him to become the disciplined and respectable person he is today. Moreover, he considers the Mr. and Miss VSU pageant an opportunity to inspire the younger generations.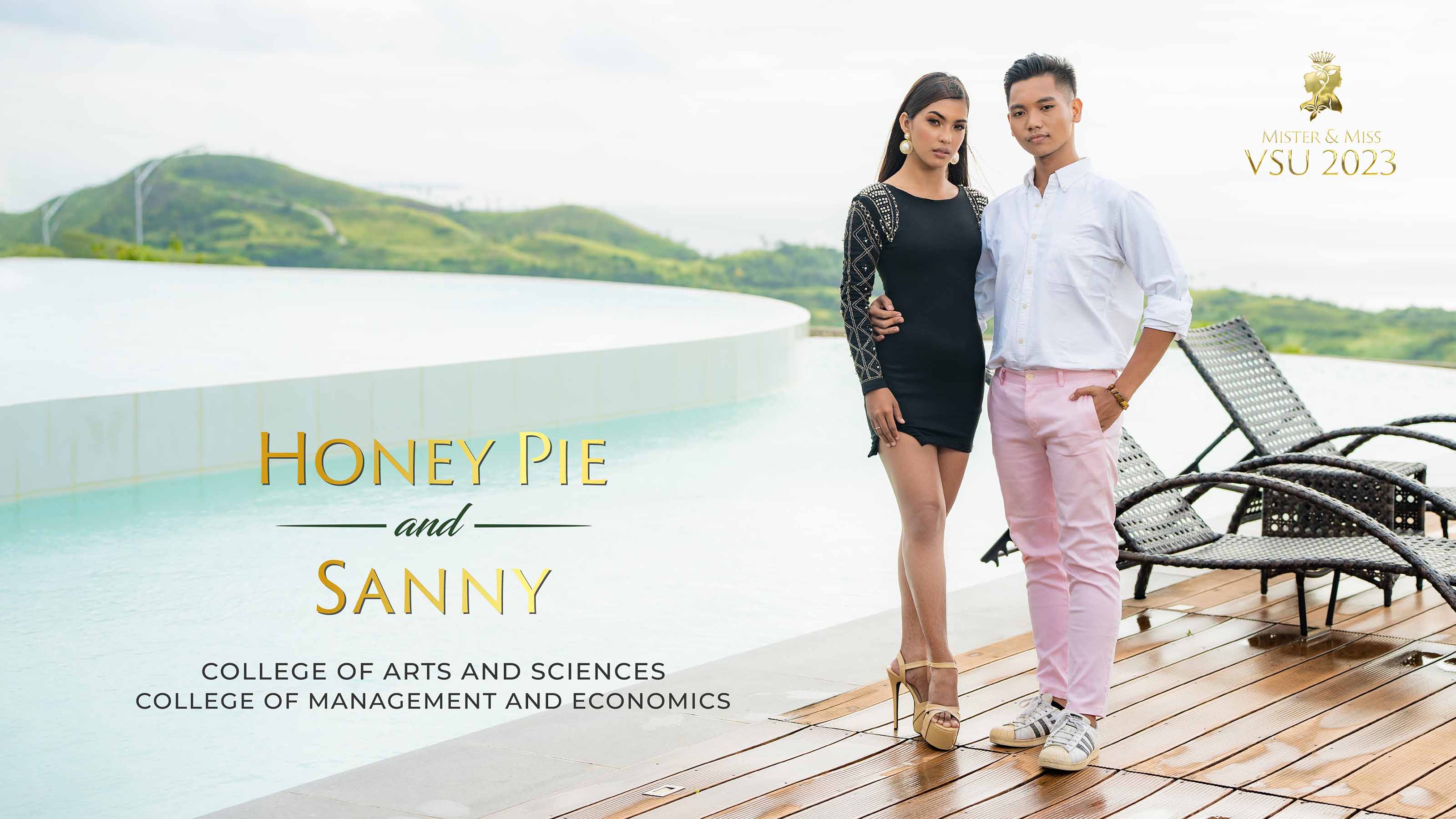 HONEY PIE TAGON
A baking enthusiast, volleyball player, and dancer, Honey Pie Tagon is certainly a multi-talented and versatile person. This 22-year-old gal from Silago, Southern Leyte, is a senior ABELS student who dreamed of becoming Miss VSU ever since she was a freshman, and now she finally has the chance to realize this endeavor as one of this year's candidates. She admires Nick Vujicic, a motivational figure who exemplifies perseverance in the face of adversity, and she possesses a strong determination to achieve her goals despite life's challenges. She also believes that taking risks is the key to becoming successful. She joined Miss VSU to showcase her skills and talents and to inspire others to achieve the optimistic goals they set their mind to.
SANNY DUMPA JR.
This 19-year-old lad from Hilongos, Leyte, is a first-year BSBio student who expressed fondness for singing, painting, poetry, and reading. He likes seafood. He is also fond of watching superhero movies with his favorite being "Marvel's Avengers: Endgame." He considers himself a sociable type of person who finds joy when the people around him have reasons to smile and be happy. He believes that it is best to let go of grudges as a means of self-care and that acknowledging mistakes and failures is essential to achieving success. Moreover, he cherishes his mother as his hero as she has raised her children well despite the difficulties they faced. He joined Mr. VSU to inspire other people that just like Kings and Queens, anyone can wear their crown only if they believe.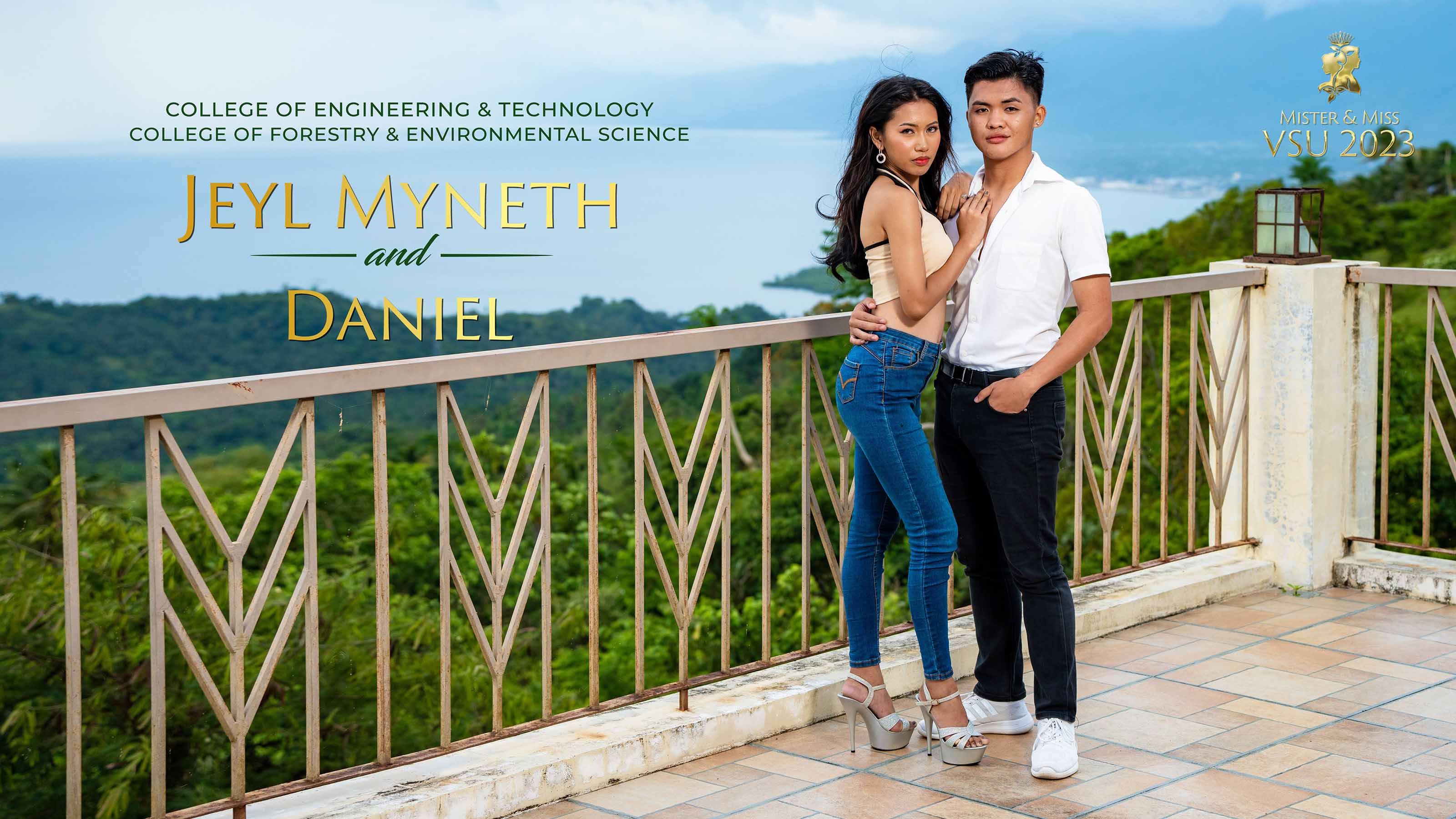 JEYL MYNETH JUSAIN
Independent yet receptive to new learning is how Jeyl Myneth described her best attributes as a person. This 18-year-old Civil Engineering student who hails from Ormoc, Leyte, sees her profession as a means to make a positive impact on her community, as demonstrated by her involvement in an outreach program for the victims of Typhoon Agaton. Aside from doing community service, Jeyl also enjoys reading and watching television series during her free time. She regards her mother as her role model for providing her with the necessary tools to succeed in life. Although she had not initially intended to participate in Miss VSU, Jeyl eventually took on the challenge after being encouraged by those around her.
DANIEL HAYLO
"Always try to see the good in people" - this is one of the lessons that Daniel, a first-year BSABE student from Catbalogan City, Samar, learned in his life as he tries to live them to the fullest and never take things for granted. Despite being just 18 years old, he has already demonstrated a strong sense of leadership and involvement by joining several organizations that focus on raising awareness about HIV and mental health issues. He even had the opportunity to represent the Philippines in the ASEAN ICT Forum on Child Online Protection. Daniel enjoys listening to podcasts on Spotify and music, with Taylor Swift's "Anti-hero" being his favorite song. Throughout his journey, his family has been his biggest support system, providing him with unwavering encouragement through thick and thin. He decided to participate in Mr. VSU to promote his advocacies further and inspire others to join him in fighting for the same causes.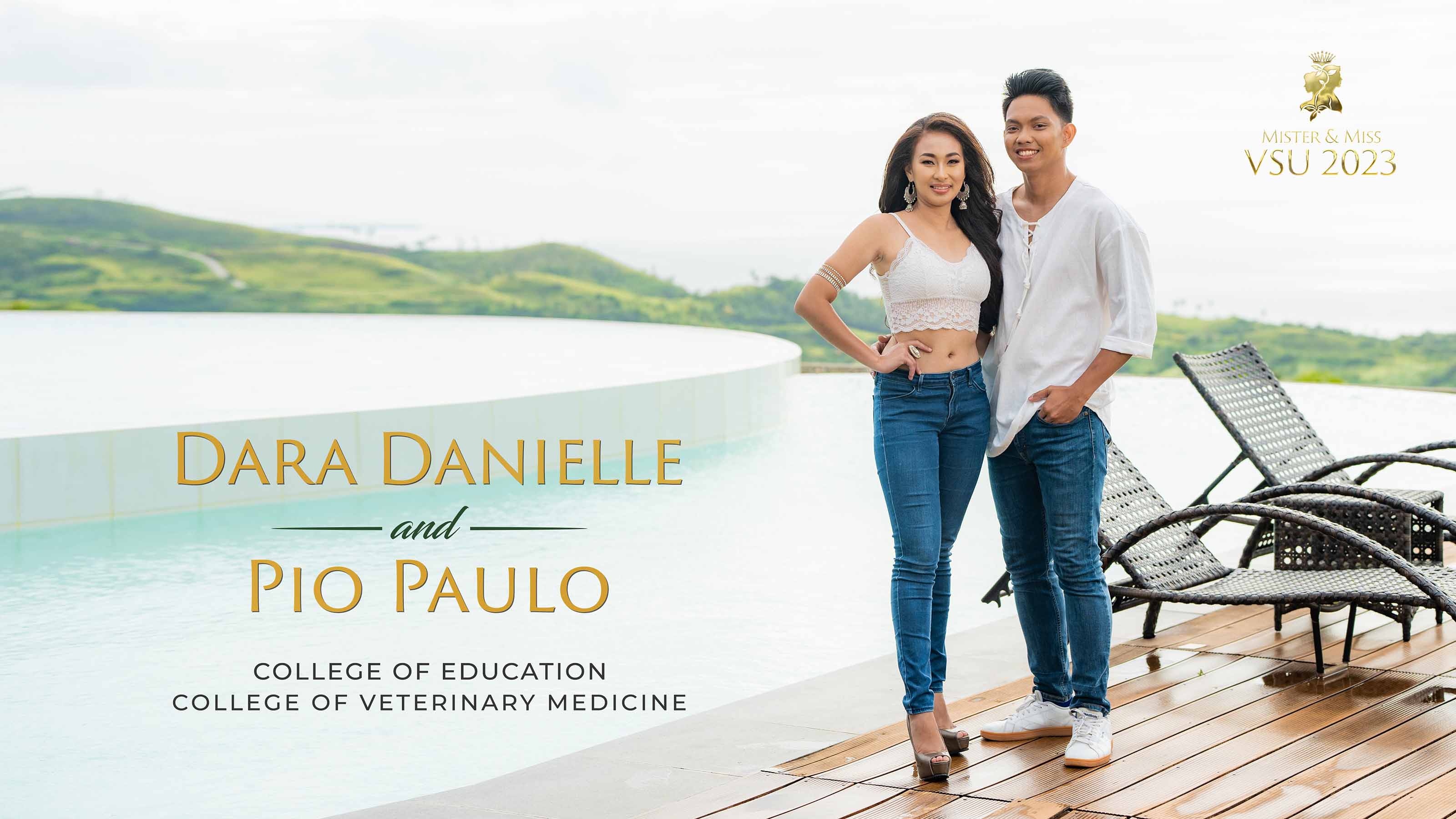 DARA DANIELLE ESTRADA
With her passion for creativity and self-expression, this 21-year-old stunner from Loon, Bohol, has achieved independent growth by not limiting herself to new experiences and opportunities. Currently taking up a Bachelor of Culture and Arts Education, Dara has developed a talent for acting, painting, and writing poems. She believes that the best way to succeed is to enjoy the process and learn from different experiences. Being a fan of internet personality and women's rights advocate Ayn Bernos, Dara makes sure that she inspires herself and others through the things that she went through. Meanwhile, she considers her family as her heroes for always being proud of her. She joined Miss VSU to take on new experiences and explore challenges out of the ordinary.
PIO PAULO FERNANDEZ
With an optimistic personality, Pio Paulo, or "PioPauz," a 4th year DVM student, has implied to himself to celebrate even the simplest accomplishments, such as being able to successfully set up an IV line. This 22-year-old lad from Ormoc City, Leyte, has the ultimate goal of becoming a licensed veterinarian while continuing to improve himself for the better. He enjoys watching movies and singing and considers sleeping the best self-care practice. He also believes that forgiving oneself is key to gaining success in life. On the other hand, he regards Sakata Gintoki, an anime character from the manga series "Gintama," as his hero for teaching him to appreciate the mundane in life.
Catch these eight (8) stunning and daring pairs of candidates as they vie for the crown. Support your candidates as they compete in the three-part search for Mister and Miss VSU 2023, showcasing their talents, charisma, elegance, and confidence.
—
Events:
PRELIMINARY ROUND - April 22, 2023, Saturday, 6PM
VSU Convention Center, Lower Campus
Ticket Price: P100.00
TALENT SHOWDOWN - April 24, 2023, Monday, 1PM
VSU RDE Hall, Upper Campus
Ticket Price: P100.00
CORONATION NIGHT - April 25, 2023, Tuesday, 7PM
VSU Gymnatorium, Upper Campus
Ticket Prices: P500.00, P375.00, P200.00, P100.00
Ticket Outlets:
IGP Office, VSU Market
VSU Techno Mart, Upper Campus (Beside PNB)
Colleges & Departments
Select VSU Market Stalls

VITA Campuses thru Official Distributors

USSC


Watch online via Zoom
Register and book your tickets here:
Mister and Miss VSU 2023 - Online
Ticket Prices:
Preliminary Round: P149.00
Talent Showdown: P149.00
Coronation Night: P249.00
All-In Package (3 events): P399.00

Pay via:
Account Name: Visayas State University 101 Trust
Account Number: 003572-1000-48
Bank: Landbank of the Philippines