VSU honors outstanding farmers and fisherfolk in its 99th Founding Anniversary
Details

Written by Marianne C. Bayron

Published: 24 May 2023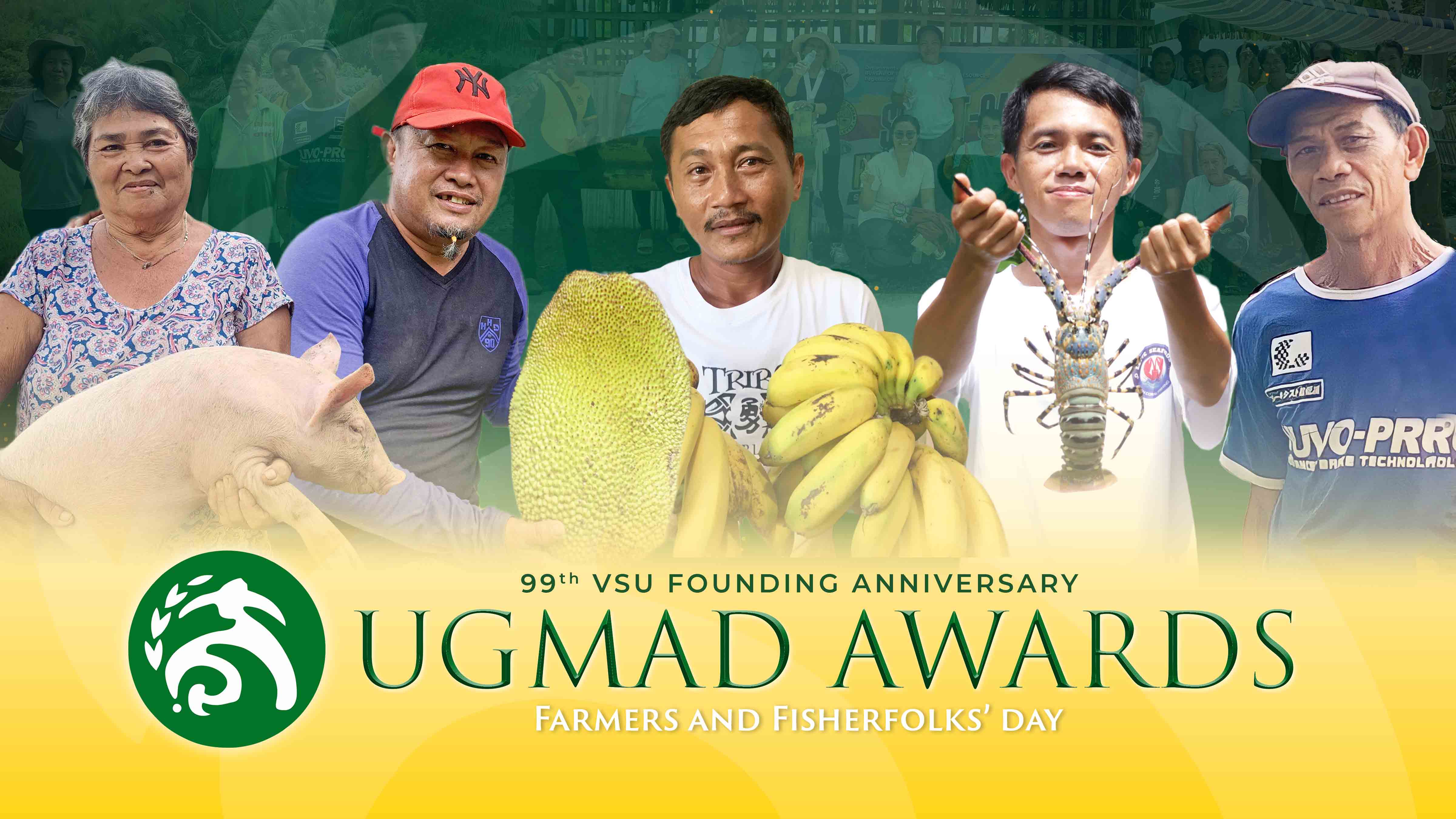 The celebration of the 99th #VSUAnniv would not be complete without the Ugmad Awarding ceremony, a yearly event to recognize the exemplary performance and dedication of farmers and fisherfolk all around Eastern Visayas.
VSU exclusively organized this one-day program in time for its anniversary to highlight the lives of our real-life heroes, who worked behind the scene to boost our agriculture and aquaculture using their innovative ways.
To recognize their role in our society, VSU rewards outstanding farmers and fisherfolk with the Ugmard Award, either individually or in groups.
For this year, there were 7 Ugmad Awardees chosen by VSU, with 5 awardees in the individual category, and 2 from the association category. There were also special citations given to the Binibihan Agriculture Cooperative, a group of women who committed themselves to farm, and Rudy S. Mejos, a vegetable farmer tilling his more than 10 hectares of farmland.
Get to know the inspiring stories of the 7 Ugmad Awardees of the Farmers and Fisherfolks' Day 2023 held on April 28 at the VSU Convention Center.
Outstanding Farmer-Entrepreneur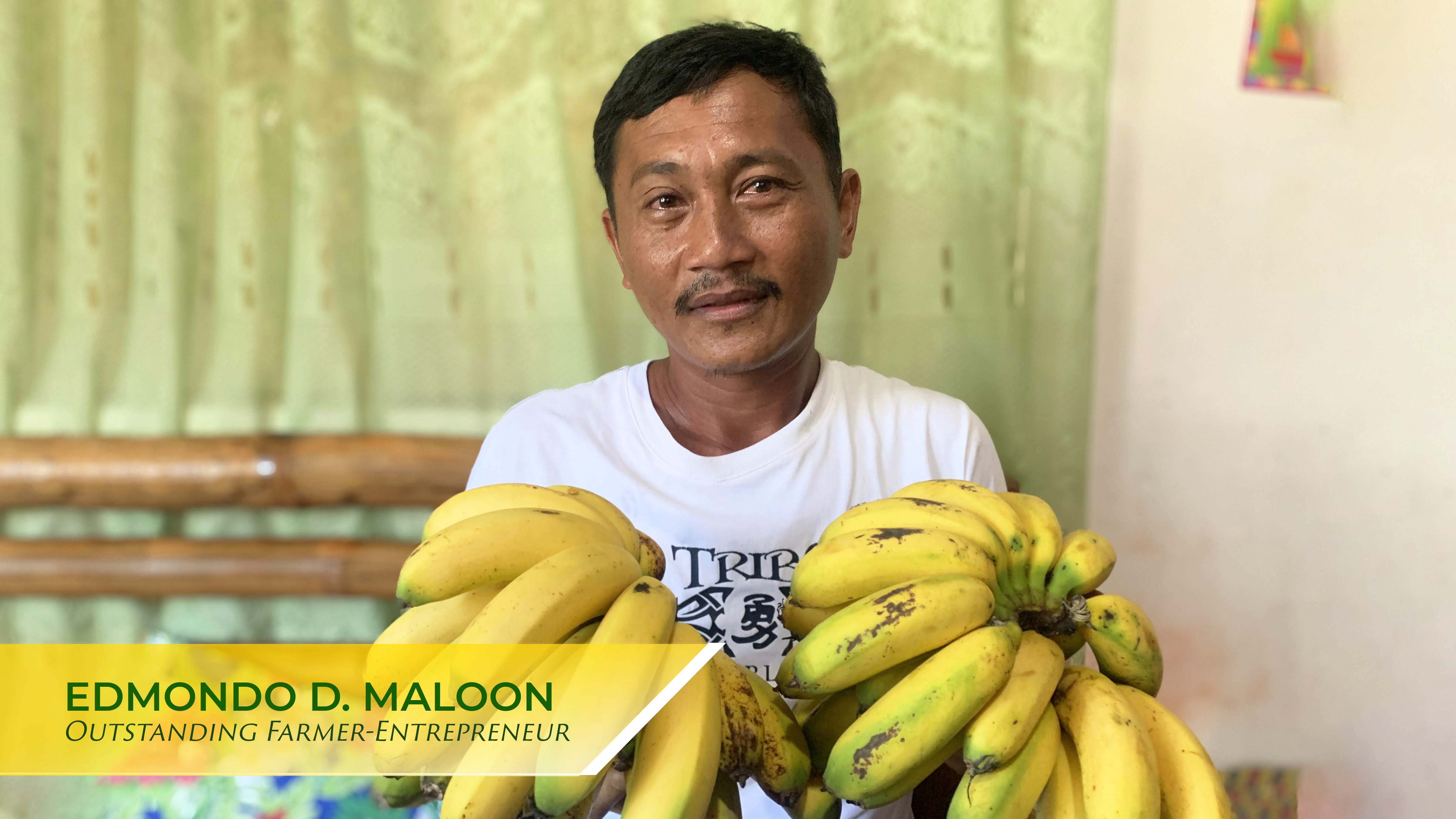 He is an epitome of a farmer-businessman which made him different from other farmers. He considers farming as a very lucrative business enterprise thus making him realize his dreams – from just a mere farm laborer to a millionaire.
His innovativeness and hard work paved the way to purchase his own farm machinery like transplanters, harvesters, and tractors worth millions of pesos. Also, he now owns several hectares of land, family cars, and three decent houses out of his farm income. Moreover, he is able to provide his children with a decent education and a very comfortable life for his family members through farming.
He diligently adopts the latest technologies in farming which he learned from the City Agriculture Office of Ormoc City, the Agricultural Training Institute – Regional Training Center 8 (ATI-RTC 8), and the Visayas State University (VSU). As part of his social responsibility, he shares his knowledge and best practices to other farmers in their community for them to also improve their economic living conditions.
Indeed, his deep passion and dedication to farming make this industry very lucrative and inspiring to others. He is worth emulating!
Outstanding Livestock Farmer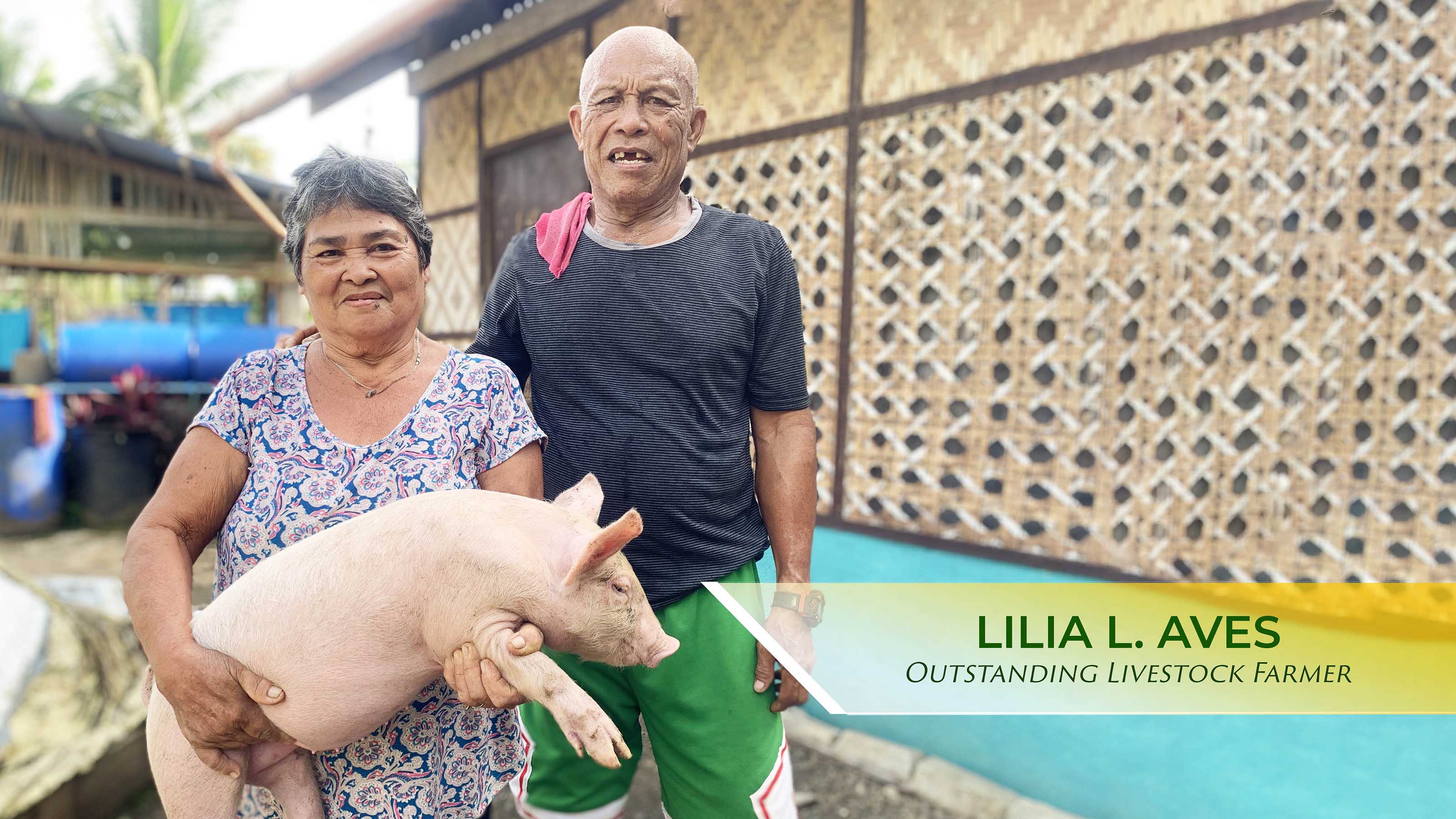 She is highly recognized for her strict observance of the biosafety of her livestock farm which enabled her to protect her swine to be freed from contamination by the much-dreaded African Swine Fever (ASF). Her herds were the lone survivors against the virus when ASF hit their place.
Her innovativeness enables her to establish a functional biogas digester which serves as her source of fuel. Also, no middlemen can dictate to her as regards the live weight price of her animals since she has her own weighing scale that will be used in weighing them.
Mrs. Aves is also skilled in raising her animals despite her old age. This proves that age doesn't matter when one is determined to raise livestock animals. She uses the best technology which she learned from the agriculture office and from her own research on the internet to keep her abreast with what is new in swine raising.
Outstanding Jackfruit Farmer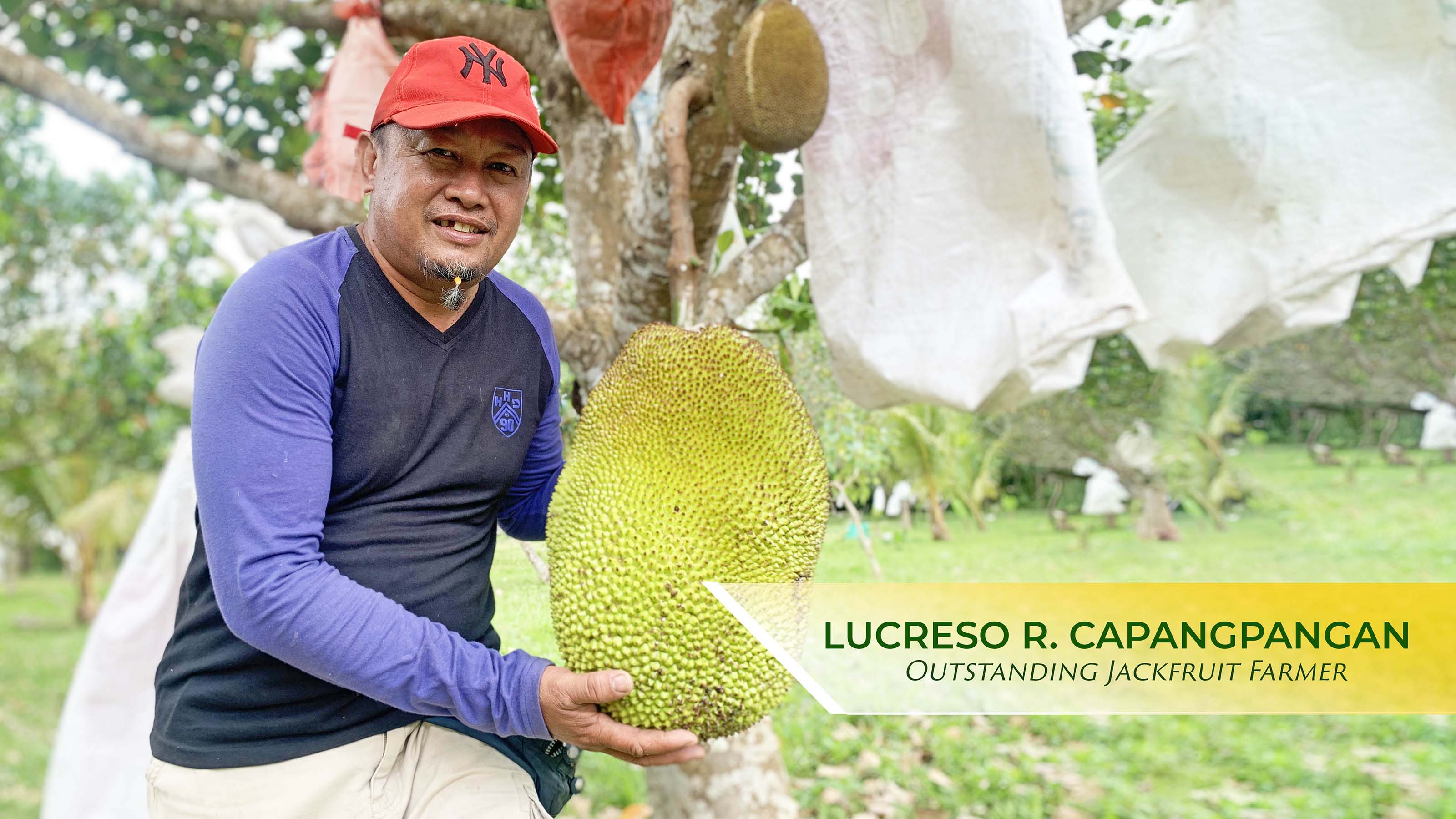 He painstakingly labored in making his jackfruit trees survive during typhoon Odette and when they were struck by the phytophthora disease. He managed to replace those jackfruit trees destroyed by the typhoon.
Also, his innovativeness enabled him to successfully resuscitate his jackfruit trees infected with the virus. To date, all his jackfruit trees are healthy and are bearing more fruits. All his ripe jackfruits are sold in the market like hotcakes.
With this turnout of events, Lucreso plans to plant more jackfruits on his other parcel of land still in barangay Quezon Jr. at the onslaught of the rainy season.
Outstanding Mariculturist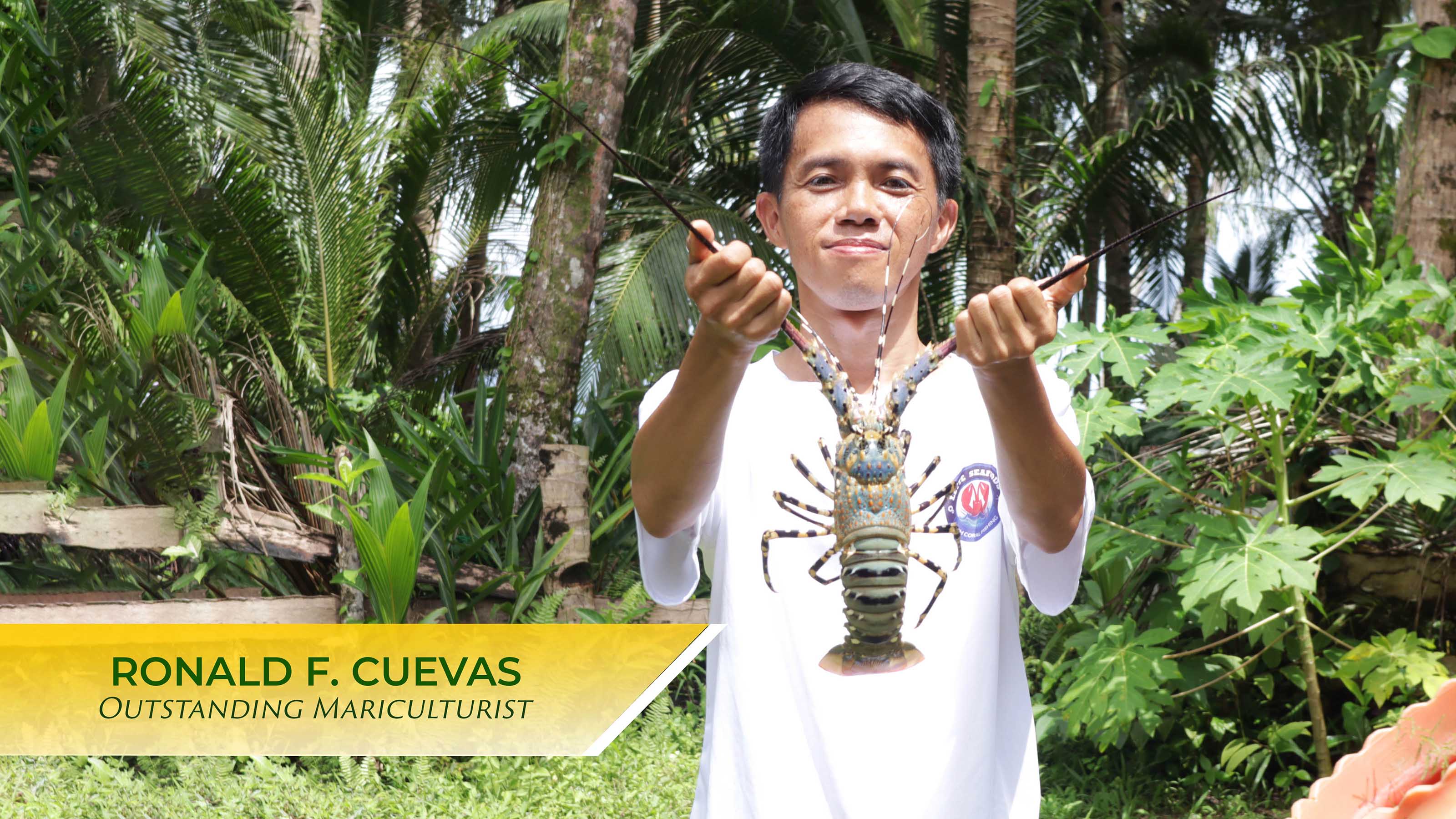 Mr. Cuevas is known for his skills, innovativeness, and unending quest for new knowledge in culturing lobster both in the wild and inland. Since lobster culture in the wild faces quite a lot of challenges like strong waves caused by typhoons and other weather disturbances, he adopted the blend of bio floc and recirculating aquaculture system (RAS) technologies. These two technologies help him achieve 1.2 tons of lobster harvest in a year.
As a science teacher, he never stops experimenting to perfect his techniques in culturing lobsters that are in high demand in the export market.
Due to the bigger demand for lobster in the international market which amounted to 2 tons per day, he encouraged others to adopt his methods. Moreover, he wanted to act as the conglomerator of all the lobsters produced in the region so that the exporters will just come instead of bringing the products to Metro Manila which is costly and cumbersome.
He never stops learning to find solutions to the challenges as regards lobster production in the Leyte Gulf area. Indeed, he is a mariculturist worth emulating by others!
Outstanding Aquaculturist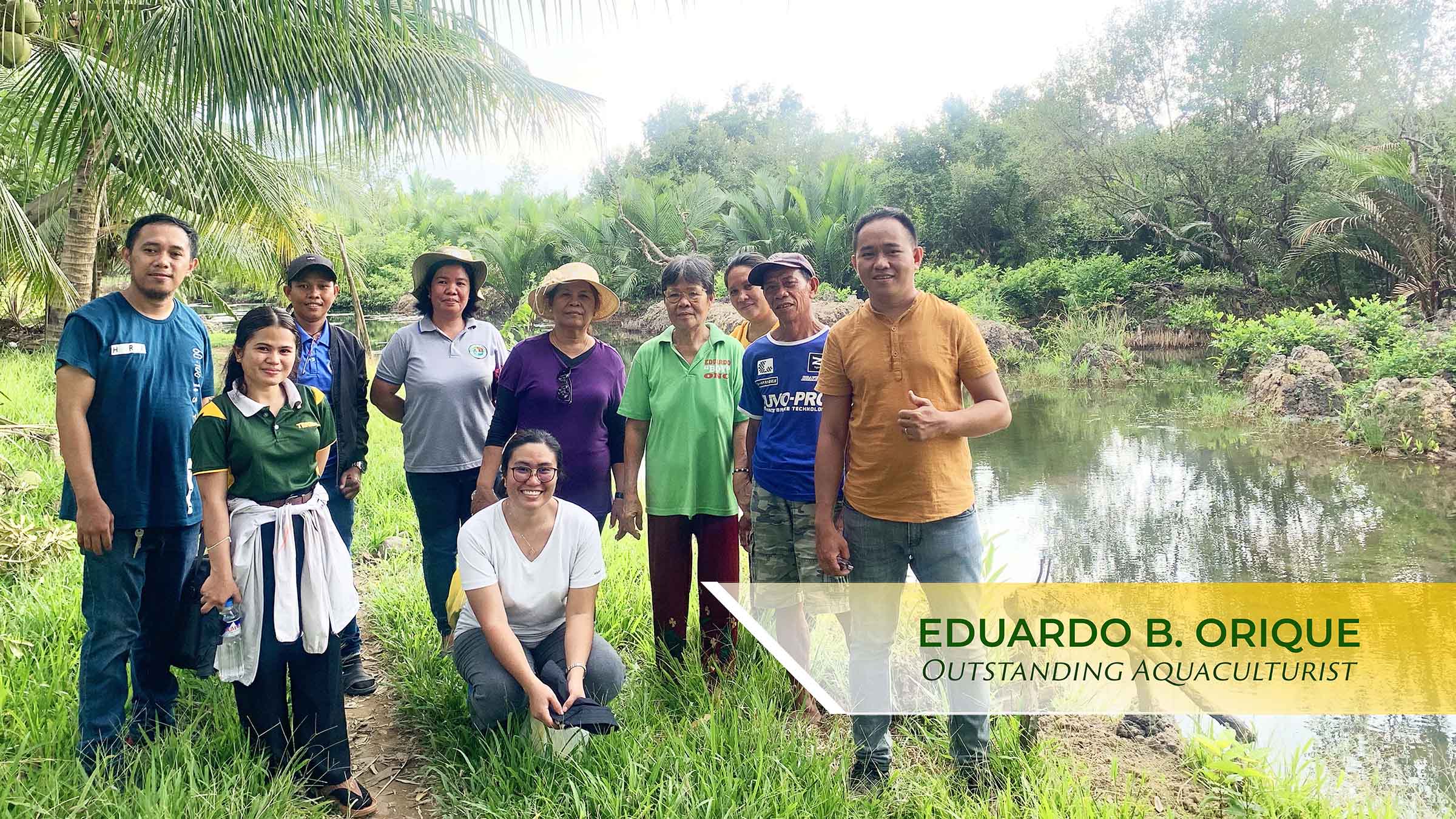 He is chosen as one of the awardees because of his enthusiasm, hard work, innovativeness, perseverance, ingenuity, and diligence in attending to his 2-hectare fishpond. He grows milkfish, king crabs, shrimps, and tilapia in brackish water ponds. His diligence in collecting king crab fries makes him the leading source of king crabs in his locality. Moreover, he does not fall short of milkfish because he is always diligent in looking for fries even until the wee hours of the morning.
With regard to marketing his produced goods, he does not have any problem at all because his wife and his children are doing this. In the same manner, his king crabs always run out of supply due to their high demand in the market. Even his tilapia is always sold out due to its distinct delicious taste according to his buyers.
Despite his old age, Mr. Orique is still very active in supervising his pond laborers, thus it never runs out of milkfish and other products that are grown in his pond.
Outstanding Farmers Association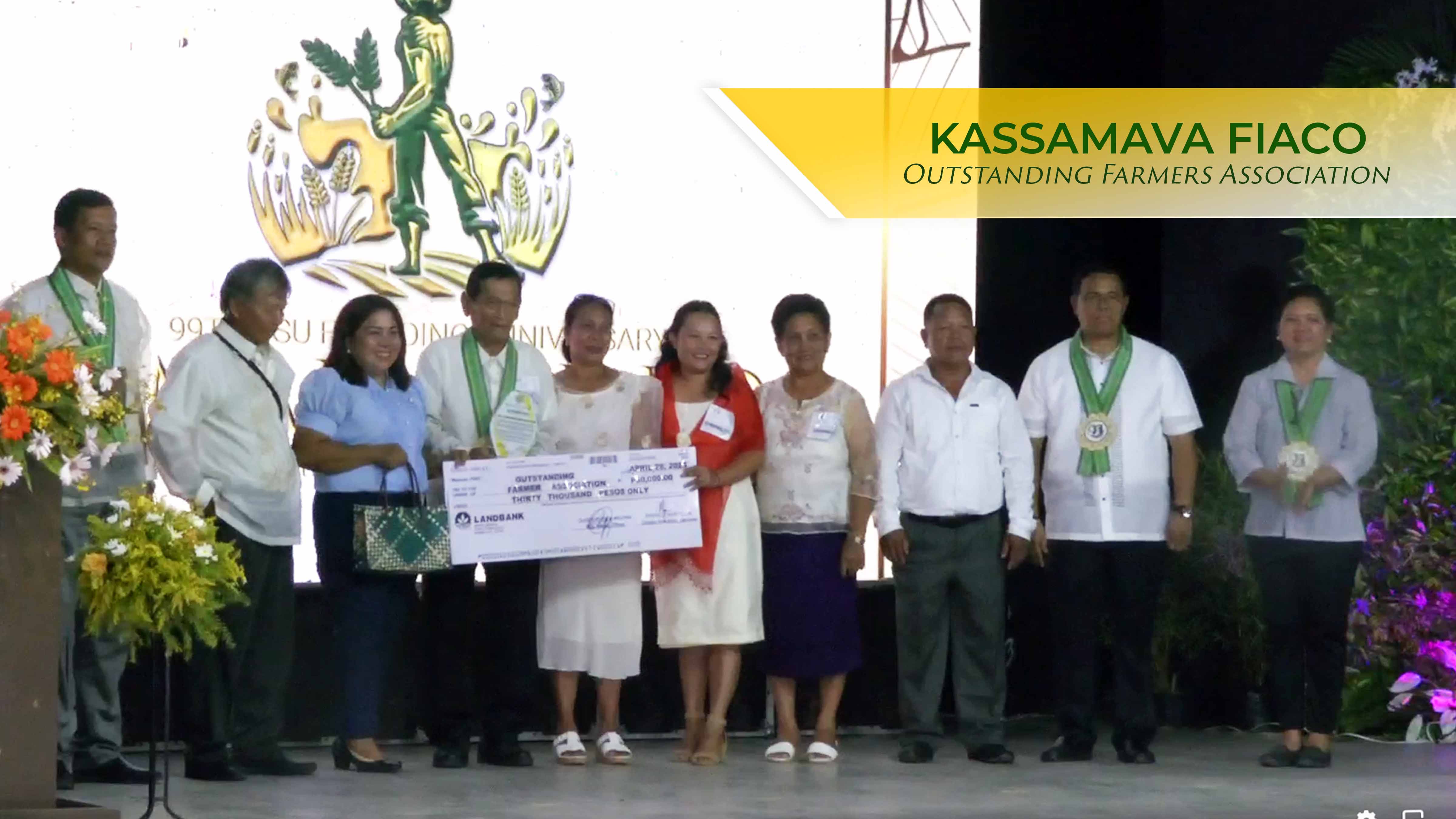 Because of Kassamava Fiaco's cohesiveness, innovativeness, perseverance, dedication to their cause and make their cooperative stand out and be a good example of a long-standing unified group in Ormoc City.
The cooperative is now earning millions of pesos from its irrigation fees, rice trading, and loaning with a meager interest rate to its members. They also paid a fixed amount for their capital build-up (CBU) for the use of their smooth operation and other important expenses.
The cooperative is proactive in helping out indigent children through their regular feeding program. Also, they are very active in their environmental campaign through clean-up drives in their community and neighboring barangays.
Despite having mostly senior citizen members, they are still very active and true to their vision—a strong and unified cooperative that looks after the just and equitable supply of irrigation water to all its members.
Outstanding Fisherfolk Association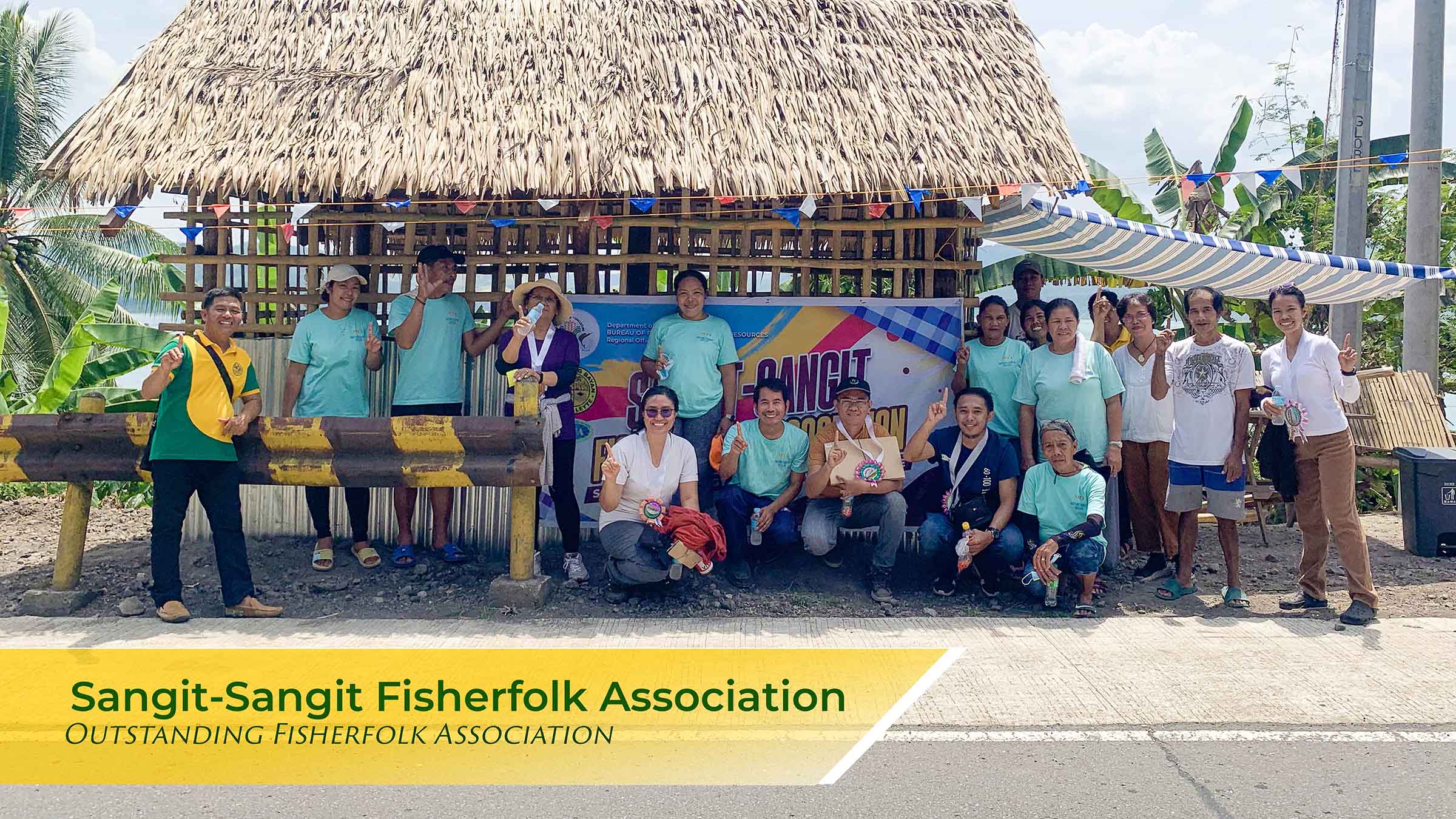 The unity, hard work, cooperation, and innovation of the Sangit-Sangit Fisherfolk Association to preserve the production of oysters, tahong or mussels, and nylon shells which abound in their area. The culture tahong as their main source of income. They also produce shell crafts out of empty shells which are sold to as far as Manila and Cebu and in their store located along the highway.
The officers and members of the association take turns in managing their mussel farm along the coast of Kawayan to have a robust harvest to cater to the needs of their buyers from their municipality and in the whole region. They plan to expand their mussel farm to cope with the demands of fresh mussels and their shell craft business which now gain wide acceptance from its buyers.
Next year, for VSU's centennial anniversary, more exciting events and grand Ugmad Awards will be given to top-tier farmers and fisherfolk across Region 8.