VSU 99th Anniversary Convocation Speech of Congressman Carl Cari
Details

Written by Congressman Carl Nicolas C. Cari

Published: 27 April 2023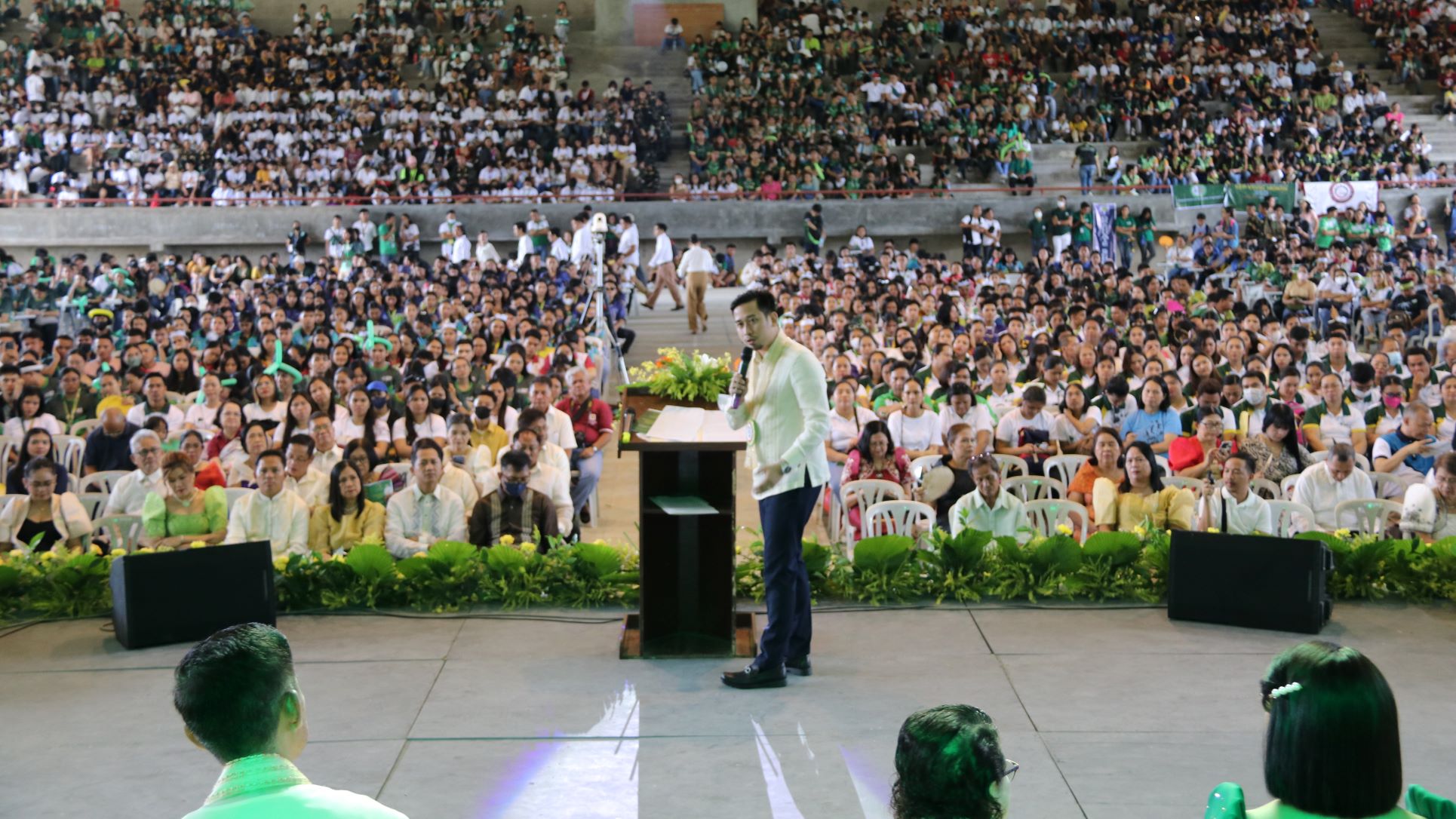 Dr. Edgardo E. Tulin- University President, Dr. Beatriz S. Belonias- Vice President for Academic Affairs, Dr. Maria Juliet C. Ceniza- Vice President for Research, Extension, and Innovation, Dr. Daniel Leslie S. Tan- Vice President for Administration and Finance, Dr. Dilberto O. Ferraren- Vice President for Planning, Resource Generation and Auxiliary Services, Dr. Aleli A. Villocino- Vice President for Student Affairs and Services, the Chancellors of the four campuses of the VSU system in Alangalang, Tolosa, Isabel and Villaba, the Deans of the different colleges of the VSU system, Research Directors and Unit Heads, Faculty members, students, alumni, and visitors- a pleasant morning to all.
In previous years, the pandemic halted the VSU anniversary programs and activities. For nine years of studying here at VSU in my elementary and high school years, the VSU anniversary was one of the most awaited annual events. I remember before, every year with my Lola and Mama, we bought flowers, mamakyaw mi ug mga orchids at the Flower and Garden show. I fondly remember how I played soccer after class, which led me to play soccer in the Goodwill Games, where my father played Tennis. With my friends, we roamed around VSU every night to see the different booths. I also loved the snacks and buying different burloloys and other products at the VSU market. I grew up here in VSU, and I am delighted that after three years of absence, the festivities of the VSU anniversary are back.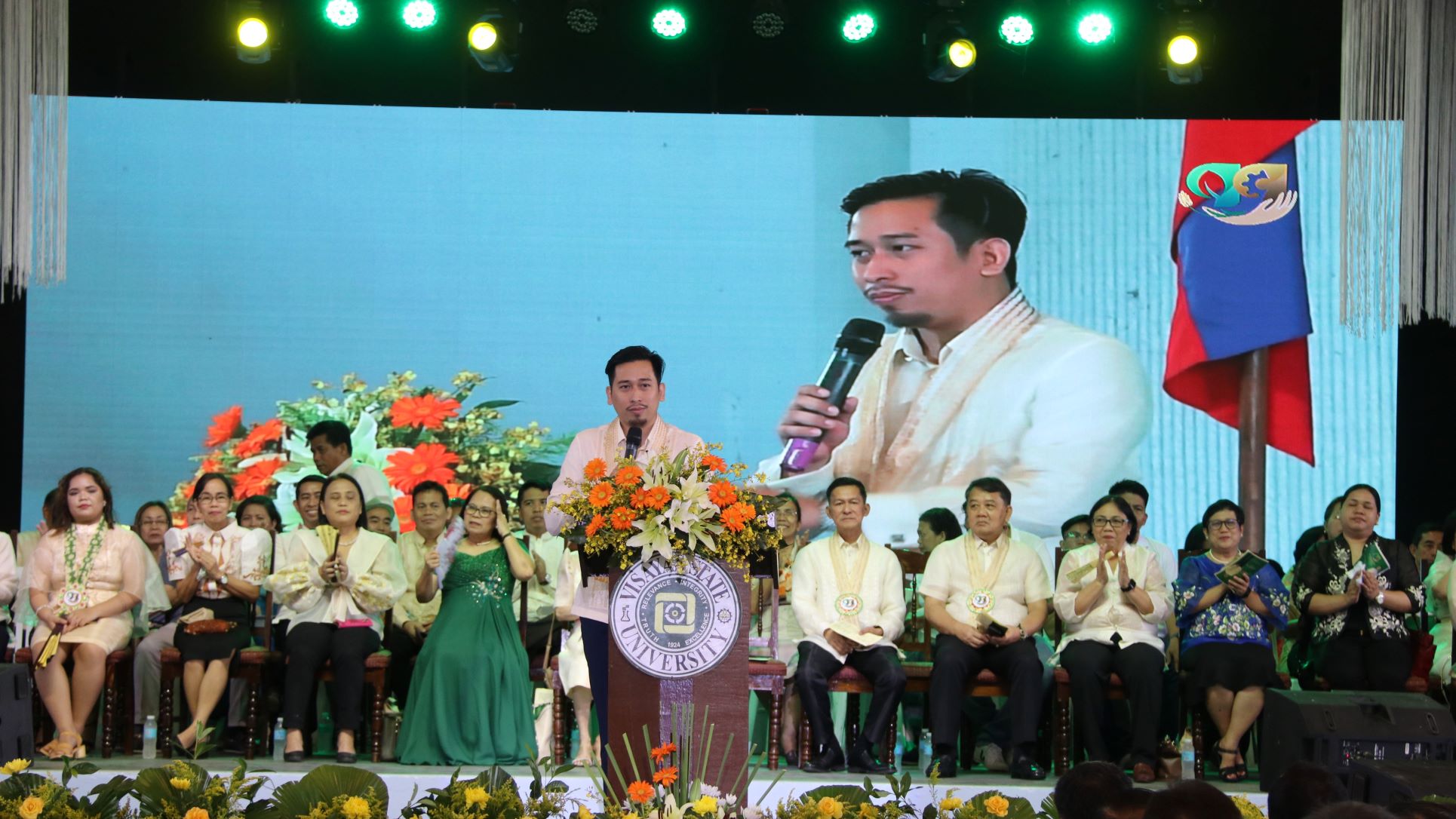 Like you today, I was also required to join the Convocation Program and listen to the guest speaker. Never in my wildest dreams will I speak as a guest speaker at the anniversary. Among all other alums and successful individuals, I thank VSU for this opportunity to have me as your guest speaker for your 99th Founding Anniversary (wala na lang ninyo gi-100). I am even prouder to speak as an alumnus of this beloved institution.
One year until we celebrate the centennial year, today marks the 99th Founding Anniversary of this institution. I congratulate the Visayas State University for almost one hundred years of consistently providing excellent academic research and instructions and producing competent human resources. Today, let us take the opportunity to remember the success of VSU and pay tribute to the workforce that made this university what it is today. Let us celebrate the gains and success of VSU at 99.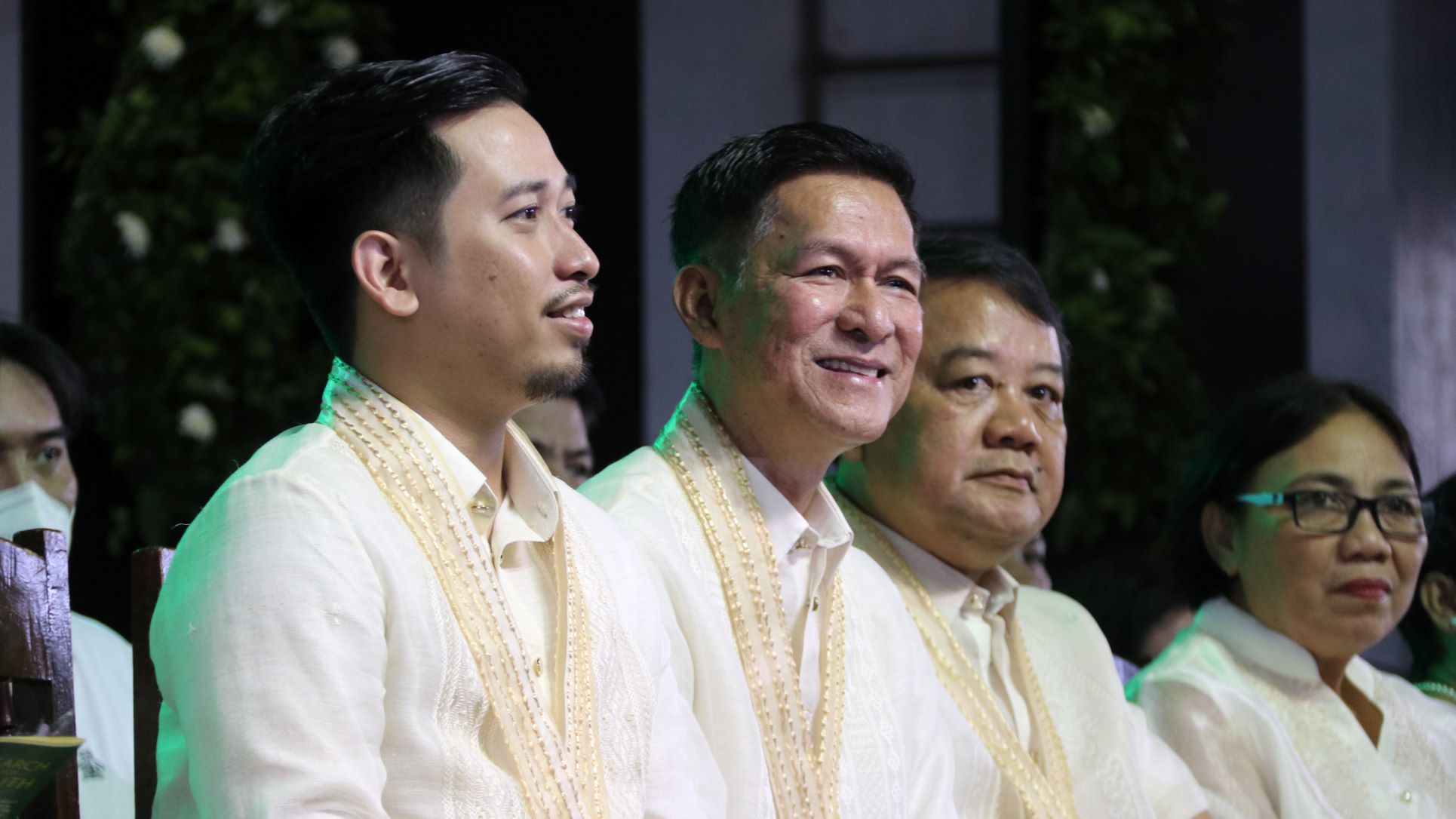 Every hard work and sweat from the simple workers to your very active President, Dr. Edu Tulin, the efforts poured for the glory of VSU are now harvested as you celebrate your 99th year. Congratulations on your Level IV Institutional Accreditation by AACCUP, the Philippines' most extensive accrediting body for State Universities and Colleges. I am immensely proud of my Alma mater for being the first to become a Level IV institution in Visayas and Mindanao and for retaining the Top 1 performance status in 2022. Moreover, I would also like to congratulate everyone for being recertified this year for the second stage of the ISO 9001:2015 audit by TUV Rheinland. From accreditation and internal audit, VSU also landed as the Top 8 University of the 2022 Webometrics Ranking in the Philippines and Top 9 of the 2022 UniRANK assessment. These achievements undoubtedly made the Visayas State University one of the top universities in the country.
With these successes and gains, it produces remarkable graduates. For 99 years, the university has been constantly producing competitive, excellent, and professional graduates who excel in different fields of work in the agriculture sector, science, research, extension, the teaching profession, engineering, and politics, to name a few. In the various board exams, VSU has constantly been flying with colors, garnering top-notchers in different curricular programs. This achievement ultimately manifests the university's commitment to upholding quality education.
On the same note, the university's success in producing remarkable graduates attained by the university with the teaching and administrative staff and other employees. Hiring qualified employees who are experts in their respective fields indicates that VSU does not settle for an ineffective and unprofessional workforce. As a learning community, the VSU has been persistently supporting its faculty members and staff by encouraging participation in national and international training and conferences and pursuing higher studies overseas to improve their craft and knowledge. As a result, top research scientists in specific programs create award-winning faculty members that make VSU a notable educational institution.
With excellent graduates and competitive teaching staff, why not produce excellent medical doctors? As the representative of the Fifth Legislative District of Leyte, I would like to share that I have recently passed House Bill Number 7412 entitled "An Act Establishing A College of Medicine in the Visayas State University To Be Known As The "Visayas State University College of Medicine." Once approved into law, the VSU College of Medicine will join the 10 existing State Universities offering Doctor of Medicine Courses in the Philippines, and it will be the first to be hosted by a state university in Eastern Visayas. This bill envisions producing physicians to improve medical healthcare in Leyte and the Philippines.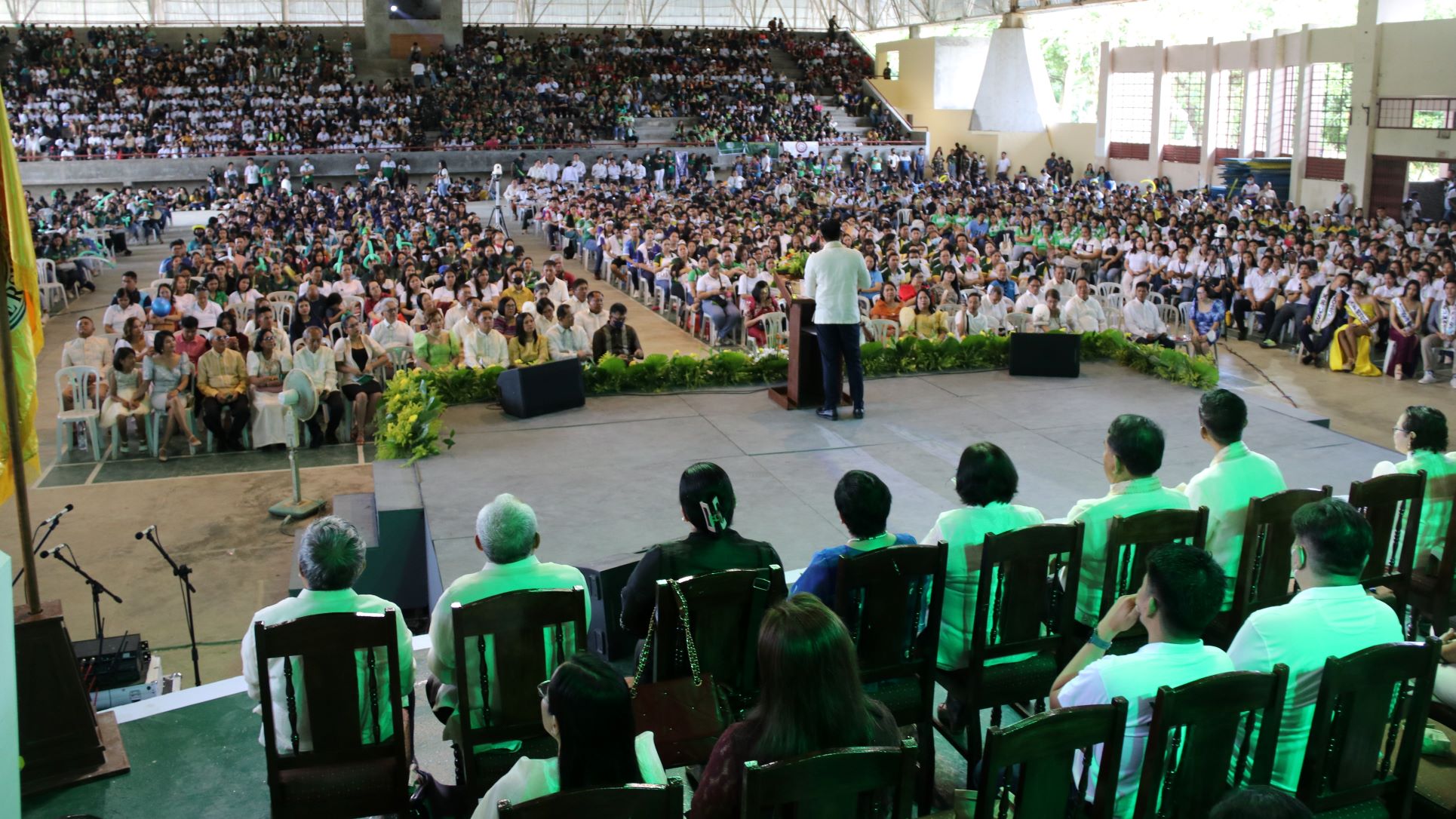 I am happy to share that the House of Representatives approved this bill on March 15, 2023, and it is currently in the Senate. I will do my best to make sure this bill will make it into law as we create another milestone for VSU. With your support, I will continue working further to develop this university for the benefit of Filipinos. I know that VSU would successfully produce future doctors and medical professionals, as proven by your records of producing excellent graduates.
The milestones of VSU proved how collaboration, years of hard work, and sacrifices contributed to the success and gains of this university in its 99 years. Dating back to 1924, a humble agricultural school named Baybay Agricultural School (BAS) became the Visayas State University – a top-performing university recognized internationally; I have seen how VSU improved through the years. I know that in the years to come, there will be more successes and gains that VSU will make, especially in research, extension, and innovation in the different curricular programs. Your commendable efforts, dedication, and passion genuinely made the university a world-renowned institution. I am very proud to be a Viscan and even prouder about the achievements of VSU.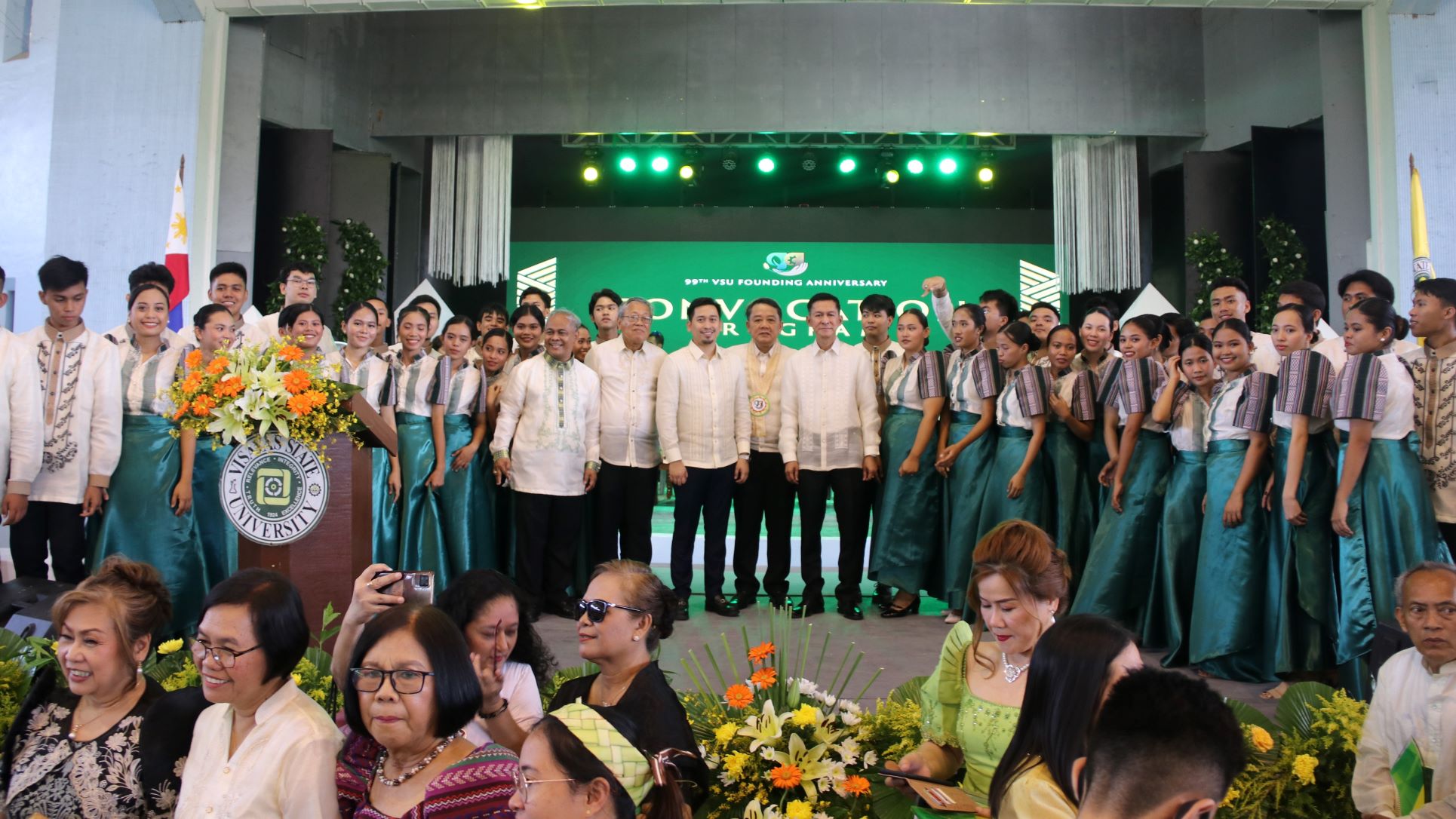 Let us thank the Almighty One for always giving us wisdom and strength in triumphs and defeats. In your 99th year, continue to achieve greater heights, continue to move forward towards upholding the mission and vision of this beloved institution, and most importantly, continue to become the university that we called home – the Visayas State University.
Once again, congratulations on celebrating 99 years of successes and gains. I would also like to take this opportunity to congratulate all awardees this year. I wish you more triumph as you enter your centennial year. Thank you very much and mabuhay ang VSU!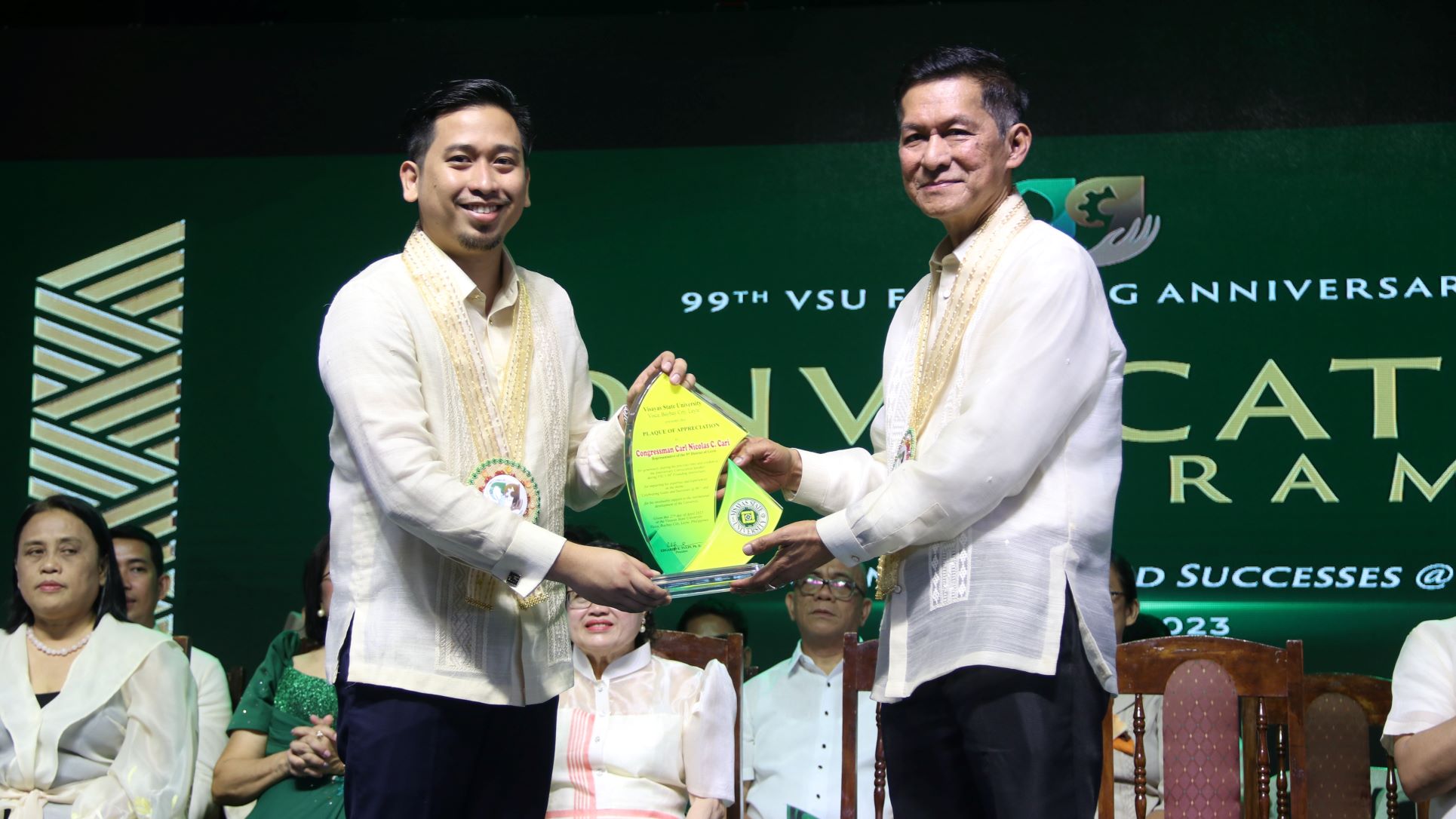 [All photos are courtesy of the Office of Congressman Carl Nicolas C. Cari.]