VSU makes it to the Times Higher Education Impact Rankings 2023
Details

Written by Ulderico B. Alviola

Published: 05 June 2023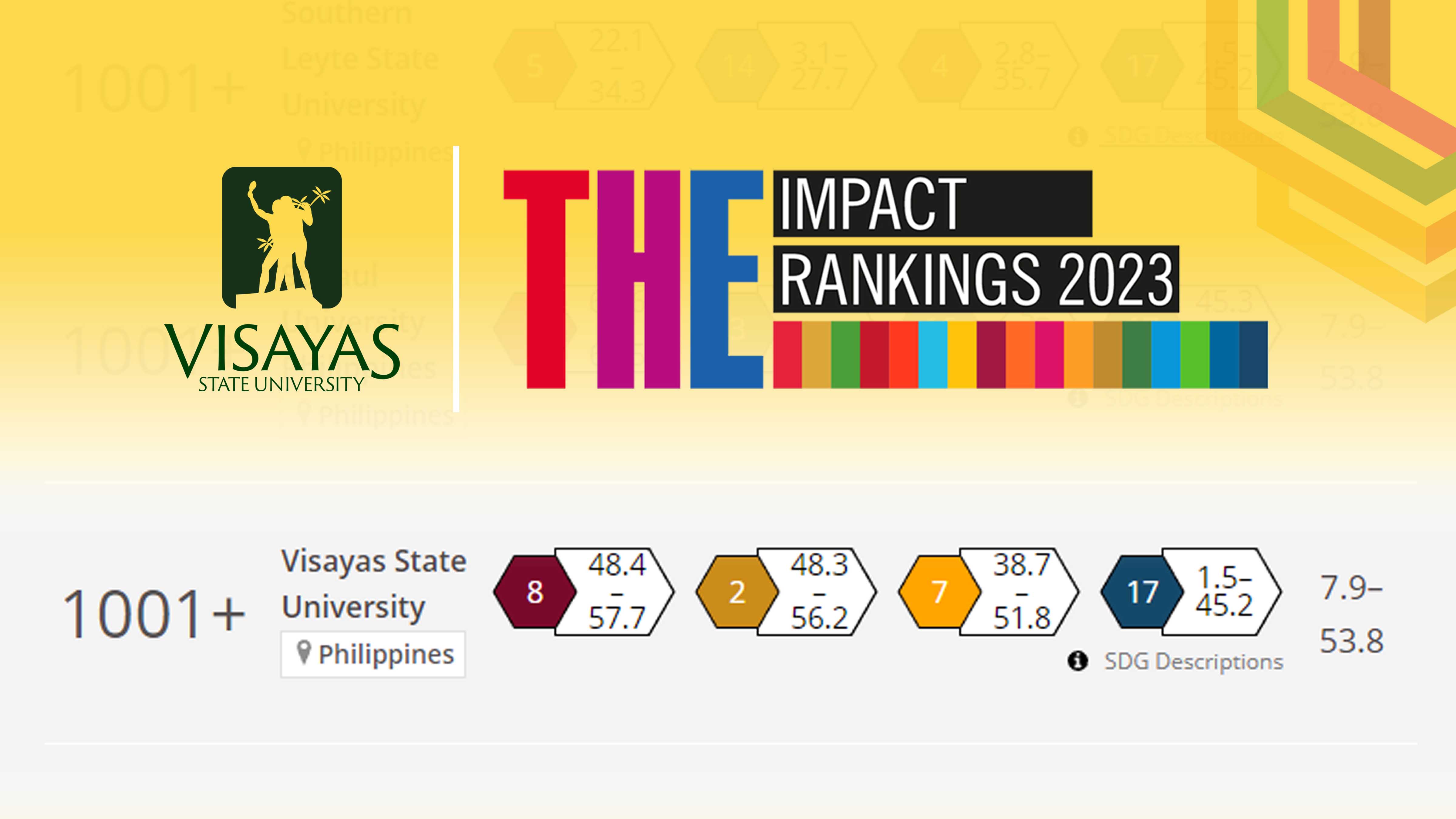 For the second time, Visayas State University has been included in the Times Higher Education (THE) Impact Rankings with a global rank of 1001+ together with 28 other higher education institutions (HEIs) in the Philippines.
Now on its fifth edition, THE Impact Rankings is the only global performance assessment of universities and colleges that measures the fulfillment of the 17 Sustainable Development Goals (SDGs) of the United Nations.
A total of 1,591 schools were evaluated this year which saw a jump in participation of Philippine schools from 14 HEIs last year to 29 universities and colleges in 2023.
While the university's overall score has slightly improved this year from 51.7 in 2022 to 53.1 in 2023, this was not enough to push VSU's global and national standing in THE Impact Rankings.
The university's global rank went significantly down from the 801-1000 bracket to 1001+ along with Mindanao State University - Iligan Institute of Technology (MSU-IIT), San Beda University, and the Nueva Ecija University of Science and Technology (NUST).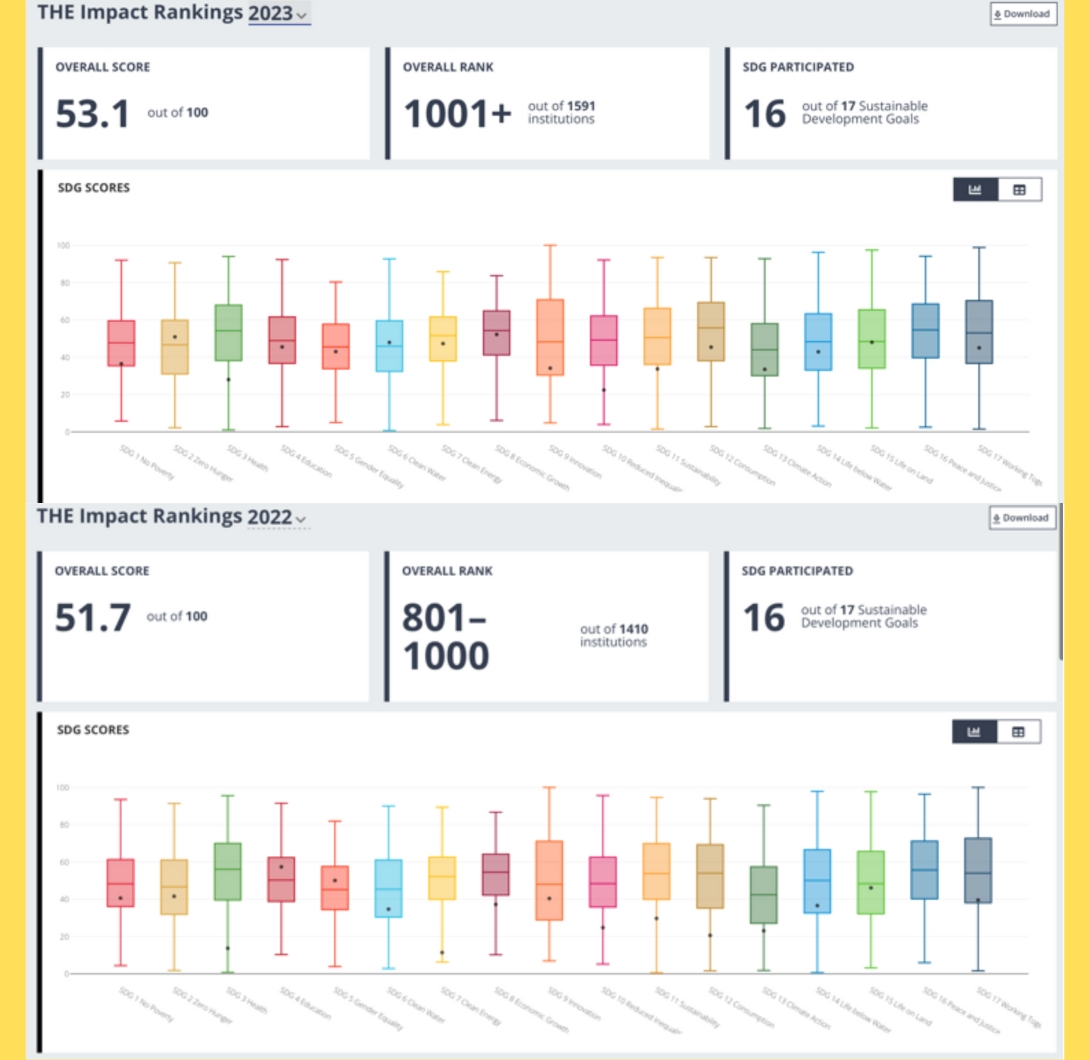 This downward trend was not exclusive to VSU as this was also experienced by other HEIs in the Philippines with Ateneo De Manila University (ADMU) retaining its top spot in the country but also sliding down from the 101-200 bracket last year to 201-300 global rank this year.
This same downward pattern was also felt by Mariano Marcos State University (MMSU) from 401-600 bracket in 2022 to 601-800 in 2023 together with Central Luzon State University (CLSU) from 601-800 down to 801-1000, and Mapua University from 601-800 descending to 801-1000 global rank.
Interestingly, Batangas State University (BatStateU) and Leyte Normal University (LNU) have debuted strong in the THE Impact Rankings after garnering a global rank of 601-800 tying with MMSU, University of Santo Tomas (UST) and Tarlac Agricultural University (TAU).
Aside from LNU and VSU, two other universities in Eastern Visayas made it to this prestigious list with the University of Eastern Philippines (UEP) and Southern Leyte State University (SLSU) also in the 1001+ bracket.
Meanwhile, a careful look at VSU's performance in the 2023 THE Impact Rankings showed improvement of the university in 11 areas of the SDGs out of the 17 global goals.
VSU performed very well in SDGs 2 (Zero Hunger) and 15 (Life on Land) with its global rank in these areas at 201-300 among 600 institutions rated in these specific indicators. The university also fared well in SDGs 6 (Clean Water and Sanitation) and 14 (Life Below Water) with its rank in the 301-400 bracket globally.
The specific areas of the university needing significant improvement include SDGs 16 (Peace, Justice, and Strong Institutions) and 17 (Partnership for the Goals) where VSU obtained a no score in SDG 16 while more publicly available proofs and evidence of international collaborations and partnerships are required in SDG 17.
With this recent result in THE Impact Rankings of VSU, the International Affairs Office (IAO) Head Dr. Ana Marquiza M. Quilicot expressed her commitment to examining carefully the findings to find ways in improving the university's overall performance next year.
"We're planning to call for a meeting with the different area coordinators on this so that we can crunch these results together and strategize ways in which we can further improve our THE Impact Rankings in the coming years," Dr. Quilicot said.
The VSU President congratulated the VSU community for still retaining the enlistment of the university in this prestigious ranking system. He then challenged all faculty members, staff, and students to continue aligning their various efforts and activities according to the fulfillment of the SDGs now that we only have roughly 7 years to make strides in the achievement of the Global Goals of 2030.