VSU professor is PMCP 2012 awardee
Details

Written by Information Office

Published: 30 August 2013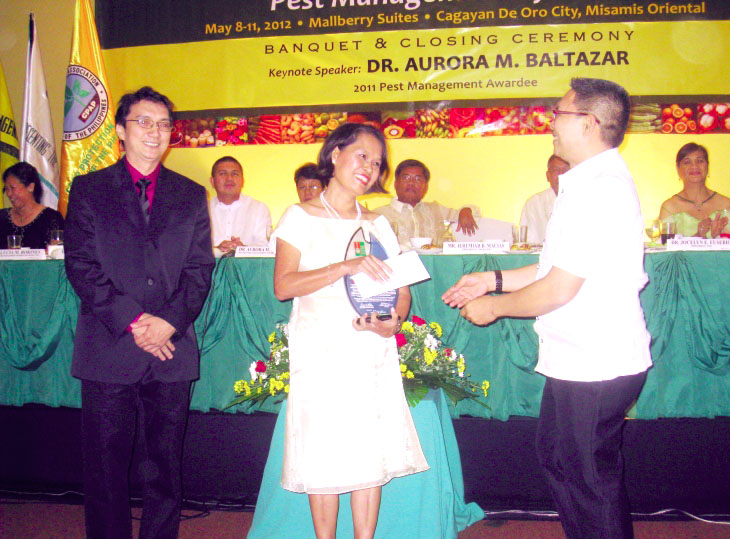 Dr. Lucia M. Borines, professor of the Department of Pest Management (DPM) and head of the Plant Disease Diagnostic Laboratory (PDDL), was recognized for her outstanding accomplishments in instruction by the Pest Management Council of the Philippines (PMCP) during its Annual Scientific Conference on May 8-11, 2012 at Mallberry Suites, Cagayan de Oro City.
Dr. Borines was cited for her "dedication, commitment and untiring efforts reflected in her activities in teaching graduate and undergraduate courses, in advising thesis students, in the textbooks she has written and published. Due to her exemplary teaching expertise, her students won outstanding scholarship awards in various regional and national competitions, like the PMCP-Bayer Crop Science Best Undergraduate Thesis Award and the Philippines Science Fair sponsored by the Department of Education. Her students and advisees all attest to her excellent abilities as a teacher, both in her mastery of the subject matter as well as in her concern, patience and dedication to students which have contributed significantly to the advancement of the discipline of disease management in the Philippines."
Dr. Borines' expertise in disease management is exemplified not only in instruction but in research and extension as well. Her poster entitled "Integrated Management of Phytophthora Disease of Jackfruit in the Southern Philippines" co-authored by Dr. Rosalie Daniels, Dr. Carlos De la Cruz, Prof. Reny Gerona, Dr. Ruben Gapasin, Mr. Job Abuyabor, Engr. Mike Pedroso, Mr. Romualdo Marcelino, Mr. Julio Muñoz, Ms. Victoria Palermo, Mr. Gil Guadalquiver, and Dr. David Guest was awarded as Best Poster by the Philippine Phytopathological Society (PPS), Inc. in the same event. The study funded by the Australian Centre for International Agricultural Research (ACIAR) in collaboration with PCARRD and VSU identified the key constraints of jackfruit productivity, the 'flagship commodity' in Eastern Visayas, particularly jackfruit decline caused by Phytophthora species. Through the involvement of jackfruit industry stakeholders in the participatory action research (PAR) trials, it developed strong relationships between scientists, farmers, extension workers and others involved in the jackfruit industry. Thus, a series of disease management options had been identified for farmers of various background and capacity that resulted in increased yields, and consequently, increased income. Two leaflets and one DVD reflecting the output of the study are already being launched and distributed to the farmers and agricultural technicians. Dr. Borines is willing to help not only the jackfruit growers but also other farmers experiencing disease problems like rice, cacao, durian, vegetables, abaca, banana and other important crops on their farms.