VSU answers call for assistance from the Lake Bito community
Details

Written by MMCano

Published: 30 August 2013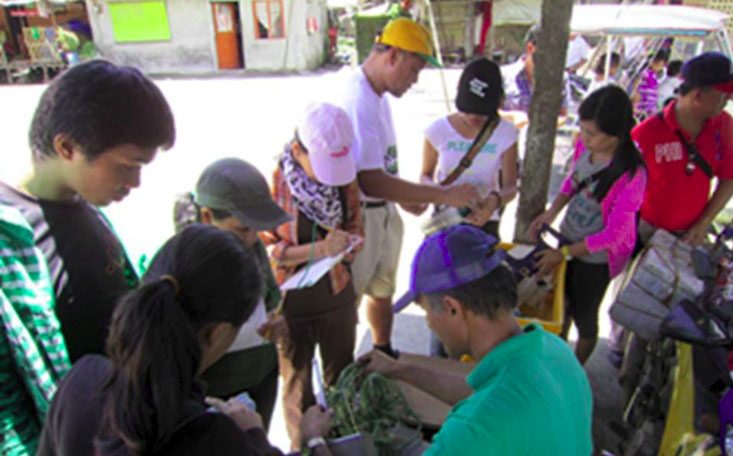 Approximately 22 tons of tilapia had already died from Lake Bito in Barangay Villa Imelda, MacArthur, Leyte. Concerned government agencies had already conducted their own investigation on the incident but the affected fisherfolks, represented by Bernardita Morcilla, requested VSU President Jose L. Bacusmo to help them in conducting an independent water sampling and study on the current status of the lake.
Assoc. Prof. Maria Aurora T.W. Tabada, director of the Institute for Strategic Research and Development Studies of VSU, immediately called on the members of the VSU Quick Response Team to immediately respond to the letter request sent by Ms. Morcilla. And on April 28, 2012, the participants of the Forum on the Impacts of Mining in Leyte Island visited Barangay Villa Imelda.
The Quick Response Team composed of Assoc. Prof. Tabada, Dr. Humberto Montes Jr., director of the Institute of Tropical Ecology and Environmental Management (ITEEM), Dr. Jacob Glenn Jansalin of the Department of Pure Science and Applied Chemistry (DoPAC), selected VSU students, Mr. Rodne Galicha, coordinator of the Alyansa Tigil Mina (ATM), and the other participants of the said forum conducted the on-site inspection of the lake and collected water samples for laboratory analysis.
Ms. Marissa Cano of the VSU Information Office, on the other hand, facilitated the organization of the Unahin Natin Lagi Ang Diyos (UNLAD) Bito Lake Fisherfolks Association to enable the affected fisherfolks to have a legal personality and avail of the alternative livelihood programs offered by the different government agencies. As of this time, the organization's application for registration with the Department of Labor and Employment (DOLE) is still on process.
Dr. Montes and Prof. Jansalin, on the other hand, presented the results of their water sampling on May 5, 2012 which showed that the lake has already recovered from the fish kill. However, the VSU QRT recommends conducting a sediment analysis of the lake, empowering the stakeholders to monitor the water regularly, and regulating the amount of feeds given to the fish by the fish farmers so as not to over-burden the ecosystem with organic matter.
Mr. Jesus Cabias Jr., chairperson of the newly organized UNLAD Bito Lake Fisherfolks Association, thanked the VSU-QRT members for their timely and immediate assistance to the community surrounding Lake Bito. He also thanked Ms. Cano for organizing their group and for continuously assisting them in their undertakings.
Lastly, Cabias said that their organization will request the resident of VSU to help them develop their capacity to monitor the water quality of the lake and to properly manage the same by providing the necessary trainings and seminars.