CME celebrates 2nd anniversary
Details

Written by SMCLemos

Published: 30 August 2013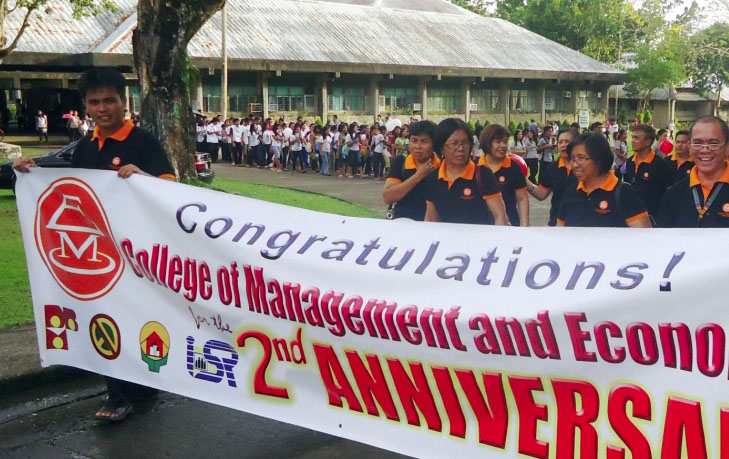 The VSU's College of Management and Economics (CME) under the leadership of its College Dean, Dr. Antonio P. Abamo, celebrated its 2nd Anniversary on March 5-9, 2012 with the theme "Accountability in Business and Governance".
The celebration kicked-off on March 5 with a parade participated in by the different student organizations under the college such as the Society of Agribusiness Students (SABS), Society of Hospitality and Tourism Students (SHOTS) and Young Economists' Society (YES).
In her welcome remarks, Dr. Ma. Aurora Teresita W. Tabada, Director of the Institute for Strategic Research and Development Studies, expressed that this is a time to be grateful for all that has been achieved, also a time to enjoy each other's company and recognize the blessings of each faculty, staff and students and to the University. More importantly, this is a time to reflect on what more the College can do to make a difference for the University and for the country.
On the other hand, Dr. Abamo relayed three important points to the CME faculty, staff and students during his anniversary speech: 1) being accountable is more different than governance because it would give an opportunity to look upon our respective endeavors and relationships; 2) today is a time of honing and sharpening the tools and tips for providing instruction, research, extension and production-action of clients; and 3) provide a common reflection of what is to come ahead. Dr. Abamo also emphasized to build extra personal relationships, live according to what is expected upon them, and be more accountable to oneself and the people around. The program was concluded with the lighting of sky lanterns and announcement of VSU's Best Class-Related Organization of 2012 in which SABS, SHOTS and YES were among the finalists.
Other activities during the anniversary were film festival (documentaries, full length and short films), quiz show and on-the-spot poster-making contest.