An Waray Partylist Representative graces VSU's 2012 Honors and Awards Convocation
Details

Written by MMCano

Published: 30 August 2013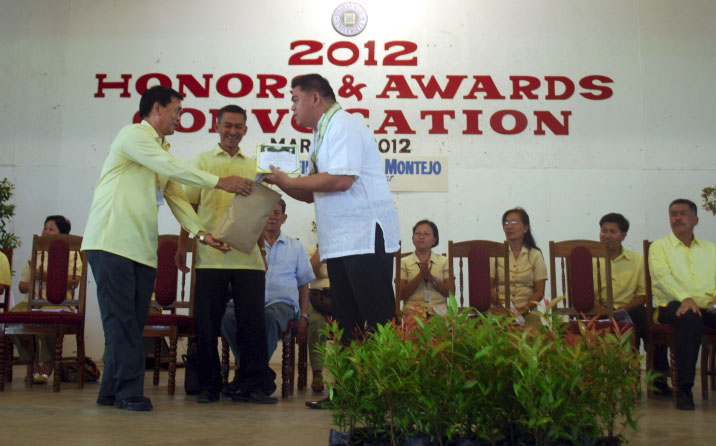 Mr. Phillip Jude Acidre, Regional Chairman for Eastern Visayas and third nominee of the An Waray Partylist, was guest of honor during the 2012 Honors and Awards Convocation of the Visayas State University held on March 6 at the VSU Gymnatorium. In his message, Mr. Acidre challenged the awardees to put an end to the heritage of smallness among Filipinos. He said that this heritage of smallness is often mistaken as modesty and simplicity. Thus, many young people would choose what they would consider a simple life—just enough provisions to provide a roof under their heads, three meals for a day and an income insufficient to cover one's daily needs and no more than that.
The An Waray Partylist representative said that, way back in the 1950s, the Philippines was the second richest nation in Asia. "Manila was one of the first and biggest international cosmopolitan hubs in Asia. Our educational system, our national air carrier, and our television networks were one of the first in Southeast Asia. People from neighboring countries would flock to Manila to study, trade and do business and even shop and travel for leisure," he pointed out. The guest speaker said that Filipinos must start to dream big and believe that they can achieve their dreams. "We must put mediocrity and settle for higher ambitions. Today's young Filipinos must regain the capacity to acquire and hope for greater heights and learn to live upon the vision of greatness and to exert all efforts towards making that happen. Do not content yourself with come-what-may and bahala na. And when you finally embark on your careers in the future, shape your attitudes according to your dreams," he prodded the honorees.
Finally, Acidre added that more than intelligence and skills, it is one's attitude that makes one successful. Thus, he said that it is important for Filipinos to shape their attitudes according to their dreams...for it is the right attitude that will keep you going. In the end, life is not what is all about or how much know-how we can have in our minds, but how much know-why we can have in our hearts.
But when you dream big, please include our region and our country, he appealed to honorees. And when you finally reach your dreams, learn to pay back and pay it forward. Who knows we can finally make this nation prouder and greater that it was once before, he ended.
Dr. Edgardo E. Tulin, Vice President for Planning and Resource Generation, said that the Honors and Awards Convocation is an annual event of the University to highlight the importance of this milestone in a student's life. About 15 percent of the VSU student population comprises the day's honorees.
Dr. Tulin stressed that to be on top is not easy because it requires a lot of work. "Nonetheless what is important is to be on top, to inspire and, who knows, someone's life may change." May your brilliance, skills and competence be highly infectious, he added.
On the other hand, Dr. Oscar B. Posas, Vice President for Instruction, in his closing remarks, challenged the awardees to stay on top and move forward to sustain what they have. He also reminded the parents, as well as the VSU faculty and staff to continue supporting the students of this University. "Continue to be models and molders of the cream of the crop," he urged them.