VSU athletes shine in regional SCUAA meet 2013
Details

Written by Jesus Freddy Baldos

Published: 14 December 2013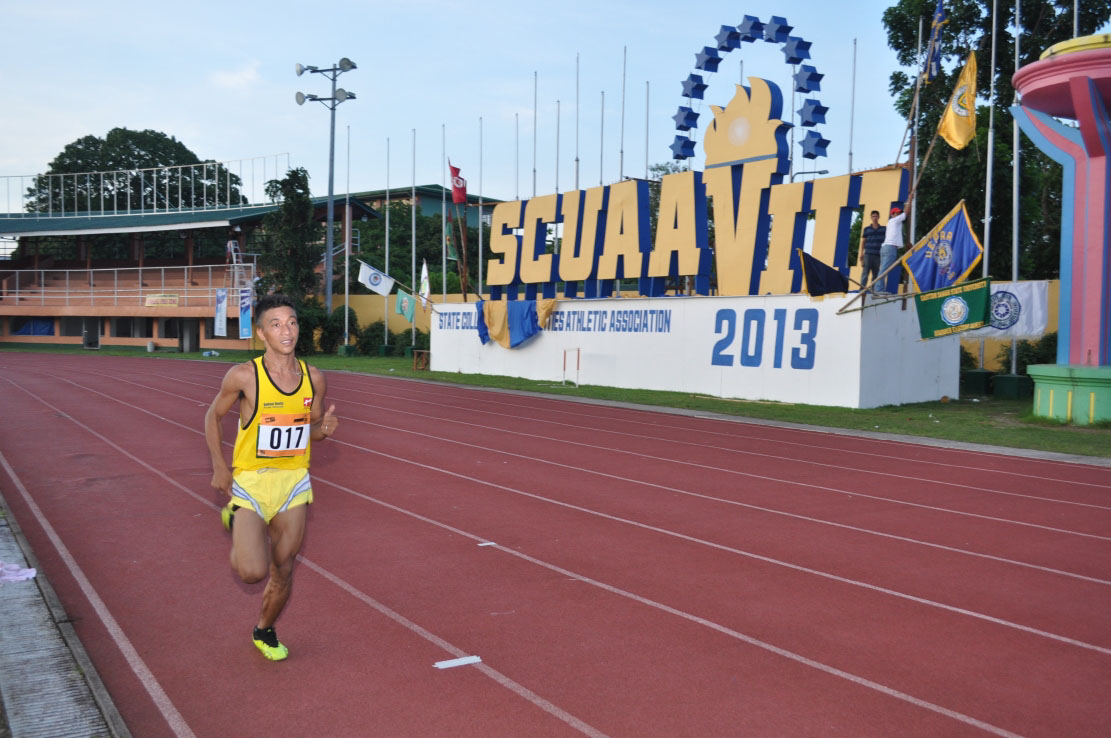 The varsity athletes of the Visayas State University fared good in this year's State Colleges and Universities Athletic Association (SCUAA) Meet hosted by the Leyte Normal University (LNU) in Tacloban City held on October 21-26, 2013.
Anchored on the theme "Passion Fast Forward", the 165 VSU athletes together with the 25 coaches and officials headed by Dr. Jose L. Bacusmo, VSU President, and Assoc. Prof. Vicente B. Antipaso, Sports Director, showed their might as they competed in various sporting events.
The athletes who garnered gold medals in their respective events include: Narciso Deterala – Athletics (3,000-meter run, 5,000-meter run, and 10,000-meter run); Romulo Perez – Athletics (triple jump); Gellie Ann Alcuino and Joel Estupa (Darling of the Crowd) – Dance Sports (Modern Standard) who also won special awards as Best in Modern Standard Costume, Best in Slow Walts, Best in Tango, and Best in Quick Step; Angelito Bocal – Swimming (200-meter breaststroke); and Krishna Mae Galenzoga, Unice Babes Maiz, Mary Lilibeth Peligrino, and Billy Jill Sello – Table Tennis women with Miss Christy Desades as coach;
Silver medalists: Dainalyn Cañas – Athletics (discuss throw women); Glory Jane Bandibas (Darling of the Crowd) and Romuel Noveda (Best Male Latin Dancer) – Dance Sports (Latin Discipline); Jamz Nuñez, Nolan Centino, Gerald Jumadas, and Jethro Tan – Tennis men; Diezzane Jireh Antipaso, Ruth Abegail Cordero, Elgy Dasian, and Ma. Theresa Tagalog – Tennis women with Mr. Vincent Nel Antipaso as coach; Emmanuel Auguis, Clint Joel Baltonado, Joveth Cocamas, Richie Cuizon, John Darwin Lozada, Alemier Merced, Patrick Nayon, Kris Benzon Notarte, Ramil Ortega, Geno Pasuhil, Maynard Rey Rosales, Von Christian Sebidos, Daniel Subingsubing, David Winston Tabada, and Josue Virtudazo – Soccer with Mr. Adrian Alumbro as coach and Mr. Alven Bales as assistant coach;
Ian Mae Espinosa – Swimming (50-m breaststroke); Angelito Bocal – Swimming (100-m breaststroke); Christy Aviles, Rhoda Capacao, Joan Tan, and Ian Mae Espinosa – Swimming (4 x 50-m medley relay women); and Leslie Jane Aves, Jinky Escala, Eva Homillano, Junabel Helena Janoyan, Louise Ruby Laplap, Elvie Moquiring, Cindy Mae Ngoho, Ma. Kharen Mae Paloga, Angielyn Paule, and Angela Pilapil – Basketball women with Mr. Ricarido Nanggan, Jr. as coach and Miss Pamela Adobas as assistant coach;
Bronze medalists: Kim Palaña – Athletics (1,500-meter run men); Karisse Nikka Solano – Athletics (javelin throw women); Dainalyn Cañas – Athletics (shot put women); Kristine Faith Ugay and Kyle Bethoven Cantiga – Dance Sports (Modern Standard) and Best in Foxtrot; Marynil Cañas – Taekwondo (heavy weight) and Rene Jemmar Alkuino – Taekwondo (middle weight) with Mr. Antonio Abay-abay as coach;
Joeven Moldez, Mark Ross Ann Pecolados, Landrex Rebuera, and Ronel Timkang – Sepak Takraw with Mr.Alen Timkang as coach; Christy Aviles – Swimming (200-m backstroke, and 200-m breaststroke); Jimmy Espina – Swimming (200-m men breaststroke); Rhoda Capacao – Swimming ( 400-m women freestyle); Rhoda Capacao, Janice Panilag, Nyhia Alfeche, Ian Mae Espinosa – Swimming (4 x 200-m women freestyle); Ericson Piedraverde, Jimmy Espina, Angelito Bocal, and Jason Piamonte – Swimming (4 x 200-m men freestyle relay); April Jay Alcala, Jhadi Cruza, Jodel Andrew Cuasito, Bert Bryan Felizarte, Mark Gill Gerona, Cyrus Manatad, Ador Mejia, Hanzel Mejia, Edu Gelo Orig, Ryan Pernitez, James John Regis, and John Edrald Torrena – Baseball with Mr. Paul Winston Tabada as coach; and Alvin Advincula, Hector Bisnar, Erwen Estallo, Niel Leyson, Elton Jhon Meridor, Gerard Palo, Jeandro Lemuel Petilos, Jun Louie Pilapil, Jayson Rabe, Archie Romo, Jonathan Tampadon, and Elliaquim Vitualla – Volleyball men with Mr. Federico Godoy as coach and Genesis Basas as assistant coach.
On the other hand, Wranle Josef Palas, Mr. VSU, won the Mr. Eloquence Award in the Search for Mr. and Miss SCUAA 2013.
Other winning coaches include: Assoc. Prof V. B. Antipaso – Athletics men, Mr. Raymund Igcasama – Athletics women, Mr. Jovel Aberilla – Dance Sports, and Mr. Andrew Mazo – Swimming.
VSU athletes garnered a total of 88 medals distributed as follows: gold – 12, silver – 33, and bronze – 43.
Other delagations got the following medals: Leyte Normal University – 154 (95 gold, 27 silver, and 32 bronze); Eastern Visayas State University – 103 (27, 43, 33); Eastern Samar State University – 86 (16, 27, 43); University of Eastern Philippines – 62 (30, 9, 23); Southern Leyte State University – 59 (21, 19, 19); Palompon Institute of Technology – 57 (1, 47, 9); Northwest Samar State Univesity – 35 (7, 14, 14); Naval State University – 27 (12, 4, 11); Samar State University – 19 (4, 2, 13); and University of the Philippines Visayas – Tacloban Campus – 0 (0, 0, 0).