VSU-BAI joint venture on livestock waste management program
Details

Written by Jesus Freddy Baldos

Published: 14 December 2013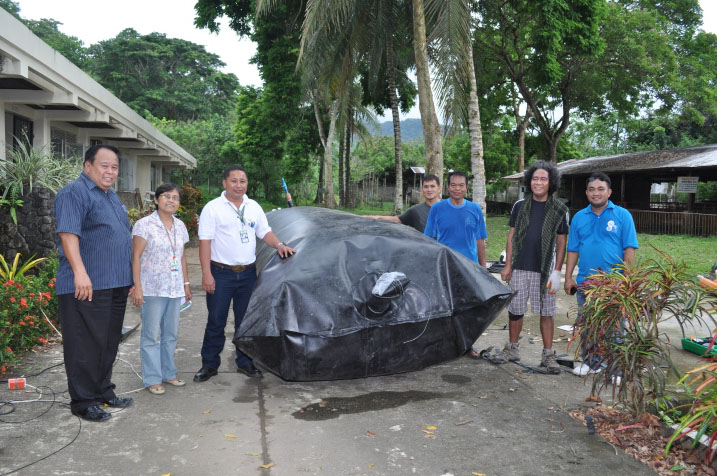 The Visayas State University (VSU) and the Bureau of Animal Industry (BAI) of the Department of Agriculture jointly undertake the Livestock Waste Management Program (LWMP).
The Memorandum of Agreement (MOA) for the implementation of the project was signed on October 4, 2013 by Dr. Jose L. Bacusmo, VSU President, and Dr. Rubina O. Cresencio, Acting Director IV of BAI, in the presence of Mr. Hernando F. Avilla of BAI and Dr. Julius V. Abela of VSU.
As a result, the HDPED Installation Team headed by Mr. Anacleto B. Colico of BAI came to VSU on October 4-6, 2013 for the installation of the High Density Polyethylene Digester (HDPED) "biogas" system demonstration unit at the vicinity of VSU's Department of Animal Science. With him were Engr. Reymer G. Martinez, Mr. Gregorio D. Lacsa Jr., and Mr. Avilla.
According to Dr. Abela, the said facility will be used for instructional purposes not only to VSU students but also with the farmer-beneficiaries who have been involved in the livestock industry for a long time. He further said that the project will also serve as an example in mitigating climate change that would benefit all their clients.
BAI is currently implementing the National Livestock Program, of which LWMP is one of the major components, that aims to promote environment-friendly animal production through transfer of technology on livestock waste recycling/utilization. The Bureau has been continuously developing and enhancing technologies particularly on biogas as one of the ways to manage wastes from livestock and to ensure sustainability of the livestock enterprise by farmers.