27 junior and senior college students of VSU avail of IPI Foundation Scholarship
Details

Written by JFMBaldos

Published: 06 March 2014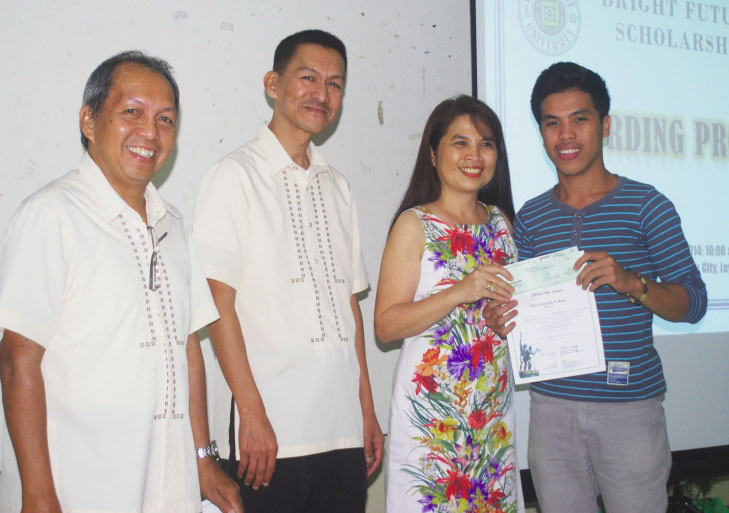 A total of twenty-seven third year and fourth year college students of the VSU System have availed of the Bright Future Scholarship Program for Typhoon Yolanda affected students initiated by the International Pharmaceuticals, Incorporated (IPI) Foundation in collaboration with the Visayas State University.
The scholarship program kicked-off this second semester of school year 2013-2014 and to end in the second semester of school year 2014-2015 to enable the 27 scholars who are children of farmers and fisherfolk whose livelihood were greatly affected because of the super typhoon Yolanda that hit Eastern Visayas Region particularly Leyte, Eastern Samar, and Region VII (specifically Northern Cebu), to complete their studies at VSU.
The program aimed to provide financial assistance through scholarship to senior and junior students who are survivors of Yolanda; to inculcate in the mind of the students a sense of appreciation and the value for money in exchange for their effort; and to develop proper procedure in the implementation, monitoring and evaluation of the scholarship program in the attainment of expected output.
Each scholar shall avail of the following benefits: 1) free school fees up to PhP8,000 per semester; 2) monthly stipend of PhP1,500; 3) books/learning materials allowance of PhP400 per semester; and 4) thesis allowance of PhP5,000.
The grantees were selected by the VSU Undergraduate Scholarship Committee and the Task Force Yolanda and endorsed them to the IPI Foundation, Inc.
During the Awarding Program on February 19, 2014 at the VSU's Center for Continuing Education, the 27 scholars rendered a very emotional and heartbreaking song entitled "Salamat" to express their gratitude to the donors and sponsors through the IPI Foundation, Inc. Executive Director, Ms. Lourdes M. Damazo, who was not able to control her emotion and shed tears together with the scholars.
On behalf of the scholars, Darwin A. Ablen, a fourth year BS Civil Engineering student, conveyed the words of thanks of fellow scholars in which he emphasized that through the scholarship they have a bright future ahead of them. "Because of IPI Foundation, Inc., we are certain that we can finish our respective degrees at VSU despite the calamity that stroke our place and destroyed our parents' means of livelihood," Darwin quipped.
The Scholarship Award and a check worth PhP4,500 that consisted the three- month stipend of each scholar were distributed to them by IPI Foundation, Inc. Director Damazo, with the assistance of Dr. Edgardo E. Tulin, VP for Planning, Resource Generation and External Affairs, and Engr. Manolo B. Loreto Jr., Dean of Students.
The scholars are: (VSU-Main Campus - 18) Darwin G. Ablen, Annelee B. Alburo, Lea C. Bonote, Brayan A. Bornias, Elisha Niña M. Cabahug, Fatima Jean C. Dimas, Richie C. Gildore, Ronacel B. Natulla, Renan Y. Pilapil, Kim Kenneth P. Roca, Rosemarie M. Septimo, Cristina S. Velunta, Joyce Lorraine G. Dagpin, Sheila S. Danghel, Rosemarie M. Elepian, Juvylyn R. Glory, Leregin S. Pugosa, and Leomar D. Tabaloc;
(VSU-Tolosa – 3) Charles C. Lerios, Arche S. Malate, and Rosemaylyn L. Basas; (VSU-Alangalang - 2) Fedil John B. Estacio, and Sharmaine A. Gonzales; (VSU-Villaba – 2) Daniel S. Meting, and Joram C. Alburo; and (VSU-Isabel – 2) Bonifacio C. Erejer Jr., and Madeleine M. Cerillo.