VSU's VP for research and soil science faculty attend scientific visit and planning workshop in India
Details

Written by JFMBaldos

Published: 06 March 2014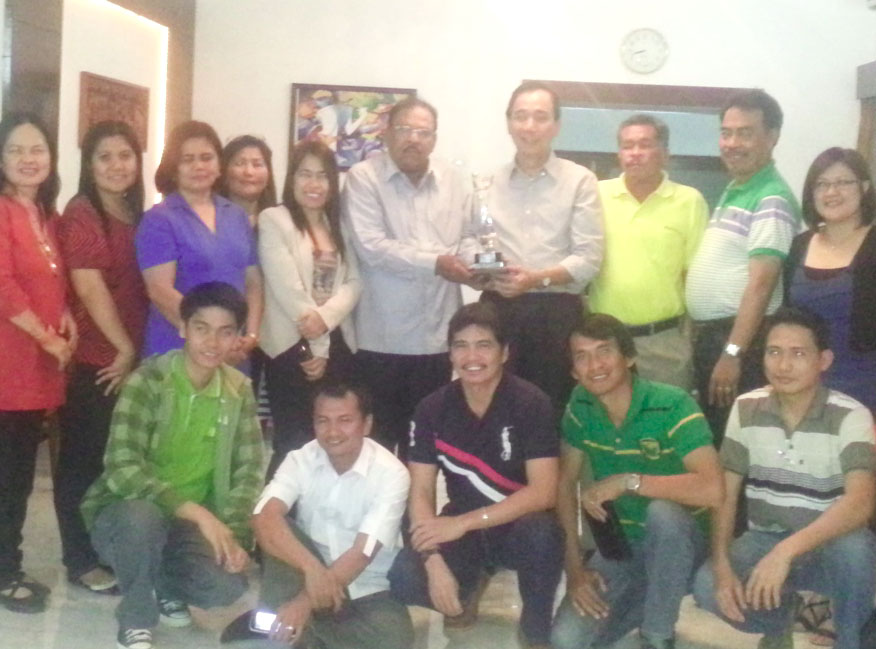 Dr. Othello B. Capuno, VSU's Vice President for Research and Extension, together with Dr. Suzette B. Lina, a soil science faculty of the Department of Agronomy and Soil Science, participated in the Scientific Visit and Planning Workshop on Yamang Lupa Program (YLP) for Samar. Organized by the International Crops Research Institute for the Semi-Arid Tropics (ICRISAT), the activity was conducted on February 12-22, 2014 at the ICRISAT Headquarters in Patancheru, Andhra Pradesh, India.
The trip was all about the collaborative project between the Visayas State University and the Department of Agriculture-Region VIII which was chosen to be one of the Pilot Regions in the Philippines (Region IV-A, Region VIII, and Region IX) to adopt the principles and concepts of Bhoochetana that originated in India as initiated by the ICRISAT.
Bhoochetana is actually a soil rejuvenation process together with other farm management activities with a primary goal of increasing farm yields. In the Philippines, it will be translated into a project entitled "Yamang Lupa": Adoption of Bhoochetana Principles and Approaches for Agriculture Natural Resources Management in the Philippines, which will be implemented in Sta. Rita, Samar. The project aims to unlock the vast opportunities in rainfed ecosystems.
The visit provided the participants opportunity for direct interaction with ICRISAT scientists, key staff and partners to get relevant information on their global research for development programs. The visit was highlighted with an educational tour in Karnataka, India where the Bhoochetana approach, forerunner of the YLP concept, has earned plaudits from the state government for its significant contribution to agricultural development and economic growth.
The participants were also updated on soil analysis as an entry point for improving livelihoods, institutional arrangements in Bhoochetana, and on Yamang Lupa Program.
Aside from interacting with some officials of the Department of Agriculture of Karnataka, they also had a chance to rub elbows with some farmers in selected districts for more learning experiences, visited some analytical laboratories, watershed areas, and other companies.
The scientific visit clinched with a workshop on Yamang Lupa Program Implementation in Region VIII coordinated by Dr. Junel Soriano, Visiting Scientist of ICRISAT, in which they discussed the Work Plan for Year 1 (July 2013- June 2014) and Work Plan for Year 2 (July 2014- June 2015).
The persons involved in the project include: Dr. O. B. Capuno, Dr. S. B. Lina, Dr. Leonarda Londina (DA-Region VIII), Mrs. Maria Gloria A. Borja (Office of the Provincial Agriculturist-Samar), Dr. Samuel Contreras (Bureau of Soil and Water Management [BSWM]-Quezon City), and Dr. Teresita Sandoval (BSWM).