VSU joins in nationwide celebration of the Civil Service
Details

Written by JFMBaldos

Published: 13 October 2014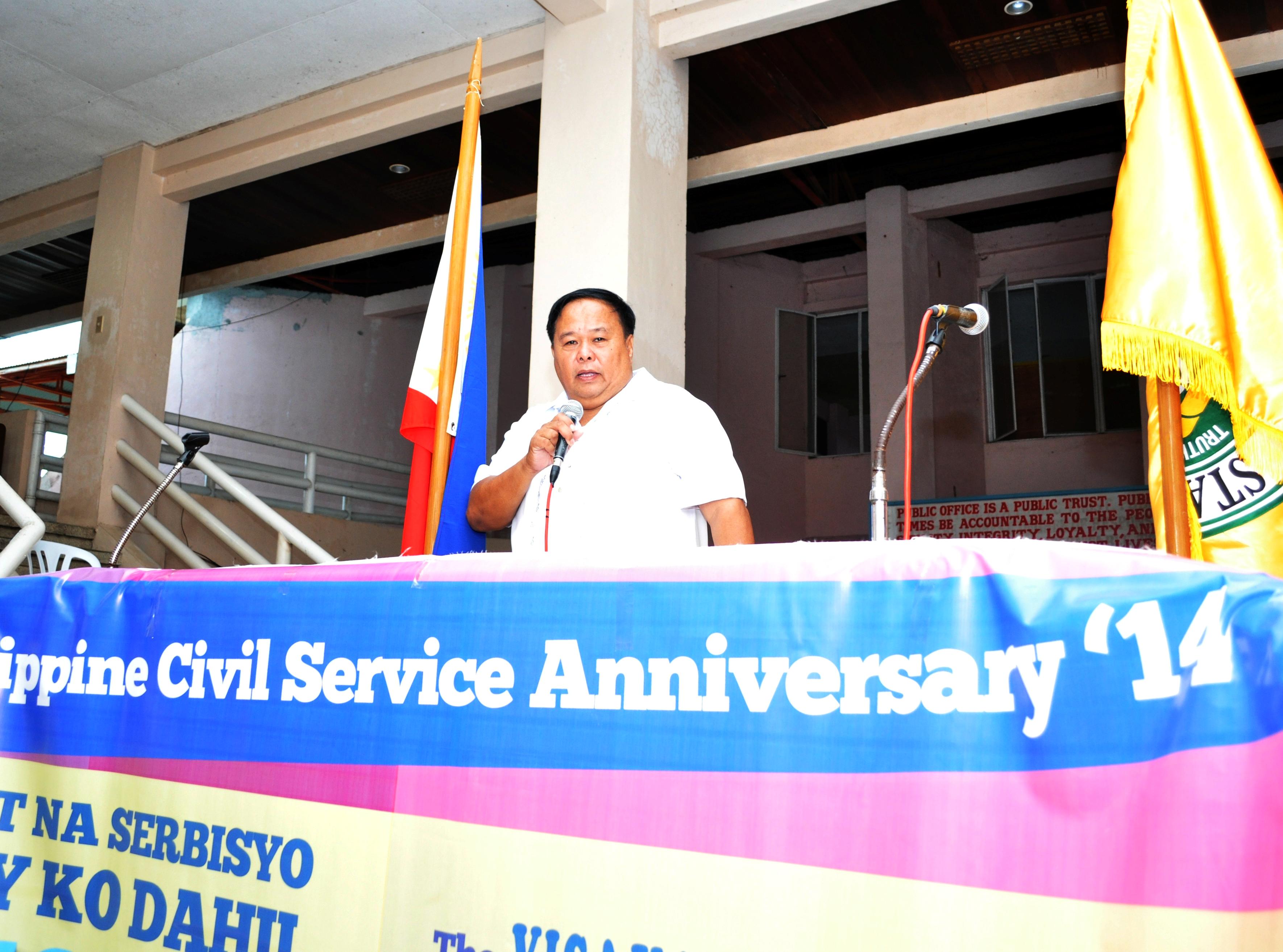 The Visayas State University had joined the entire country in celebrating the 114th Anniversary of the Philippine Civil Service with the theme "Tapat na Serbisyo Alay Ko Dahil Lingkod Bayan Ako."
The month-long celebration of the Civil Service kicked off with the Flag Raising Ceremony on September 1, 2014 inside the VSU Administration Building instead at the Hilltop Amphitheatre due to the heavy rains. On the same occasion, the new employees as well as those who were promoted took their oath of office administered by VSU President Jose L. Bacusmo.
In his message, Dr. Bacusmo presented his observations on how some VSU personnel accomplish the works expected of them which he considered as the gray area that the University should look into. He mentioned that some of the faculty and staff lack the sense of urgency by not immediately submitting the data needed by a certain department/agency until they were forgotten. They also lack concern for quality.
Nevertheless, the VSU President praised the University for doing its best in the region and in the whole country. "But we can further improve if all of us will cooperate and do our share as concerned citizens of our country and contribute to the development of our University," Dr. Bacusmo quipped. He added that the University would soar high if all the employees will have that sense of ownership of the institution and united in protecting all the facilities and its surroundings.
"Coming here is not enough. It's really working and being conscious of quality and working on time so that we can deliver quality service to our clients," the VSU President lamented.
Other activities lined-up for the celebration included: organized Hataw and Dance Exercise in the different identified venues, free pap smear specimen taking, blood pressure taking, review classes in preparation for the CSC examination, reorientation of frontliners on anti-red tape law and good customer service, orientation on gender issues and policies on sexual harassment, health awareness forum, and fun run/walk prior to the culmination program, and giving of loyalty awards.