2 VSU professors present papers in Malaysia's int'l food processing symposium
Details

Written by JFMBaldos

Published: 13 October 2014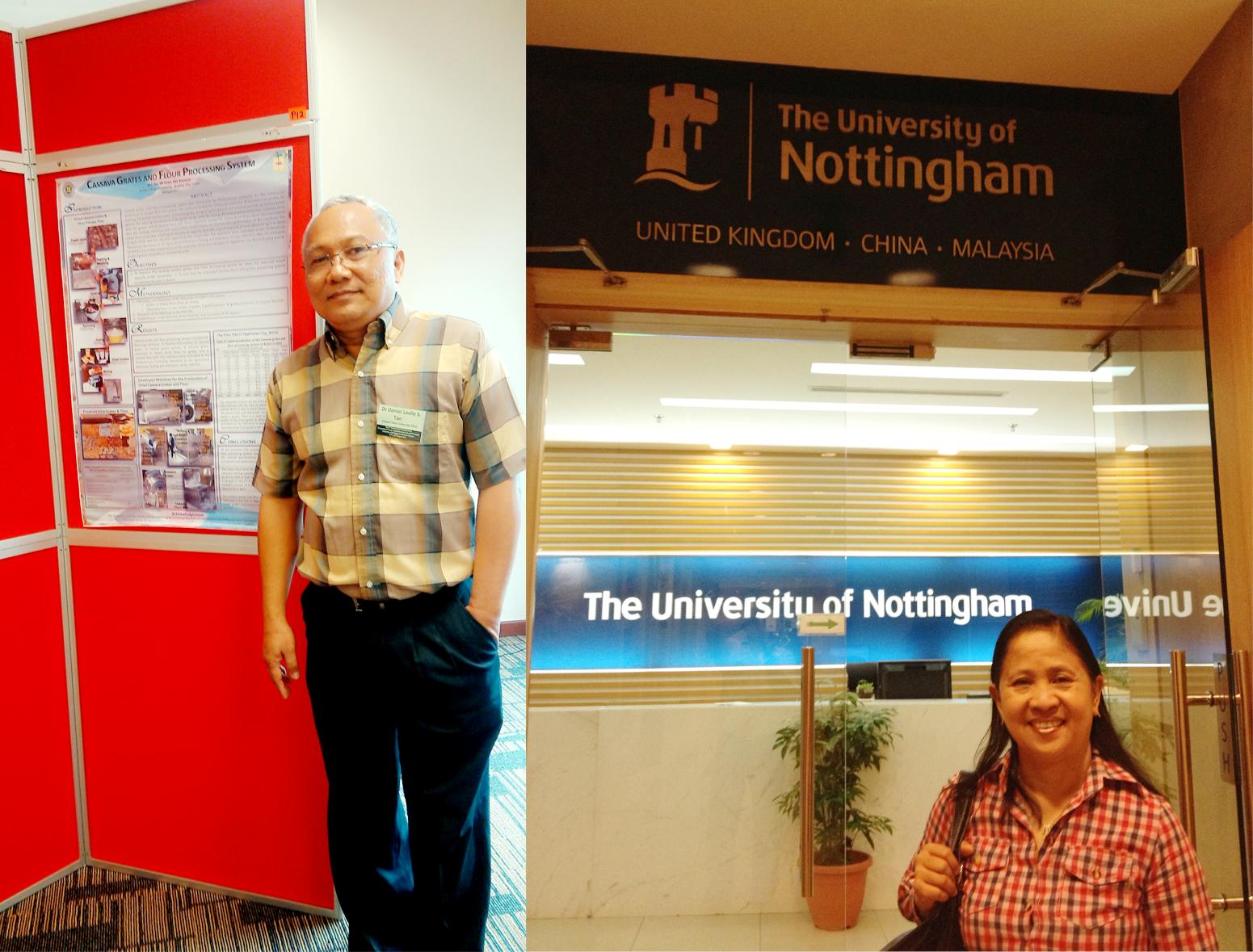 Dr. Julie D. Tan and Dr. Daniel Leslie S. Tan, both Professor VI of VSU's Philippine Root Crop Research and Training Center (PhilRootcrops), participated in the 3rd International Symposium on Processing of Foods, Vegetables and Fruits held on August 11-13, 2014 at the Kuala Lumpur Teaching Centre in Selangor, Malaysia.
Hinged on the theme "Innovations in Processing of Foods, Fruits and Vegetables," Dr. J. D. Tan presented a paper entitled "Product Optimization and Market Testing of Dessert Wine from Purple Taro and Black Rice"in which she presented how she produced a dessert red wine extracted from fermentation of equal amount of purple-fleshed acrid taro (VG9) and black glutinous rice (Arabon). According to Dr. Tan, based on time and motion studies and cost and return analysis, the critical analyses was found promising with payback period of 2.7 years and IRR of 17% suggestive of a feasible operation.
On the other hand, Dr. D. L. S. Tan presented his paper on "Evaluation of a Solar Dryer made from Twin-Wall Clear Polycarbonate Sheets in Drying Vegetable Leaves." His study found out that higher losses of vitamin C in solar dried saluyot (Corchorus olitorius L.)and sweetpotato (Ipomoea batatas Lam) leaves were obtained compared to fresh leaves. Moreover, he said that Vitamin C content was significantly higher in solar dried saluyot leaves than the sundried leaves, but there was no significant difference between the solar dried and sundried sweetpotato leaves. He further said, that there was no significant difference of vitamin C in the fresh malunggay (Moringa oleifera Lam) leaves and the solar-dried malunggay leaves. Likewise, Dr. Tan presented a poster entitled "Cassava Grates and Flour Processing System."
The papers of Dr. J. D. Tan and Dr. D. L. S. Tan, which are now under review, will be published in the symposium proceedings with ISBN. The papers were also selected for possible publication in International Journal of Science and Engineering and also in the e-books with ISBN.
Organized by the University of Nottingham, Faculty of Engineering, Malaysia Campus, the symposium was participated by researchers and academicians from Japan, Taiwan, Thailand, Indonesia, India, Pakistan, Iran, United Kingdom, Philippines, and Malaysia.
The occasion provided an opportunity for the participants to know the recent trends in food researches, specifically in the methodologies involved in modern food processing, drying techniques, and utilization of various types of agricultural crops for product development and innovations from the different countries. It also paved the way to exchange ideas among food researchers from the different research institutions and universities. More importantly, attendance to the conference provided an opportunity to publish the research works presented.