ISRDS fetes 33rd founding anniversary
Details

Written by JFBaldos

Published: 03 November 2014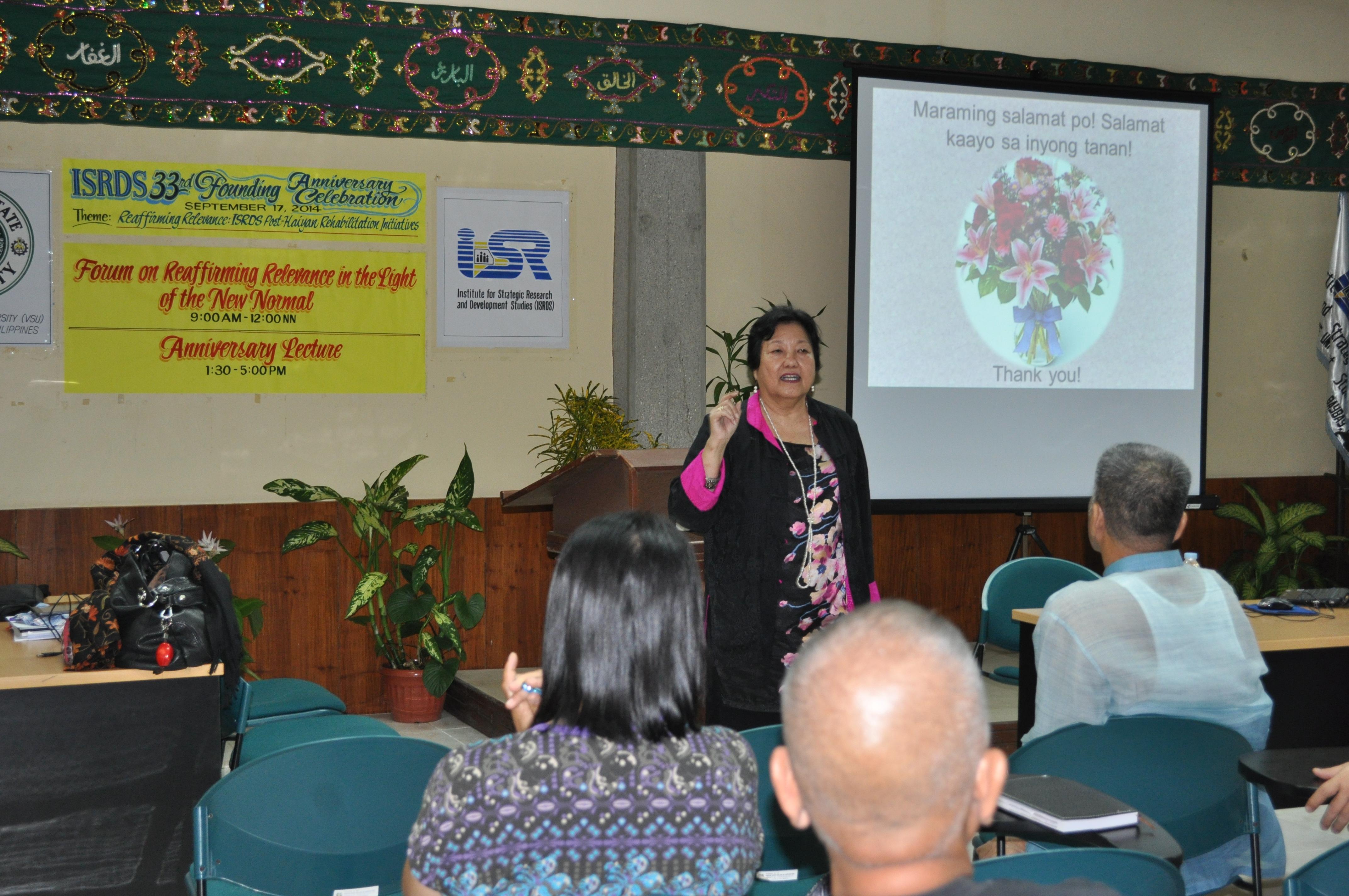 The Institute for Strategic Research and Development Studies (ISRDS) with the leadership of Associate Professor Maria Aurora Teresita W. Tabada celebrated its 33rd Founding Anniversary on September 17, 2014.
This year's celebration had the theme "Reaffirming Relevance: ISRDS Post-Haiyan Rehabilitation Initiatives." The occasion was graced by Dr. Emma Porio, Professor of Sociology of the Department of Sociology and Anthropology, School of Social Sciences of the Ateneo de Manila University, who served as the anniversary speaker. Likewise, a forum on "Reaffirming Relevance in the Light of the New Normal" was held in the morning with the partners sharing their expectations of the ISRDS in terms of RDE directions. The anniversary lecture was delivered by Dr. Porio in the afternoon at the ISRDS Training Hall in the presence of Dr. Othello B. Capuno, VP for Research and Extension, together with some VSU faculty, staff, and students.
Dr. Porio's paper highlighted her research work which is still in progress entitled "Social Capital Research in Metro Manila: Implications for Post-Yolanda Recovery and Resilience Building in Baybay, Leyte." She presented the impacts and losses of lives and properties brought about by the Super Typhoon Yolanda in which she poses a challenge for recovery and resilience building in the families, communities, and institutions.
In her paper, Dr. Porio presented the types of social capital and their roles in disaster preparedness recovery and building community resilience. The speaker cited the work of Dr. Ricardo Abad on the World Values Survey saying that "Filipinos, in general, are rich in bonding capital but have limited bridging capital especially to the marginal and vulnerable populations (to floods and typhoons)." She further said that social capital is more present among males from upper income families who are professionals, and/or formal sector employees.
The resource person elucidated why social capital is important in disaster preparedness and recovery. She referred social capital to the institutions, relationships, and norms that shape the quality and quantity of a society's social interactions that would lead to trust and cohesion. "Social capital is critical for poverty alleviation and sustainable human and economic development," Porio stressed.
Moreover, Dr. Porio pointed out the ecological-environmental vulnerabilities of Metro Manila/Urban Philippines, such as: most of the areas are located in coastal areas/flood basins; located along seismic lines; infrastructure/urban basic services are sometimes non-existent and not "climate proofed"; wetlands/marsh/swampy lands are with inferior soil, subsidence, and habitat for disease-bearing vector; the sea level rise and the low-lying areas of most coastlines and related river systems; and environmental pollution/degradation.
Porio also mentioned the components of social vulnerability which include social structure of the community, housing materials and condition, land tenure, and disability; and where the people ask for help in times of calamities such as floods, typhoons, and tidal surges.
She also presented some practices and strategies initiated and adopted by some local government units, community-based organizations, and the civil society sectors in networking and governance.
Dr. Porio enthused that because of people's limited social trust, we really have to build trust in each other and with others. Moreover, she emphasized that to be prepared and build resiliency, we need to increase the bridging capital (trust networks) of those who have less in life so they access support from their local governments, private sector and civil society organizations; build bridging capital through capability-building support for the vulnerable groups along river lines and degraded environments; and make programs and policies that will support/enhance their adaptive capacities and resilience building initiatives.
Dr. Porio quoted His Excellency Benigno Simeon C. Aquino III, President of the Philippines, saying: "The well of strength and compassion that characterizes us as a nation has time and again proven to be bottomless. Solidarity both of faith and prayer, combined with a steadfast resolve, is showing the world that nothing can make the Filipino yield. The Almighty has granted us resilience to withstand such tragedies, secure in our belief that God will continue to guide us as we provide care for our countrymen, rebuild our nation, and prepare for the future."
She even challenged ISRDS for the crafting of research agenda within the resilience building framework of the people's striving for security either in food, climate, governance, and environment.
The lecture was concluded with a workshop wherein the participants answered the following questions: 1) Losses/impacts and gains from Yolanda, what have you done? 2) What do you think you can do to build resilience? and 3) What singular commitment that you help build your own/organization/community resilience?
As a prelude to the ISRDS's anniversary celebration, it sponsored a movie marathon for free from September 8 to September 14, 2014 held at the ISRDS Training Room.