VSU accords loyalty awards to 100 employees in CSC anniversary culmination; CSC-Western Leyte director graces the occasion
Details

Written by JFBaldos

Published: 03 November 2014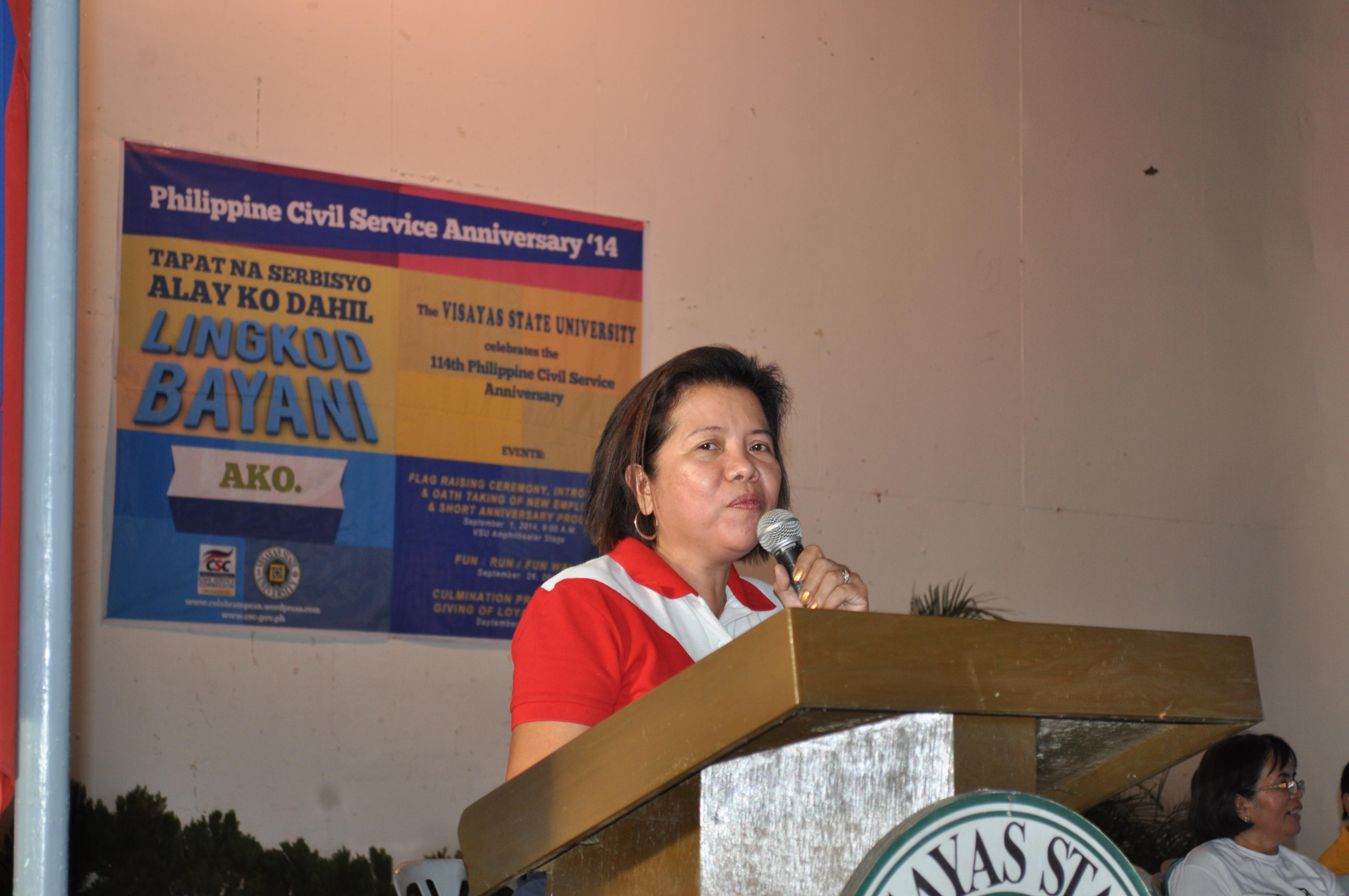 In celebration of the 114th Anniversary of the Civil Service Commission (CSC), the Visayas State University (VSU) distributed certificates and VSU logo pins to 100 employees who are still working in the University for 10 to 35 years. The awards were given during the VSU's "CSC Anniversary Culmination Program and Fun Walk/Run" held on September 30, 2014 at the VSU Gymnatorium.
Aside from the pins and certificates that they received, 17 employees who rendered services for the first 10 years will also receive in December a cash award of PhP5,000 each; while another 17 employees who served for 15 years will receive PhP2,500 each. Moreover, 13 employees who rendered services for 20 years and 20 employees for the last 25 years will also receive PhP3,750 each; while 13 employees who worked for 30 years and 20 for 35 years will be receiving PhP5,000 each. This is VSU's way of recognizing their faithful, unconditional love and loyalty of service to the institution regardless of remuneration they received from the government.
The occasion was spiced up with the presence of Dir. Pharida Q. Aurella, Director II of CSC Satellite Office in Ormoc City, as she delivered a message that centered on the theme "Tapat na Serbisyo Alay Ko Dahil Lingkod Bayani Ako." Dir. Aurella reminded the VSU employees regarding their responsibilities as public servants as stipulated in the Constitution which is "A Public Service Is A Public Trust." The guest speaker emphasized that all public offices and employees must, at all times, be accountable to the people and serve them with highest degree of responsibility, efficiency, loyalty, integrity, and lead modest lives. She believes that as public servants, we are building a new civilization for the future of our country. She encouraged everyone "to start within ourselves to become a good public servant."
Dir. Aurella also shared three most important points to avoid mistakes in delivering quality service to the clients—we should have commitment, give love, and have time. According to her, if you commit something to anybody, you indwell into that person. She further said that if we give love on anything that we do, we are also willing to sacrifice and later on reap excellent service. She also said that if we give time, we don't need to explain anything.
In the same occasion, special awards were given to those who joined in the fun walk/run as a prelude to the culmination program, in the Zumba exercise, and in the raffle draw.