Amaranth Staff brings home O+ Android ABS-CBN mobile phone; VSU participates in PMC 9
Details

Written by Irish Jane Calungsod/DevCom Student

Published: 18 February 2015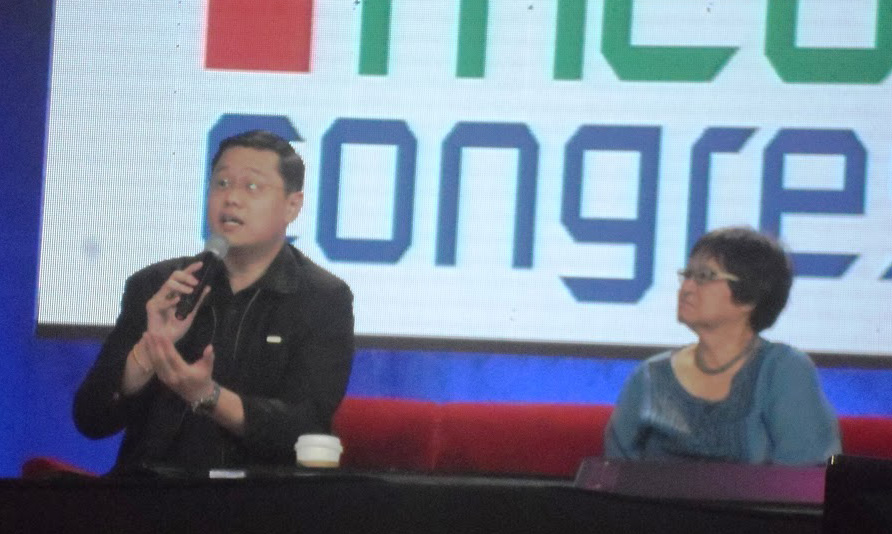 Amaranth staff Ria Micate brought home an O+ Android air shuffle ABS-CBN mobile phone after having luckily seated on a chair with a red card under it during the opening program of the Pinoy Media Congress (PMC) held on February 5-7, 2015 at the Fleur-de-lis Theater, Saint Paul University, Manila.
ABS-CBN, one of the organizers of PMC, together with the Philippine Association of Communication Educators (PACE), prepared prizes and giveaways during the three-day event. A total of four students who participated in the PMC brought home the O+ ABS-CBN mobile phone.
Four Amaranth staff namely: Jucel Marie Guatlo, Irish Jane Calungsod, Prince Darius Lina, and Ria Micate participated in the PMC on its 9th year. Together with them were two Amaranth advisers: Asst. Prof. Jude Nonie Sales and Ms. Ella Lois Bestil. Dr. Wolfreda T. Alesna, a faculty from the Department of Development Communication and PACE's Vice President for Visayas, was also one of the moderators during the PMC.
This year's theme, "Media Without Borders: What the Future Holds and What You Can Do," talked about social issues such as the ASEAN integration, advances in information and communication technologies, developments in digitalization, changing preferences, expectations and demands of the audiences, and the race to preserve our identities and the past as it affects and drives borderless media landscapes, and others.
The congress was divided into 12 sessions facilitated by some key personalities from ABS-CBN who are all media practitioners. Among them were: Ma. Rosario "Charo" N. Santos-Concio, Network President and CEO; Ma. Regina "Ging" E. Reyes, Head, Integrated News; Atom P. Araullo, News Reporter; Laurenti M. Dyogi, TV Production Head; and Ma. Socorro "Cory" Vidanes, Broadcast Production Head.
Prof. Dr. Ramon R. Tuazon, President of the Asian Institute of Journalism and Communication and Chair of the CHED Technical Panel for Communication was also present to talk about the ASEAN integration. Atty. Eugenio H. Villareal, Chairman of the Movie and Television Review and Classification Board (MTRCB) was also around and talked about responsible viewing in a borderless media.
The participants were composed of faculty, staff and students who have inclinations to communication from some 60 public and private colleges and universities throughout the country. The first two days were allotted for the 12 sessions, and on the third day the participants got the chance to tour around the ABS-CBN studios located at the ELJ Tower in Quezon City. Irish Jane Calungsod/DevCom Student