VSU holds dialogue with BIR personnel
Details

Written by SMCLemos

Published: 18 February 2015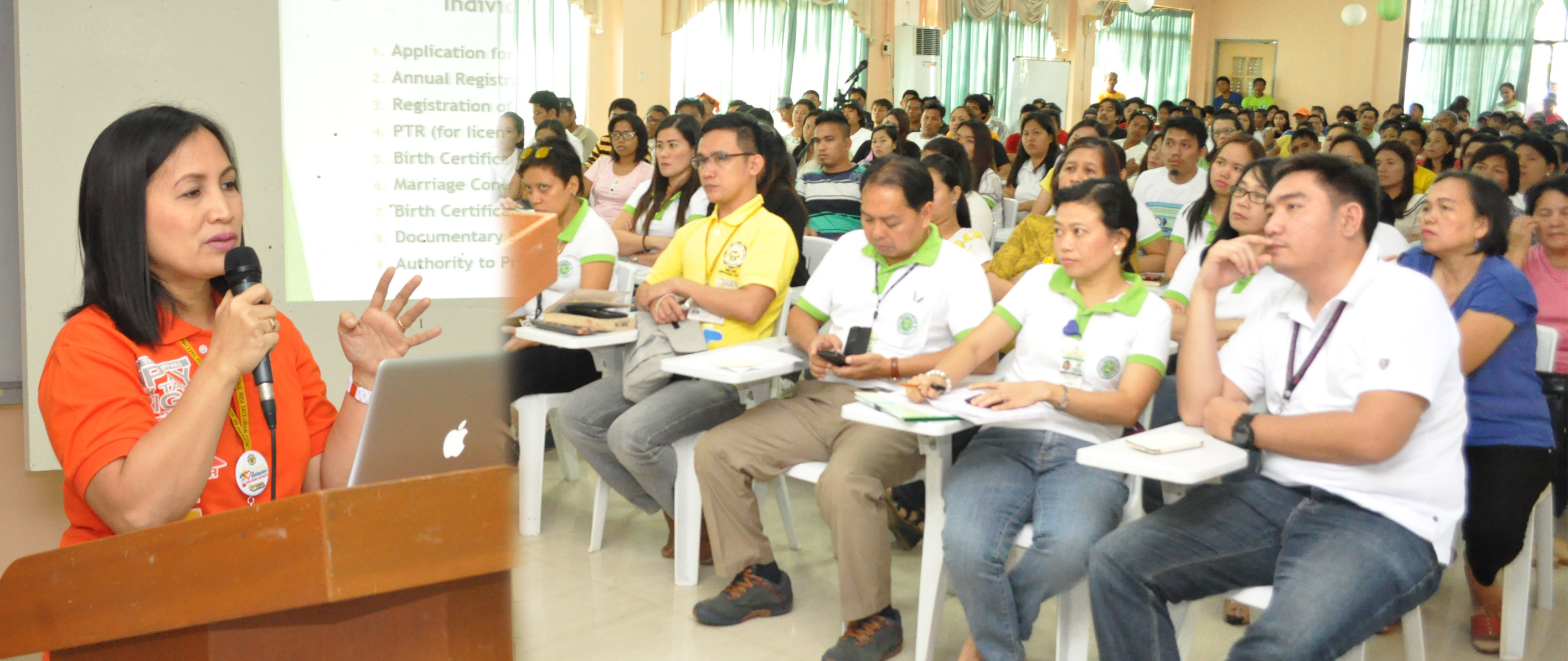 A dialogue between the Bureau of Internal Revenue (BIR) in Ormoc City, through Ms. Ma. Lilma V. Cu, Chief, Assessment Section of BIR-Ormoc, and the part-time instructors, job order personnel, and contract of services personnel of internally and externally funded projects of the Visayas State University was conducted on February 6, 2015 at the Center for Continuing Education.
The dialogue aimed to give insights on the appropriate interpretation of job order withholding taxes. It was jointly organized by the Office of the Director of Finance under the leadership of Ms. Louella C. Ampac and the Accounting Office headed by Ms. Erlinda S. Esguerra of VSU's Office of the Vice President for Administration and Finance under Dr. Roberto C. Guarte.
In her presentation, Ms. Cu explained that the job order personnel is not under the "employer-employee relationship" and is thereof construed as a contractor and not an employee as per the Joint Circular No. 1-092 of the Department of Labor and Employment and the Department of Budget and Management, and CSC Memorandum Circular No. 38.
Moreover, she explained in detail the following points: a) Registration requirements of self-employed individuals/service contractors; b) Withholding taxes for job order personnel; c) Tax filing deadlines on income tax for individuals; d) Tax filing deadlines on Value Added Tax; e) Tax filing deadline on Withholding Tax; f) the Income Tax Table; g) Premium Payments on Health and/or Hospitalization Insurance of an Individual Taxpayer; h) Itemized Deductions; i) Substituted filing for seller of services subjected to 3% percentage tax; j) Exemption from Withholding Tax on Compensation and Exemption from Income Tax; and k) Statutory Minimum Wage.
In addition, Ms. Cu also enumerated the requisites for deductibility from gross income which should be ordinary, necessary, reasonable and substantial.
Ms. Jennifer P. Mangubat, Revenue Officer I of BIR-Ormoc, on the other hand, discussed to the participants how to fill-up and compute the quarterly Income Tax Return.
After the complete presentation of the different BIR requisites, the resource persons welcomed some questions raised by the job order workers and some VSU administrative staff. SMCLemos