JAK Project 6 conducts training for farmers and ATs
Details

Written by WTAlesna

Published: 11 April 2015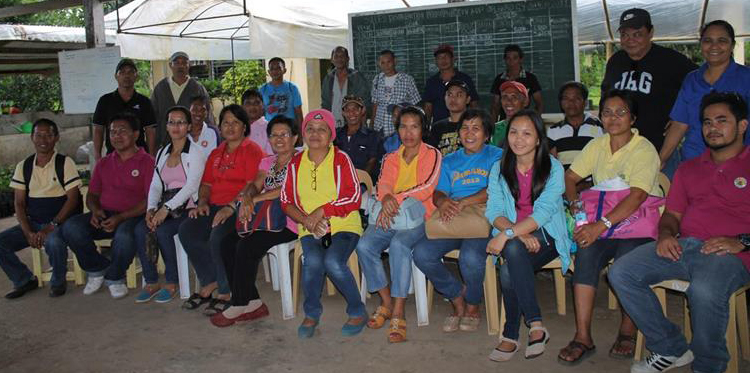 The Jackfruit Project headed by Dr. Wolfreda T. Alesna, as Project Leader, facilitated the training on Cleft Grafting and Nursery Management on March 24, 2015 at the Abuyog Experimental Station (AES) in Abuyog, Leyte.
Participants of the training were 19 jackfruit farmers and 8 agricultural technicians (ATs) from Bontoc, Sogod and Maasin City, Southern Leyte.
The training was conducted upon the request of the farmers during the Focus Group Discussions (FGDs) conducted by the project leader and co-project leader, Dr. Editha G. Cagasan. The farmers said that during the lecture-demonstration conducted in a classroom situation in 2014 was "not enough" to make them learn cleft-grafting and nursery management. That is why the project leader and the co-project leader decided to arrange with AES of the Department of Agriculture-Regional Field Office No. 8 to conduct another training at the AES-Abuyog.
They were taught the process of generating quality jackfruit seedlings—from the production of the rootstocks, to the culturing of the scions, and to the actual cleft-grafting exercises—where the scion is united with the rootstock. The jackfruit variety used was the highly recommended EVIARC Sweet which is now in demand in the market. Each participant had the chance to experience cleft-grafting.
When asked what new knowledge did they learn from the training, the majority of the participants said that "the culturing of the scion" is really new to them because this was not clearly explained in past trainings they have attended. They thought that all they need to do is cut the selected twig and join it to the prepared rootstock and that's it.
The training participants were thankful of Ms. Alicia Bulawan, the resource person, who painstakingly explained and demonstrated to the participants the whole process with the assistance of some AES personnel.
The training was made possible through the support of Jackfruit Project 6 – Design and Implementation of Communication Interventions for the Promotion of Jackfruit Technologies in Eastern Visayas which is funded by the Philippine Council for Agriculture, Aquatic and Natural Resources Research and Development (PCAARRD), one of the councils of the Department of Science and Technology (DOST). WTAlesna