VSU confers certificates to 114 last batch of high school graduates not affected with the K-12 curriculum
Details

Written by Jesus Freddy M. Baldos

Published: 14 April 2015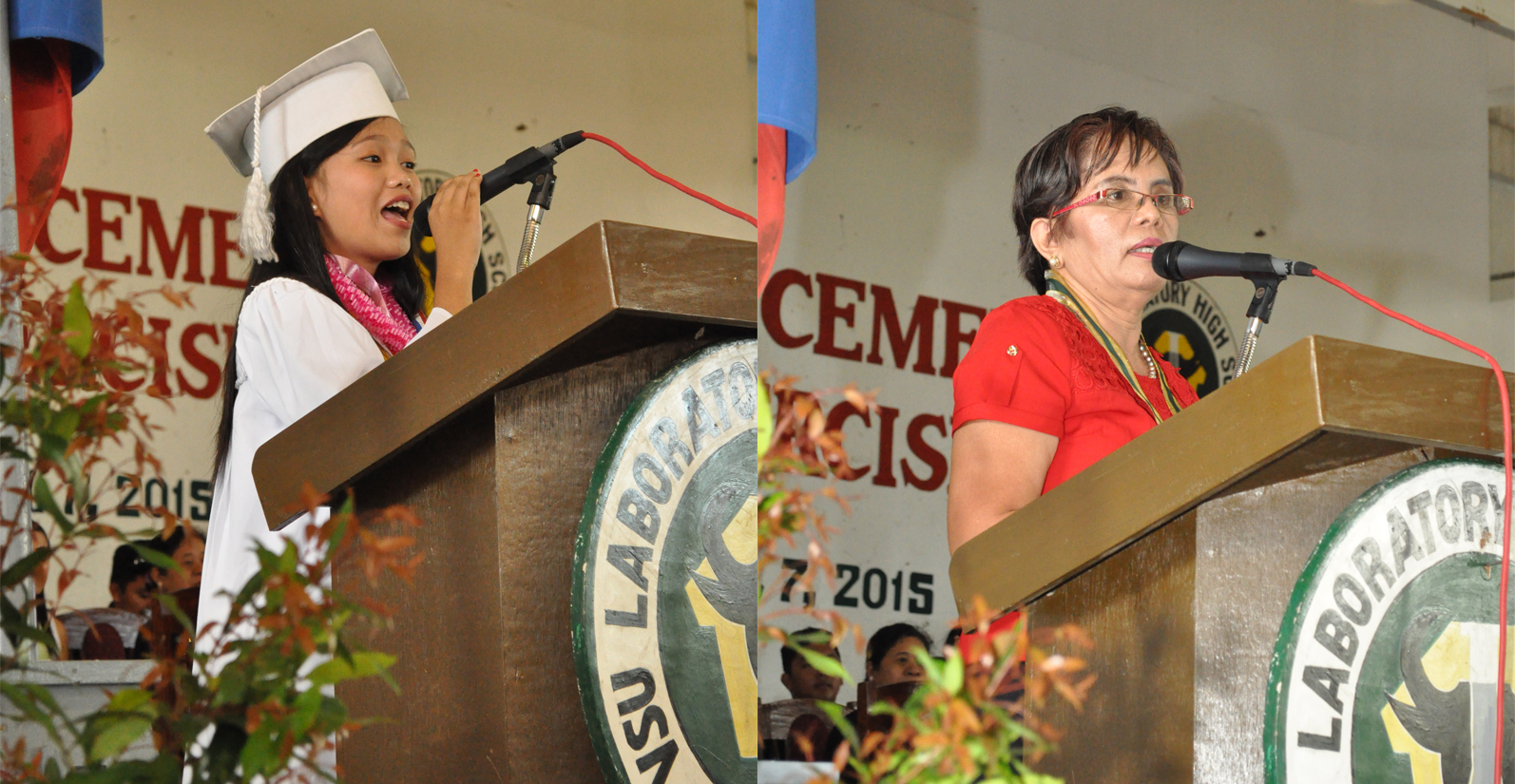 A total of 114 fourth year high school students of the VSU Laboratory High School (VSULHS) were conferred graduates in the secondary level curriculum by the VSU President Jose L. Bacusmo during the 85th VSU Laboratory High School Commencement Exercises in the afternoon of April 7, 2015 at the VSU Gymnatorium. Miss Thich Eloise P. Paris, Class Valedictorian, led the last batch of high school graduates who were not affected with the implementation of the K-12 curriculum in receiving their diplomas. The certificates were distributed by Dr. Edgardo E. Tulin, VP for Instruction, for and on behalf of VSU President Bacusmo.
The message of the Commencement Speaker, Dr. Lourdes B. Cano, VSU's Director for Administration and Human Resource Development, revolved on her life's journey from high school years and how she crafted her personal roadmap until she reached her present position in the University. Dr. Cano also lamented how she was able to cope up with various obstacles and hindrances and how she converted those obstacles into opportunities by embracing the four values which served as her guiding light—hardwork, perseverance, honor, and passion for learning.
Moreover, the Commencement Speaker quoted the formula for success of Mebrahtom "Meb" Keflezighi, a marathoner who won a silver medal in the 2004 Olympics and became the first American man in decades to win both the New York and Boston marathons. These are: 1) Focus on your signature strengths; 2) Define success and visualize achieving it; 3) Compete against yourself, not against others; 4) Keep things in right perspective; and 5) Recognize failure as opportunity.
"It's the ability to gain strength from successes and failures that separates the best from the rest," Dr. Cano said. She ended her inspirational message by challenging the graduates to be the best among the rest by converting their failures to opportunities and using them to find success.
In her Valedictory Address, Miss Paris emphasized to her fellow graduates that after closing the exciting chapter of their lives in high school, a new chapter shall be opened and that she called—"Choices and Challenges."
She shared some of the alternative choices that would somehow guide them on what to do with their respective lives. Among these are questions that may pop out of their young minds: Proceeding to college? What degree to pursue? Where and what university? Is it affordable to their parents? or Just work? What kind of work? Where to work? How to find a job that is fitted for a high school graduate? or Just take a rest?; or Marry (which for her, too early to kill a budding dream)?
Miss Paris pointed out that her most logical choice is to obtain a college degree in any standard and prestigious university like the Visayas State University (VSU). She also emphasized to her fellow graduates to consider the financial capability of their parents in choosing the school where they want to earn a degree. "If you cannot afford what you like, then try to like what you can afford," she stressed.
Aside from being the Class Valedictorian (With High Honors), Miss Paris also received the following awards: Dean's Award for Highest Academic Rating, Gerry Roxas Leadership Award, Excellence in Science Award, Best in Communication Arts (English), Math and Science Society Outstanding Member Award, and Filipino Club Leadership Award. It can also be recalled that Thich was also the Class Valedictorian of the ViSCA Foundation Elementary School when she graduated in the elementary level.
The other honor graduates and special awardees include: Ivy Lourelin B. Mijares – With High Honors (Salutatorian), Home Science Leadership Award, Math and Science Society leadership Award, and Student Body Organization Leadership Award; Sheryl Ann Mae C. Bombales – With High Honors, Excellence in Science Award, Science Achievers Award, and Best in Home Science; Mark Jelouh S. Magaddatu – With High Honors, CAT Leadership Award, and Home Science Outstanding Member Award; Riella Mae Christa C. Cubian – Best in Social Science, and Best in Agriculture; Galileo Gregory A. Abrasaldo II – With High Honors, and Best in Mathematics; Stefani L. Bartolabac – With High Honors, Science Achievers Award, Best in Communication Arts (Filipino), and English Club Leadership Award; and John Paul U. Fornillos – With High Honors;
With Honors: Carla Mae O. Fernandez, Heidi Lynn P. Napoles, Kyle Tristan D. Villacorte, Sheena Mae S. Wheless – Science Achievers Award, Kim Alyssa S. Pialago – Sports Club Leadership Award, Camille I. Gloria, Princess Gofredo, Chariz B. Romarate, Christian Joseph C. de los Reyes, Al Glenn B. Selario, Joe Edward M. Alcuino, Katrinka Jane D. Gingco, Jayca Lyn P. Jaca, Keren Eunice A. Itumay – Science Achievers Award, Kaisha Mae D. Ramirez, Dain Anthony P. Dacera, Carl Jones S. Bunac, Anne Jlaine A. Llosa, Miguela Mae A. Cavite, Janna Diantha G. Tero, Reeves Ian Stephane B. Ababat, Julian Charles Zachary C. Cazeñas,
Mariecon B. Castañares, Kristen Vineah Leigh L. Ligad – Outstanding SBO Officer Award, Cres Van Joed M. Bayhonan, Jerez Dominique B. Fin, April Rose D. Muertigue, Jhonna Mae Lao, Monafe M. Yu, Clifford Ken B. Suba-an – English Club Outstanding Member Award and FFP Leadership Award, Felix John T. Amestoso, Miljhoy F. Viscara, Graceille Rose C. Gentallan, Nikka Fay Mauris A. Asencion, Reina Marie M. Salubre, Geli M. Bacus, Tiziana P. Fernandez, Christian Albert L. Martinez, Yna Isabelle E. Aludo, Cyres Jean P. Cosares, Jomel L. Bengalan, Jean M. Balaresia, and Abigail B. Teodosio. JFMBaldos