VSU's soil science prof presents poster in Thailand int'l gab
Details

Written by Jesus Freddy Baldos

Published: 15 September 2015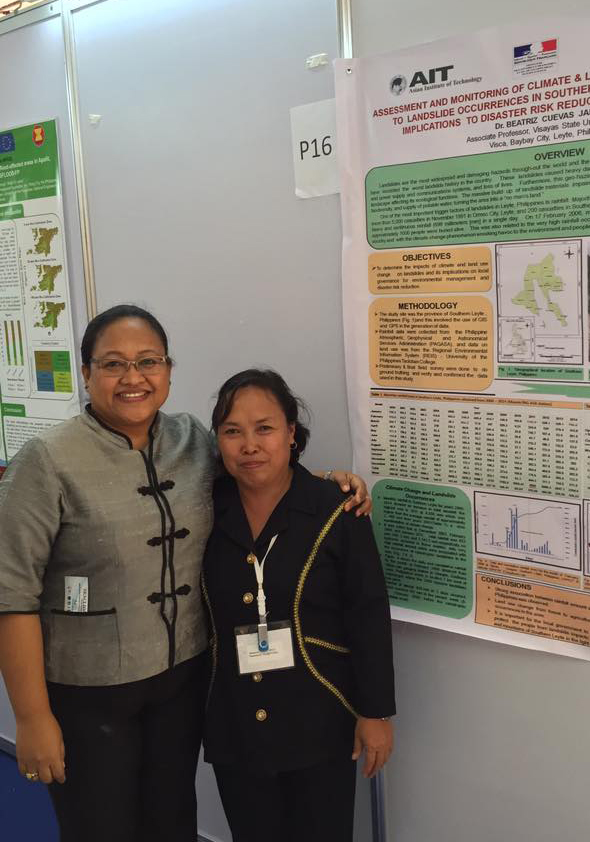 Dr. Beatriz C. Jadina, Associate Professor IV of VSU's Department of Soil Science (DSS), was invited by Dr. Mukand S. Bael, Chair of the Organizing Committee of the Regional Forum on Climate Change 2015 (RFCC 2015) of the Asian Institute of Technology (AIT) in Bangkok, Thailand, to attend the RFCC 2015 – Low Carbon and Climate Resilient Societies: Bridging Science, Practice and Policy held at the AIT Conference Center, Pathumthani, Thailand on July 1-3, 2015. Dr. Jadina's scientific paper on "Assessment and Monitoring of Climate and Land Use Changes in Relation to Landslide Occurrences in Southern Leyte, Philippines: Its Implication to Disaster Risk Reduction and Management" was selected for poster presentation in the said forum.
Her poster was displayed at the lobby of the AIT Conference Center where more than 400 participants all around the globe had the chance to view her poster and listen to her presentation.
While at AIT, Dr. Jadina was warmly welcomed by Ms. Izel Ann "Monyeen" Mojado-Dante, AIT Head of Administration and a VSU alumna. Aside from Dr. Jadina, more than 20 participants from the different state universities and colleges and other agencies from the Philippines also joined in the RFCC 2015.
Dr. Jadina's participation, including the registration, international airfare, and subsistence allowance, was shouldered by the RFCC 2015 Organizing Committee.
RFCC 2015 is regarded as an outstanding Forum that will cope with the topics on Climate Change, Sustainability and Environmental Protection and a lot more. It strove to enhance this channel of communication among the gamut of stakeholders, primarily among ASEAN countries. The Forum also sought to propose interventions that would influence climate policy in the region, and inspire ASEAN position for climate change negotiations at the global scale in preparation for the Climate Change Forum in Paris sometime in December this year.
The RFCC 2015 was organized by the Asian Institute of Technology in collaboration with the French Ministry of Foreign Affairs and International Development, ASEAN, and the European Union. JFMBaldos