Visayas State U successfully hosts SCUAA 2015
Details

Written by Visayas State University

Published: 23 December 2015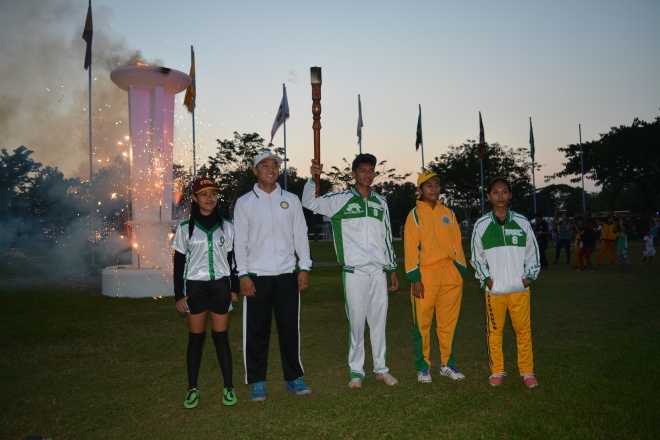 The Visayas State University (VSU) under the leadership of Dr. Jose L. Bacusmo successfully hosted the 31st State Colleges and Universities Athletic Association (SCUAA) Games on October 25-30, 2015. The six-day sports joust gathered 2,123 strong athletes and 809 coaches and officials from the 11 state universities and colleges (SUCs) in Eastern Visayas. The SCUAA 2015 was hinged on the theme "A New Decade of Partnership."
The different delegations and their respective athletes, coaches and officials are as follows: Eastern Samar State University (ESSU), Borongan City, Eastern Samar – 190 athletes and 52 coaches and officials; Eastern Visayas State University (EVSU), Tacloban City, Leyte – 209, 95; Leyte Normal University (LNU), Tacloban City, Leyte – 205, 58; Samar State University (SSU), Catbalogan City, Samar – 145, 53; Northwest Samar State University (NwSSU), Calbayog City, Samar – 211, 86; Palompon Institute of Technology (PIT), Palompon, Leyte – 177, 61; Southern Leyte State University (SLSU) in Sogod, Southern Leyte – 211, 89; University of the Philippines Visayas - Tacloban College (UPVTC) – 85, 16; Naval State University (NSU), Naval, Biliran – 245, 92; University of Eastern Philippines (UEP), Catarman, Northern Samar – 242, 157; and the Visayas State University (VSU), Baybay City, Leyte – 203, 50.
As the host institution of this year's Regional SCUAA Games, Dr. Bacusmo conveyed his sincerest and warmest welcome to the 11 delegations for fielding their best athletes who will represent Region 8 in the 2016 National SCUAA Games in which the host region has not yet been identified.
Moreover, the Mayor of the City of Baybay, Hon. Mayor Carmen L. Cari, who was on official travel, was ably represented by Mr. Deogracias E. Pernites, the City Administrator, in welcoming the guests.
The occasion was graced by former Secretary of the Department of Energy and then Governor of the Province of Leyte, Hon. Jericho L. Petilla, who inspired the athletes and coaches by relaying the success story of his brain-child, the Leyte Sports Academy, whose athletes did well in the national and even in the international arena by garnering medals for the province and for the country.
Dr. Dominador O. Aguirre, Jr., EVSU President and at the same time President of the Philippine Association of State Universities and Colleges of Region 8 (PASUC 8), formally declared the opening of the athletic competition 2015.
Based on medal standing, the different delegations garnered gold, silver, and bronze medals in the different events: LNU (91 gold, 54 silver, 23 bronze); EVSU (29-40-47); VSU (29-34-26); UEP (26-31-34); NSU (24-8-12); PIT (9-9-25);ESSU (7-16-26); NwSSU (7-4-14); SLSU (2-18-20); SSU (1-4-6); and UPVTC (1-0-0).
On the other hand, first in the history of PASUC 8 that the Search for Mr. and Ms. SUC 8 was held at VSU in which two major titles were given to two stunning pairs who will represent PASUC 8 in the national beauty pageants—the Mr. and Ms. PASUC 2015 and the Mr. and Ms. SCUAA 2015.
Mr. Orland James Estologa and Ms. Aura Shaznay Tumulak, both from VSU, won the most coveted title of Mr. and Ms. PASUC 8; while Mr. Raphael Leo Nierra of NSU and Ms. Sarika Janiehn Alota of ESSU won the Mr. and Ms. SCUAA 8 title. The other winners of the pageant were: Mr. Joshua Ismael Salubre of UEP and Ms. Nicole Ann Devora of EVSU, First Runners Up; and Mr. Franklin Losanga from ESSU and Ms. Airene Grace Paler SLSU, Second Runners Up.
The SCUAA banner was turned over to the representatives of Naval State University, the host of the 2016 Regional SCUAA Games. Jesus Freddy M. Baldos